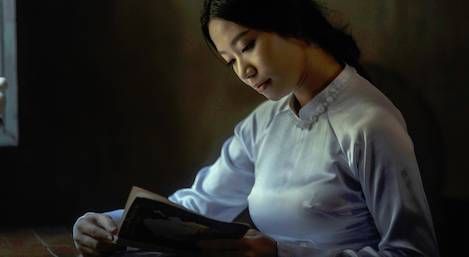 Lists
Peek Over Our Shoulders: What Rioters Are Reading on March 16, 2017
This content contains affiliate links. When you buy through these links, we may earn an affiliate commission.
In this feature at Book Riot, we give you a glimpse of what we are reading this very moment.
Here is what the Rioters are reading today (as in literally today). This is what's on their bedside table (or the floor, work bag, desk, whatevskis). See a Rioter who is reading your favorite book? I've included the link that will take you to their author archives (meaning, that magical place that organizes what they've written for the site). Gird your loins – this list combined with all of those archived posts will make your TBR list EXPLODE.
We've shown you ours, now show us yours; let us know what you're reading (right this very moment) in the comment section below!
Wallace Yovetich
Nora Ephron: The Last Interview: and Other Conversations (The Last Interview Series): Because, Nora Ephron. (I'm pretty much obsessed.)
You Don't Have to Like Me by Alida Nugent: I'm reading a lot of books about this topic right now. I think women have been trained, in their formative years, to care way too much about what people think about them instead of what they actually think. It's an epidemic and it needs to be cured. This book is a good place to start.
Kate Scott
Born Both by Hida Viloria: I've been dying to read this one, so I requested a review copy. (Hardcover)
Animals of a Bygone Era by Maja Säfström: I love illustrated fact books and this one is really beautiful. (Hardcover)
The Stranger in the Woods by Michael Finkel: I've always been fascinated with hermits, so a book billed as the story of "the last true hermit" seemed like a perfect fit. (Hardcover)
Exit West by Mohsin Hamid: This has been on my TBR list for a while and I snagged a review copy. (Audiobook)
Liberty Hardy
Spaceman of Bohemia by Jaroslav Kalfar: Rebecca talked about this on the podcast and I needed to read it immediately. (hardcover)
Follow Me Down by Sherri Smith (March 21, Forge Books) This is like a meaner version of Gillian Flynn's Sharp Objects, if you can imagine that. (e-galley)
White Tears by Hari Kunzru: So, so, so, so good. A lot like a Victor LaValle book. Frightening and wicked smart. (galley)
What It Means When a Man Falls from the Sky: Stories by Lesley Nneka Arimah (April 4, Riverhead): Reading it for coverage consideration for All the Books! (galley)
Jamie Canaves
Milena, or the Most Beautiful Femur in the World by Jorge Zepeda Patterson: The first thriller published by Restless Books (May) is a political thriller from Mexico and that sound you just heard was me screaming with excitement. If the book is as good as the opening this is gonna be fantastic. (ARC)
The Child by Fiona Barton (Berkley Books, June): I really enjoyed The Widow so this is a must-read for me–I may have done a little dance when it landed on my doorstep. (ARC)
Quantum Teens Are Go #1 by Magdalene Visaggio, Eryk Donovan, Claudia Aguirre, Zakk Saam: I love–no, LOVE– Visaggio's Kim & Kim series so I automatically added this to my pull list as soon as it was announced! So excited. (paperback)
The Dime by Kathleen Kent: I've been struggling this week with finding books to discuss in the next Unusual Suspects newsletter so I reached for this one since Mulholland Books has yet to disappoint and it was recommended to me. I'm already in love with the detective! (egalley)
Steph Auteri
The Fall of Lisa Bellow by Susan Perabo: After finishing three books in three days, I realized I had no unread books left in my house… except for a cluster of advance reading copies that had recently shown up on my doorstep. Perabo's book has thus far been the standout. (Hardcover ARC)
All Grown Up by Jami Attenberg: Because I, too, sometimes wonder what it means to be an adult… and if I'll ever get there. (Hardcover)
Rebecca Hussey
Too Much and Not the Mood by Durga Chew-Bose: I'm reading this essay collection for a review I plan to write. So far the writing is magical. (Paperback ARC)
The Rules Do Not Apply by Ariel Levy: I'm finding this memoir hard to put down. So far it feels like a cross between an essay collection and a memoir, but I have a feeling it's all going to come together in devastating ways. (e-galley)
E.H. Kern
The Falashas: A Short History of the Ethiopian Jews by David Kessler: An absolutely fascinating book about the Jewish population of Ethiopia which dates back to before the Talmud and which never developed Hebrew as its liturgical language. Mind blown on so many levels. (Paperback)
Tasha Brandstatter
The Last of August by Brittany Cavallaro: I loved the previous book in this series, A Study In Charlotte, so natch I leaped on the chance to read book two. (eARC)
Beastly Bones by William Ritter: Pretty much the same as above. (audiobook)
Claire Handscombe
Lincoln in the Bardo by George Saunders. I wasn't sure if I was going to cave to peer pressure, but then my book club picked it. Like it so far despite its weirdness. (hardback)
Trisha Brown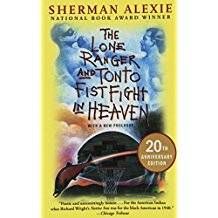 The Lone Ranger and Tonto Fistfight in Heaven by Sherman Alexie: If you're interested in this book, please find the 20th anniversary edition. The introduction is a conversation between Alexie and longtime friend/author Jess Walter and that exchange alone will sell you on this modern-classic short story collection. (Paperback)
Seven Last Words by James Martin: Fr. James Martin is arguably America's best-known Jesuit writer and Catholic spokesman for social justice. If I'm reading theology right now, there's an excellent chance it was written by him. (Hardcover)
Every Dark Corner by Karen Rose: Because (due respect to Fr. Martin) romantic suspense is way more engaging at the gym than theology. (ebook)
Sophia Khan
The Year of Living Danishly: Uncovering the Secrets of the World's Happiest Country by Helen Russell: I adore Scandinavian culture and have always been curious about the Danish way of living. Russell explores a different area of Danish culture for each month of the year (plus a dedicated chapter for Christmas). Considering our current political climate, this book has me ready to pack my bags for a new life of living Danishly. (Paperback)
Beth O'Brien
The Immortal Life of Henrietta Lacks Lacks by Rebecca Skloot: I'm still trying to finish this one up! I'm about 2/3 of the way through and have to have it back in a week. Really enjoying the mixture of science and social commentary. (Audiobook)
A Darkness Absolute (Casey Duncan, #2) by Kelley Armstrong: I didn't love Armstrong's Bitten and I'm not a huge fan of her YA, but I love this series so far and I'm obsessed with her Cainsville books. I'm almost finished this one and can't seem to put it down! (Hardcover)
Derek Attig
Nightlights by Lorena Alvarez: Breathtakingly gorgeous and tons of fun. (hardcover)
Six Wakes by Mur Lafferty: I've really been getting into mysteries that take place in other genre contexts (scifi, dystopian, fantasy), and this fits the bill. (ebook)
Rachel Manwill
Lincoln in the Bardo by George Saunders: With 166 narrators, how could I not pick up this audiobook? I've been slowly making my way through it, both savoring and wanting to do nothing but listen. I'll be really sad with this brain-breaking book is over. (Audiobook)
Unbound: A Story of Snow and Self-Discovery by Steph Jagger: I recently moved to the Rocky Mountains (Idaho, to be specific) and spent the winter up to my nose in snow sports. Rebecca recommended this memoir and said it's like Wild on snow. And I was sold. (Hardcover)
Harmless Like You by Rowan Hisayo Buchanan: A story about a mother and her son, this novel travels around the world and switches POVs as it asks the question, how could a mother abandon a son? I'm excited to deep dive into this debut.
James Wallace Harris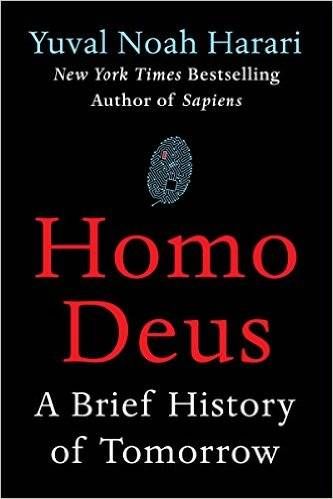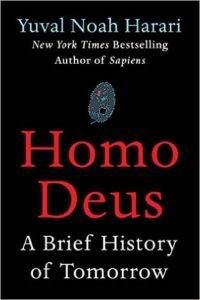 Homo Deus: A Brief History of Tomorrow by Yuval Noah Harari, a sequel to his international bestseller, Sapiens. The first book was a psychological overview of the human race. Not entirely flattering, but very insightful. The new book is about the potential for our species, and what we might become. Despite all the horrible things we might feel about today's political climate and what we're doing to the environment, Harari is quite optimistic. Of course, Harari assumes we'll solve our present problems. I'm not so sure.
Elizabeth Allen
Vanessa and Her Sister by Priya Parmar: I picked this up for my book group and, at first glance, the cover didn't have me sold. But it turns out that this book is about Virginia Woolf and her siblings as told from the point-of-view of her oldest sister, Vanessa. Vanessa has been saddled with the job as matriarch to her little family after the passing of her parents. She is an artist in her own right, but is overshadowed by the renowned genius of her sister. Told in the form of diary entries and letters to and from various characters in Vanessa's life, this is a quick read with a lot of heart.
Zealot: The Life and Times of Jesus of Nazareth by Reza Aslan: As Aslan himself describes his book, this is a look into Jesus of Nazareth, not Jesus "the Christ" that history has come to mythologize. The reader is dispelled of many vastly-held beliefs on the accuracy of the Bible and the contributions of the Apostles. This is a fascinating view into a man whose image has been softened by time into a loving peacemaker but who, in reality given the culture and his accomplishments, was likely a highly active and vocal dissenter.