Lists
Read It Before You See It: Operas Based On Books
This content contains affiliate links. When you buy through these links, we may earn an affiliate commission.
There are very few operas performed these days that are not based on someone's book somewhere. There are many books that, while popular at the time of publication, are now mostly known based on the opera they inspired, whether in 1850 or 1950. These include Scenes de la vie boheme, by Henri Murger and Carmen by Prosper Merimee. Many opera companies update their repertoire frequently, performing new works alongside their familiar standards every season. Here are some bookish opera titles to check out before you don your evening wear this season.
Camille to La Traviata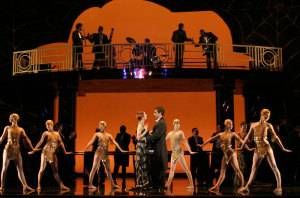 The greatness of this opera is proven time and time again, particularly by the fact that at least one, if not five, opera companies perform it every season. The book it is based on, Camille, was written by Alexander Dumas, fils., son of the great AD, peer, who wrote The Three Musketeers and all those other swashbucklers. This is not a swashbuckler. This is Moulin Rouge. With a slightly whinier protagonist. (But we love him anyway.) And if you happen to score it like I did at a used book store, you might end up with a film tie-in from the early 1980s plastered with the beautiful face of a Twenty Something Colin Firth. Like you do.
(Metropolitan Opera, LA Opera, Boston Lyric Opera)
Les Contes D'Hoffmann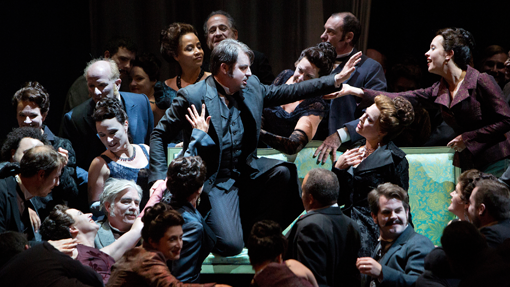 I will admit it. This is my favorite opera. But the tales of E.T.A. Hoffmann are also some of my favorite Romantic short stories, filled with mystery and magic. Grab a complete works and prepare to be Mesmerized. It's important to note, opera wasn't the only medium in which Romantic composers felt the need to set Hoffmann's stories. The Nutcracker, the most frequently performed ballet in the United States, is also based on a story by E.T.A. Hoffmann.
(Metropolitan Opera)
The Little Prince
During the winter holidays, the Washington National Opera puts a "family-friendly" opera on the stage. This year, it will be The Little Prince, composed by Rachel Portman- no stranger to literary adaptations, having written the scores for the films Emma, The Cider House Rules, and Chocolat. This is a big deal; there aren't many operas- even contemporary ones- written by women, and even fewer are being performed regularly. The storybook by Antoine Saint-Exupéry about a young boy and his adventures is a classic, beloved by people of all ages across continents. If you haven't looked at it in a while, have a seat and experience it again.
(Washington National Opera)
Based on a novel of the same name published in 1980, Emmeline is the story of a girl served a bad hand by fate. As a teenager, she is sent to work at a mill and seduced by a superior, and goes on to have a heck of a life. This tragic story is based on true events in Maine, a real Jocasta telling the Oedipal story. The opera, the first by the composer, premiered in the 1990s, and has a real sense of Copland's Americana in the sound.
(Opera Theater of St. Louis)
These are just a taste, based on what's being performed by some of the bigger opera companies in the US. But there are so many operas based on novels in the world, there's a whole Wikipedia page for it. The Bonesetter's Daughter got a lot of attention when it premiered a few years ago; commissioning an opera based on an Amy Tan novel was a pretty big deal. There have been operas based on everything from Tristam Shandy to Ghormengast. I recall seeing the (then) Washington Opera perform Of Mice and Men in high school and being just about as big a fan of it as I was of the novel–that is to say, I wanted to leave about ten minutes in. I'm actually sad I'm missing their production of the Spanish-language Florencia in the Amazon, which is "inspired by" the writings of Gabriel Garcia Marquez.
So, as the Season approaches, better grab your specs when you unearth your opera glasses. You've got some reading to do.