Nuthin' but a Lit Thang, Baby: A Reader's Guide to Rap Genius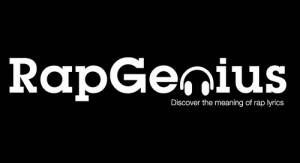 Hip hop fan or not, you may not know about the more-than-just-lyrics site Rap Genius, a platform for crowdsourcing not the lyrics themselves, but something much more fun and useful: the meanings between the lines.
This is something that readers, especially close ones, are familiar with. We cross-reference, we notice when one book speaks to another, we look at exact word choices and why they were made, and in many cases, we know the layers are deep—often too deep for a single reader to reach through to any significant percentage of them on a single read. This can be especially important for poetry, where works that seem opaque without the right key suddenly open up to new meaning when a friend or teacher or a blogger shows you how to unlock them. How many of us would understand Wallace Steven's gorgeous and affecting "The Emperor of Ice-Cream" without knowing that in Key West, ice cream was traditionally served at funerals.
Hip hop, and especially rap, is arguably the widest reaching poetry of our time, and much of it bears similar study. Take a line from 2pac's (in)famous dis track, "Hit 'em Up." (Note: you will, I'm sure, be shocked to find that many links to Rap Genius are not exactly family-friendly.) "It's like a Sherm-high," 2pac raps, and the Rap Genius crowd informs the less-versed-in-such-matters that this refers to PCP, a drug known for making users "think they learned to fly. But they burn…you deserve to die." And here 2pac adds a truly literary element to a rough, nasty gangsta rap song: it's a reference to the story of Icarus, a level above a basic dis.
Rap is also huge on wordplay, and without significant background, it can be easy to miss. On Lil Wayne's "6 Foot 7 Foot," he raps, "I got through that sentence like a subject and a predicate." On a basic level, this can refer back to his previous line and the simple fact that it was a sentence. A note from the community informs as well that "Weezy did his jail sentence and is now back spitting flames"; a subject and a predicate is how you get through a grammatical sentence, and for Wayne, it can also be how you get through a prison term.
In Nicki Minaj's "Come on a Cone", there's a clear surface meaning—also involving some minor wordplay—in the main line of the hook: "This ice is so cold, it should come on a cone." While just about everyone knows at this point that "ice" refers to diamonds, the previous line is more interesting. "Got the certification, cause it come with the stone" refers, again pretty clearly, to certified diamonds, but also, according to community contributions, "It's…a reference to the RIAA certification for album and single sales: gold (500K), platinum (1M), multi-platinum (2M+), and diamond (10M+)." (One of Minaj's earlier, mix-tape releases, "Itty Bitty Piggy," is also full of literary references, though relatively transparent ones to fairy tale or nursery rhyme characters: Rapunzel, Snow White, and the title piggy in the market.)
Rappers' sobriquets can have meaning in themselves, of course. Jay-Z often goes by J-Hova and variations on the name. Don't feel bad if you didn't realize this was a reference to Jehovah, and Jay-Z calling himself, on some level, a god (it took me far too long to get this). And it's a vital part of one of Minaj's cleverest hooks, in my opinion, from "HOV Lane":
I'm in the HOV lane


I'm in the HOV lane
(And you, y-you, y-you? Soul Train)
How much does Minaj pack into this—helpfully unpacked by Rap Genius commentators? Many readings are possible, all at once. The reference to Jay-Z suggests that not only is she simply driving in the HOV lane past all the folks stuck in traffic, but that her career path will not only lead her to be the goddess of rap, but to the kinds of business ventures that über-successful artists like Jay-Z have moved on to later in their careers. Her competitors, on the other hand, take the train. Other notes suggest a play on "soul" and "sole," possibly referring to New York's 1 train, a slower subway line, or simply the fact that her competitor is alone—and thus not in the literal HOV lane.
One of the great things about these comments is that they are truly social. Not everyone agrees on the meanings, new suggestions open up new possibilities, and the idea of looking for a "true" meaning as opposed to discovering the many "readings" available for these songs is taken seriously as commenters respond to each other and constantly explore new avenues of analysis. To be sure, a good portion of the comments simply clarify points of slang that may be unfamiliar, but the site also goes far beyond that.
Now, a crowdsourced close-reading platform for poetry and prose literature, doesn't that sound fun?
_________________________
Sign up for our newsletter to have the best of Book Riot delivered straight to your inbox every two weeks. No spam. We promise.
To keep up with Book Riot on a daily basis, follow us on Twitter, like us on Facebook, , and subscribe to the Book Riot podcast in iTunes or via RSS. So much bookish goodness–all day, every day.