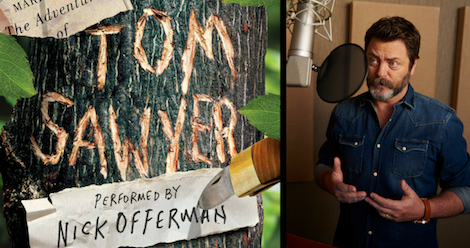 Nick Offerman is the Voice of TOM SAWYER
These days a lot of celebrities are getting in on all the audiobook action, which, as a long-time audiobook fan, is a trend that I love. That being said, just because someone is a celebrity doesn't automatically guarantee they're going to be amazing on an audiobook. (If we are at a party together and I'm a little tipsy, you might even be able to get me to name a few duds I've heard.)
But when it does work, the combination can be completely MAGICAL. Bryan Cranston and The Things They Carried. Thandie Newton and Jane Eyre. Sissy Spacek and To Kill a Mockingbird. Heck, James Earl Jones and The Bible! (And can someone please get on that version of Louis CK reading The Catcher in the Rye already?)
This is why I'm so excited about Nick Offerman's brand new performance of Mark Twain's The Adventures of Tom Sawyer. There's no question that Mark Twain's stories have shaped the course of American literature, and Nick Offerman completely embodies that all-American feeling. Just like Tom Sawyer, Nick Offerman is a wholesome boy from a small midwestern town who has a wicked mischievous streak. (He also happened to grow up into a mustachioed carpenter and comedian, which feels relevant somehow. I don't know, just go with it.)
Offerman's performance revels in Tom's hijinks and shenanigans. He captures the tumultuous, conflicting feelings of children who are about to become adults — that longing to escape rules and enjoy the innocence of childhood. He also conveys the excitement and adventure of growing up along Twain's Mississippi, with blood oaths, cemetery cures, haunted houses, and all. And then there's that rich baritone peppered with high-pitched giggles.
Offerman's takeaway from the whole experience? Being paid to read Mark Twain, he said, felt just like "Tom Sawyer hoodwinking other boys into paying him for the privilege of whitewashing a fence."
Listen to Nick Offerman read an excerpt of The Adventures of Tom Sawyer here (then go download the full version if you love it)!