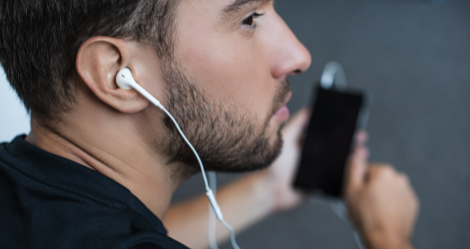 Audiobooks
50 Must-Read Nonfiction Audiobooks Under Ten Hours
This content contains affiliate links. When you buy through these links, we may earn an affiliate commission.
I read almost no nonfiction until I discovered audiobooks. There's something deeply satisfying about listening to an author read their own memoir. I love listening to poetry read aloud, and humorous books are almost always more funny when the funny person who wrote them reads them. I've also found that short nonfiction audiobooks keep me engaged with complicated books about history and politics, that, while fascinating, would put me to sleep if I read them in print.
There's a time and place for 20+ hour audiobook marathons, but sometimes you just want a good, short read. There are loads of great short nonfiction audiobooks out there. This list includes fifty of the best short audiobooks I've had the pleasure to listen to. You'll find memoirs, poetry, essays, how-to books, funny books, and books about everything in between, from history and politics to feminism and medicine. Without exception, the narration of every one of these audiobooks is stellar.
Without further ado, fifty of the best short nonfiction audiobooks.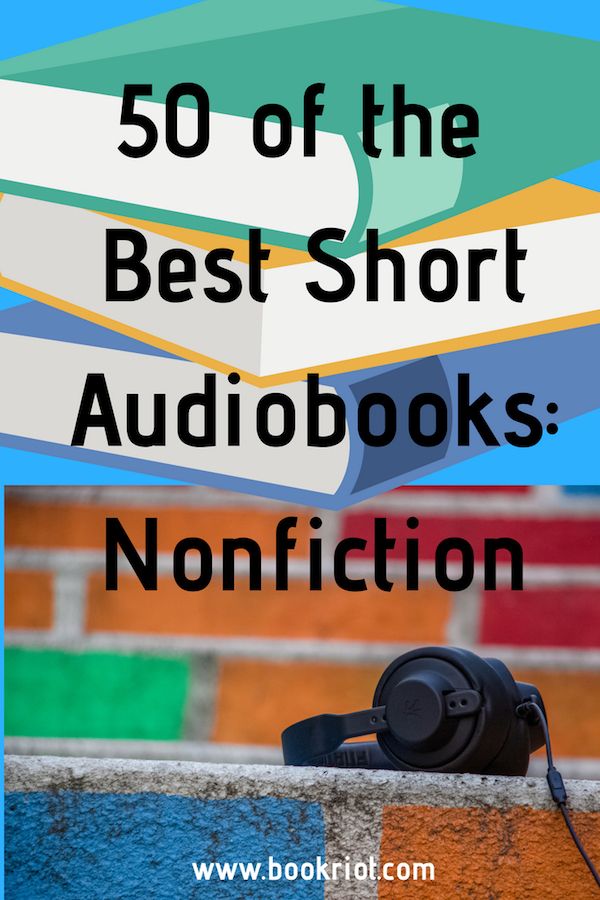 1 Hour and Under
"In 'teaching my mother how to give birth', Warsan's debut pamphlet, we witness the unearthing of a poet who finds her way through all preconceptions to strike the heart directly. Warsan Shire is a Kenyan-born Somali poet and writer who is based in London. Born in 1988, she is an artist and activist who uses her work to document narratives of journey and trauma."
"Here are fifteen invaluable suggestions—compelling, direct, wryly funny, and perceptive—for how to empower a daughter to become a strong, independent woman. From encouraging her to choose a helicopter, and not only a doll, as a toy if she so desires; having open conversations with her about clothes, makeup, and sexuality; debunking the myth that women are somehow biologically arranged to be in the kitchen making dinner, and that men can 'allow' women to have full careers, Dear Ijeawele goes right to the heart of sexual politics in the twenty-first century."
From inside Birmingham Jail, "King drafted his most extensive and forcefully written statement against social injustice—a remarkable essay that focused the world's attention on Birmingham and spurred the famous March on Washington. Bristling with the energy and resonance of his great speeches, Letter from the Birmingham Jail is both a compelling defense of nonviolent demonstration and a rallying cry for an end to social discrimination that is just as powerful today as it was more than twenty years ago."
"Charged with sensuality and passion, Pablo Neruda's love poems are the most celebrated of the Nobel Prize winner's oeuvre, captivating readers with earthbound images and reveling in a fiery re-imagining of the world."
"In this deeply personal reflection, Pulitzer Prize–winning author Jhumpa Lahiri explores the art of the book jacket from the perspectives of both reader and writer. Probing the complex relationships between text and image, author and designer, and art and commerce, Lahiri delves into the role of the uniform; explains what book jackets and design have come to mean to her; and how, sometimes, 'the covers become a part of me.'"
Two hours and Under
"With allusions to David Bowie and interplanetary travel, Life on Mars imagines a soundtrack for the universe to accompany the discoveries, failures, and oddities of human existence. In these new poems, Tracy K. Smith envisions a sci-fi future sucked clean of any real dangers, contemplates the dark matter that keeps people both close and distant, and revisits the kitschy concepts like 'love' and 'illness' now relegated to the Museum of Obsolescence."
Letters to a Young Poet by rainer maria rilke (narrated by Dan Stevens)
"In 1903, a student at a military academy sent some of his verses to a well-known Austrian poet, requesting an assessment of their value. The older artist, Rainer Maria Rilke, replied to the novice in this series of letters—an amazing archive of remarkable insights into the ideas behind Rilke's greatest poetry."
"Featuring forty trailblazing black women in American history, Little Leaders educates and inspires as it relates true stories of breaking boundaries and achieving beyond expectations. Whether they were putting pen to paper, soaring through the air or speaking up for the rights of others, the women profiled in these pages were all taking a stand against a world that didn't always accept them."
"A historian of fascism offers a guide for surviving and resisting America's turn towards authoritarianism. Twenty Lessons is a call to arms and a guide to resistance, with invaluable ideas for how we can preserve our freedoms in the uncertain years to come."
"In seven brief lessons, Italian theoretical physicist Carlo Rovelli guides readers with admirable clarity through the most transformative physics breakthroughs of the twentieth and twenty-first centuries. This playful, entertaining and mind-bending introduction to modern physics, already a major bestseller in Italy, explains general relativity, quantum mechanics, elementary particles, gravity, black holes, the complex architecture of the universe, and the role of humans in the strange world Rovelli describes."
three hours and under
"Jamaica Kincaid's expansive essay candidly appraises the ten-by-twelve-mile island in the British West Indies where she grew up, and makes palpable the impact of European colonization and tourism. The book is a missive to the traveler, whether American or European, who wants to escape the banality and corruption of some large place. Kincaid, eloquent and resolute, reminds us that the Antiguan people, formerly British subjects, are unable to escape the same drawbacks of their own tiny realm—that behind the benevolent Caribbean scenery are human lives, always complex and often fraught with injustice."
"At once a powerful evocation of James Baldwin's early life in Harlem and a disturbing examination of the consequences of racial injustice, the book is an intensely personal and provocative document. It consists of two 'letters,' written on the occasion of the centennial of the Emancipation Proclamation, that exhort Americans, both black and white, to attack the terrible legacy of racism."
"Dedicated to the daughter she never had but sees all around her, Letter to My Daughter reveals Maya Angelou's path to living well and living a life with meaning. Told in her own inimitable style, this book transcends genres and categories: guidebook, memoir, poetry, and pure delight. Here in short spellbinding essays are glimpses of the tumultuous life that led Angelou to an exalted place in American letters and taught her lessons in compassion and fortitude."
"In her comic, scathing essay "Men Explain Things to Me," Rebecca Solnit took on what often goes wrong in conversations between men and women. She wrote about men who wrongly assume they know things and wrongly assume women don't, about why this arises, and how this aspect of the gender wars works, airing some of her own hilariously awful encounters."
"'Terror is the given of the place.' The place is El Salvador in 1982, at the ghastly height of its civil war. The writer is Joan Didion, who delivers an anatomy of that country's particular brand of terror—its mechanisms, rationales, and intimate relation to United States foreign policy. As ash travels from battlefields to body dumps, interviews a puppet president, and considers the distinctly Salvadoran grammar of the verb 'to disappear,' Didion gives us a book that is germane to any country in which bloodshed has become a standard tool of politics."
Four Hours and Under
"The Princess Diarist is Carrie Fisher's intimate, hilarious and revealing recollection of what happened behind the scenes on one of the most famous film sets of all time, the first Star Wars movie. Laugh-out-loud hilarious and endlessly quotable, The Princess Diarist brims with the candor and introspection of a diary while offering shrewd insight into the type of stardom that few will ever experience.""
In a profound work that pivots from the biggest questions about American history and ideals to the most intimate concerns of a father for his son, Ta-Nehisi Coates offers a powerful new framework for understanding our nation's history and current crisis. Americans have built an empire on the idea of 'race,' a falsehood that damages us all but falls most heavily on the bodies of black women and men—bodies exploited through slavery and segregation, and, today, threatened, locked up, and murdered out of all proportion. What is it like to inhabit a black body and find a way to live within it? And how can we all honestly reckon with this fraught history and free ourselves from its burden? Between the World and Me is Ta-Nehisi Coates's attempt to answer these questions in a letter to his adolescent son."
"Raised in South Carolina and New York, Woodson always felt halfway home in each place. In vivid poems, she shares what it was like to grow up as an African American in the 1960s and 1970s, living with the remnants of Jim Crow and her growing awareness of the Civil Rights movement. Touching and powerful, each poem is both accessible and emotionally charged, each line a glimpse into a child's soul as she searches for her place in the world."
"Heart Berries is a powerful, poetic memoir of a woman's coming of age on the Seabird Island Indian Reservation in the Pacific Northwest. Having survived a profoundly dysfunctional upbringing only to find herself hospitalized and facing a dual diagnosis of post traumatic stress disorder and bipolar II disorder; Terese Marie Mailhot is given a notebook and begins to write her way out of trauma. The triumphant result is Heart Berries, a memorial for Mailhot's mother, a social worker and activist who had a thing for prisoners; a story of reconciliation with her father—an abusive drunk and a brilliant artist—who was murdered under mysterious circumstances; and an elegy on how difficult it is to love someone while dragging the long shadows of shame."
"A major literary event: a never-before-published work from the author of the American classic, Their Eyes Were Watching God, which brilliantly illuminates the horror and injustices of slavery as it tells the true story of the last known survivor of the Atlantic slave trade—illegally smuggled from Africa on the last 'Black Cargo' ship to arrive in the United States."
FIVE hours and under
"In a series of personal letters to his sons, Omar Saif Ghobash offers a short and highly readable manifesto that tackles our current global crisis with the training of an experienced diplomat and the personal responsibility of a father. Today's young Muslims will be tomorrow's leaders, and yet too many are vulnerable to extremist propaganda that seems omnipresent in our technological age. What does it mean to be a good Muslim? What is the concept of a good life? In taking a hard look at these seemingly simple questions, Ghobash encourages his sons to face issues others insist are not relevant, not applicable, or may even be Islamophobic. These letters serve as a clear-eyed inspiration for the next generation of Muslims to understand how to be faithful to their religion and still navigate through the complexities of today's world."
"In a darkly funny and bracing memoir, Valenti explores the toll that sexism takes from the every day to the existential. Sex Object explores the painful, funny, embarrassing, and sometimes illegal moments that shaped Valenti's adolescence and young adulthood in New York City, revealing a much shakier inner life than the confident persona she has cultivated as one of the most recognizable feminists of her generation."
"In Is Everyone Hanging Out Without Me?, Mindy invites readers on a tour of her life and her unscientific observations on romance, friendship, and Hollywood, with several conveniently placed stopping points for you to run errands and make phone calls. Mindy Kaling really is just a Girl Next Door—not so much literally anywhere in the continental United States, but definitely if you live in India or Sri Lanka."
"Japanese cleaning consultant Marie Kondo takes tidying to a whole new level, promising that if you properly simplify and organize your home once, you'll never have to do it again. Most methods advocate a room-by-room or little-by-little approach, which doom you to pick away at your piles of stuff forever. The KonMari Method, with its revolutionary category-by-category system, leads to lasting results. With detailed guidance for determining which items in your house 'spark joy' (and which don't), this international best seller featuring Tokyo's newest lifestyle phenomenon will help you clear your clutter and enjoy the unique magic of a tidy home—and the calm, motivated mindset it can inspire."
"Frederick Douglass's Narrative, first published in 1845, is an enlightening and incendiary text. Born into slavery, Douglass became the preeminent spokesman for his people during his life; his narrative is an unparalleled account of the dehumanizing effects of slavery and Douglass's own triumph over it."
six hours and Under
"A Gen-X librarian's snarky, laugh-out-loud funny, deeply moving collection of love letters and break-up notes to the books in her life. Through the lens of the books in her life, Annie comments on everything from women's psychology to gay culture to health to poverty to childhood aspirations."
"For readers of Atul Gawande, Andrew Solomon, and Anne Lamott, a profoundly moving, exquisitely observed memoir by a young neurosurgeon faced with a terminal cancer diagnosis who attempts to answer the question What makes a life worth living?"
Hunger by roxane gay
"From the bestselling author of Bad Feminist: a searingly honest memoir of food, weight, self-image, and learning how to feed your hunger while taking care of yourself."
"In One Day We'll All Be Dead and None of This Will Matter, Scaachi deploys her razor-sharp humour to share her fears, outrages and mortifying experiences as an outsider growing up in Canada. Her subjects range from shaving her knuckles in grade school, to a shopping trip gone horribly awry, to dealing with internet trolls, to feeling out of place at an Indian wedding (as an Indian woman), to parsing the trajectory of fears and anxieties that pressed upon her immigrant parents and bled down a generation."
"At last, Tina Fey's story can be told. From her youthful days as a vicious nerd to her tour of duty on Saturday Night Live; from her passionately halfhearted pursuit of physical beauty to her life as a mother eating things off the floor; from her one-sided college romance to her nearly fatal honeymoon. Tina Fey reveals all, and proves what we've all suspected: you're no one until someone calls you bossy."
seven hours and Under
"A poetic and powerful memoir about what it means to be a Black woman in America—and the co-founding of a movement that demands justice for all in the land of the free. When They Call You a Terrorist is Patrisse Khan-Cullors and asha bandele's reflection on humanity. It is an empowering account of survival, strength and resilience and a call to action to change the culture that declares innocent Black life expendable."
"When television producers approached Alan Cumming to appear on a popular celebrity genealogy show, he hoped to solve the mystery of his maternal grandfather's disappearance that had long cast a shadow over his family. But this was not the only mystery laid before Alan.
With ribald humor, wit, and incredible insight, Alan seamlessly moves back and forth in time, integrating stories from his childhood in Scotland and his experiences today as the celebrated actor of film, television, and stage. At times suspenseful, at times deeply moving, but always incredibly brave and honest, Not My Father's Son is a powerful story of embracing the best aspects of the past and triumphantly pushing the darkness aside."
"From one of the fiercest critics writing today, Morgan Jerkins's highly-anticipated collection of linked essays interweaves her incisive commentary on pop culture, feminism, black history, misogyny, and racism with her own experiences to confront the very real challenges of being a black woman today."
"From actor Cary Elwes, who played the iconic role of Westley in The Princess Bride, comes a first-person account and behind-the-scenes look at the making of the cult classic film filled with never-before-told stories, exclusive photographs, and interviews with costars Robin Wright, Wallace Shawn, Billy Crystal, Christopher Guest, and Mandy Patinkin, as well as author and screenwriter William Goldman, producer Norman Lear, and director Rob Reiner."
"In the Black feminist tradition of Audre Lorde, Brittney Cooper reminds us that anger is a powerful source of energy that can give us the strength to keep on fighting. Far too often, Black women's anger has been caricatured into an ugly and destructive force that threatens the civility and social fabric of American democracy. But Cooper shows us that there is more to the story than that. Black women's eloquent rage is what makes Serena Williams such a powerful tennis player. It's what makes Beyonce's girl power anthems resonate so hard. It's what makes Michelle Obama an icon. This book argues that ultimately feminism, friendship, and faith in one's own superpowers are all we really need to turn things right side up again."
eight hours and Under
"In this poignant, hilarious and deeply intimate call to arms, Hollywood's most powerful woman, the mega-talented creator of Grey's Anatomy and Scandal and executive producer of How to Get Away with Murder and Catch, reveals how saying YES changed her life—and how it can change yours too."
"Stiff is an oddly compelling, often hilarious exploration of the strange lives of our bodies postmortem. For two thousand years, cadavers—some willingly, some unwittingly—have been involved in science's boldest strides and weirdest undertakings. In this fascinating account, Mary Roach visits the good deeds of cadavers over the centuries and tells the engrossing story of our bodies when we are no longer with them."
"From Mary Wollstonecraft—who, for decades after her death, was more famous for her illegitimate child and suicide attempts than for A Vindication of the Rights of Woman—to Charlotte Brontë, Billie Holiday, Sylvia Plath, and even Hillary Clinton, Sady Doyle's Trainwreck dissects a centuries-old phenomenon and asks what it means now, in a time when we have unprecedented access to celebrities and civilians alike, and when women are pushing harder than ever against the boundaries of what it means to 'behave.' Where did these women come from? What are their crimes? And what does it mean for the rest of us? For an age when any form of self-expression can be the one that ends you, Sady Doyle's book is as fierce and intelligent as it is funny and compassionate—an essential, timely, feminist anatomy of the female trainwreck."
"An exquisite memoir about how to live—and love—every day with 'death in the room,' from poet Nina Riggs, mother of two young sons and the direct descendant of Ralph Waldo Emerson. Exploring motherhood, marriage, friendship, and memory, even as she wrestles with the legacy of her great-great-great grandfather, Ralph Waldo Emerson, Nina Riggs's breathtaking memoir continues the urgent conversation that Paul Kalanithi began in his gorgeous When Breath Becomes Air. She asks, what makes a meaningful life when one has limited time?"
the souls of black folk by W.E.B. Du Bois (narrated by prentice onayemi)
"Du Bois penned his epochal masterpiece, The Souls of Black Folk, in 1903. It remains his most studied and popular work; its insights into life at the turn of the 20th century still ring true."
nine hours and Under
"In 2011, Marie Claire magazine published a profile of Janet Mock in which she stepped forward for the first time as a trans woman. Those twenty-three hundred words were life-altering for the People.com editor, turning her into an influential and outspoken public figure and a desperately needed voice for an often voiceless community. In these pages, she offers a bold and inspiring perspective on being young, multicultural, economically challenged, and transgender in America."
"The compelling, inspiring, and comically sublime New York Times bestseller about one man's coming-of-age, set during the twilight of apartheid and the tumultuous days of freedom that followed. Trevor Noah's unlikely path from apartheid South Africa to the desk of The Daily Show began with a criminal act: his birth. Trevor was born to a white Swiss father and a black Xhosa mother at a time when such a union was punishable by five years in prison. Born a Crime is the story of a mischievous young boy who grows into a restless young man as he struggles to find himself in a world where he was never supposed to exist."
Negroland by margo jefferson
"At once incendiary and icy, mischievous and provocative, celebratory and elegiac—here is a deeply felt meditation on race, sex, and American culture through the prism of the author's rarefied upbringing and education among a black elite concerned with distancing itself from whites and the black generality while tirelessly measuring itself against both."
"From Pulitzer Prize-winner Katherine Boo, a landmark work of narrative nonfiction that tells the dramatic and sometimes heartbreaking story of families striving toward a better life in one of the twenty-first century's great, unequal cities."
"Clemantine Wamariya was six years old when her mother and father began to speak in whispers, when neighbors began to disappear, and when she heard the loud, ugly sounds her brother said were 'thunder.' In 1994, she and her fifteen-year-old sister, Claire, fled the Rwandan massacre and spent the next six years wandering through seven African countries, searching for safety. They did not know whether their parents were dead or alive.
Raw, urgent, and bracingly original, The Girl Who Smiled Beads captures the true costs and aftershocks of war: what is forever destroyed; what can be repaired; the fragility of memory; the disorientation that comes of other people seeing you only as broken—thinking you need, and want, to be saved. But it is about more than the brutality of war. It is about owning your experiences, about the life we create: intricately detailed, painful, beautiful, a work in progress."
ten hours and Under
"With We Are Never Meeting in Real Life., 'bitches gotta eat' blogger and comedian Samantha Irby turns the serio-comic essay into an art form. Whether talking about how her difficult childhood has led to a problem in making "adult" budgets, explaining why she should be the new Bachelorette—she's "35-ish, but could easily pass for 60-something"—detailing a disastrous pilgrimage-slash-romantic-vacation to Nashville to scatter her estranged father's ashes, sharing awkward sexual encounters, or dispensing advice on how to navigate friendships with former drinking buddies who are now suburban moms—hang in there for the Costco loot—she's as deft at poking fun at the ghosts of her past self as she is at capturing powerful emotional truths."
In Being Mortal, bestselling author Atul Gawande tackles the hardest challenge of his profession: how medicine can not only improve life but also the process of its ending. Gawande, a practicing surgeon, addresses his profession's ultimate limitation, arguing that quality of life is the desired goal for patients and families. Gawande offers examples of freer, more socially fulfilling models for assisting the infirm and dependent elderly, and he explores the varieties of hospice care to demonstrate that a person's last weeks or months may be rich and dignified."
"In the 1920s, the richest people per capita in the world were members of the Osage Indian Nation in Oklahoma. After oil was discovered beneath their land, the Osage rode in chauffeured automobiles, built mansions, and sent their children to study in Europe.
Then, one by one, they began to be killed off. One Osage woman, Mollie Burkhart, watched as her family was murdered. Her older sister was shot. Her mother was then slowly poisoned. And it was just the beginning, as more Osage began to die under mysterious circumstances. As the death toll surpassed more than twenty-four Osage, the newly created F.B.I. took up the case, in what became one of the organization's first major homicide investigations. Eventually the young director, J. Edgar Hoover, turned to a former Texas Ranger named Tom White to try to unravel the mystery. White put together an undercover team, including one of the only Native American agents in the bureau. Together with the Osage they began to expose one of the most sinister conspiracies in American history."
"In Just Kids, Patti Smith's first book of prose, the legendary American artist offers a never-before-seen glimpse of her remarkable relationship with photographer Robert Mapplethorpe in the epochal days of New York City and the Chelsea Hotel in the late sixties and seventies. An honest and moving story of youth and friendship, Smith brings the same unique, lyrical quality to Just Kids as she has to the rest of her formidable body of work."
"Life can be hard: your lover cheats on you; you lose a family member; you can't pay the bills—and it can be great: you've had the hottest sex of your life; you get that plum job; you muster the courage to write your novel. Sugar—the once-anonymous online columnist at The Rumpus, now revealed as Cheryl Strayed, author of the bestselling memoir Wild—is the person thousands turn to for advice. Tiny Beautiful Things brings the best of Dear Sugar in one place. Rich with humor, insight, compassion—and absolute honesty—this book is a balm for everything life throws our way."
Looking for more of the best short audiobooks? Check out ten short mystery audiobooks and 6 short nonfiction audiobooks.