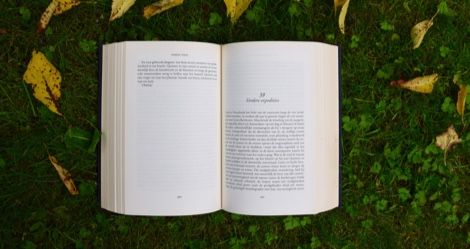 Lists
50 Must-Read Books of More Than 500 Pages
This content contains affiliate links. When you buy through these links, we may earn an affiliate commission.
While I love reading short books and cram them in during the end-of-year reading challenge crunch, I've come to really appreciate longer books. It's so satisfying to settle in with an epic tale, really get to know a group of fantastic characters, and watch a story unspool in a leisurely pace. When I think back to some of my favorite doorstopper books, like The Goldfinch and Outlander, I remember the time I spent with them and those mini reading epochs in my bookish life. In this list of 50 must-read long novels over 500 pages, you'll find a variety of fiction genres and authors, with a focus on recent (2000–present) books. Whether you're looking for a cozy reading experience during the cold months or a thick tome to take with you on a summer vacation, you'll find a read for every mood and interest.
Descriptions graciously supplied from publisher descriptions and condensed when necessary.
2666 by Robert Bolaño
"Three academics on the trail of a reclusive German author; a New York reporter on his first Mexican assignment; a widowed philosopher; a police detective in love with an elusive older woman—these are among the searchers drawn to the border city of Santa Teresa, where over the course of a decade hundreds of women have disappeared." (Amazon)
"Marie-Laure lives in Paris near the Museum of Natural History, where her father works. When she is twelve, the Nazis occupy Paris and father and daughter flee to the walled citadel of Saint-Malo, where Marie-Laure's reclusive great uncle lives in a tall house by the sea. With them they carry what might be the museum's most valuable and dangerous jewel.
In a mining town in Germany, Werner Pfennig, an orphan, grows up with his younger sister, enchanted by a crude radio they find that brings them news and stories from places they have never seen or imagined. Werner becomes an expert at building and fixing these crucial new instruments and is enlisted to use his talent to track down the resistance. Deftly interweaving the lives of Marie-Laure and Werner, Doerr illuminates the ways, against all odds, people try to be good to one another." (Amazon)
"The Amazing Adventures of Kavalier & Clay is a triumph of originality, imagination, and storytelling, an exuberant, irresistible novel that begins in New York City in 1939. A young escape artist and budding magician named Joe Kavalier arrives on the doorstep of his cousin, Sammy Clay. While the long shadow of Hitler falls across Europe, America is happily in thrall to the Golden Age of comic books, and in a distant corner of Brooklyn, Sammy is looking for a way to cash in on the craze. He finds the ideal partner in the aloof, artistically gifted Joe, and together they embark on an adventure that takes them deep into the heart of Manhattan, and the heart of old-fashioned American ambition. From the shared fears, dreams, and desires of two teenage boys, they spin comic book tales of the heroic, fascist-fighting Escapist and the beautiful, mysterious Luna Moth, otherworldly mistress of the night. Climbing from the streets of Brooklyn to the top of the Empire State Building, Joe and Sammy carve out lives, and careers, as vivid as cyan and magenta ink. Spanning continents and eras, this superb book by one of America's finest writers remains one of the defining novels of our modern American age." (Amazon)
"Days before his release from prison, Shadow's wife, Laura, dies in a mysterious car crash. Numbly, he makes his way back home. On the plane, he encounters the enigmatic Mr Wednesday, who claims to be a refugee from a distant war, a former god and the king of America. Together they embark on a profoundly strange journey across the heart of the USA, whilst all around them a storm of preternatural and epic proportions threatens to break." (Goodreads)
Americanah by Chimamanda Ngozi Adichie
"Ifemelu and Obinze are young and in love when they depart military-ruled Nigeria for the West. Beautiful, self-assured Ifemelu heads for America, where despite her academic success, she is forced to grapple with what it means to be black for the first time. Quiet, thoughtful Obinze had hoped to join her, but with post-9/11 America closed to him, he instead plunges into a dangerous, undocumented life in London. Fifteen years later, they reunite in a newly democratic Nigeria, and reignite their passion—for each other and for their homeland." (Amazon)
"In the late seventeenth century two penniless young Frenchmen, René Sel and Charles Duquet, arrive in New France. Bound to a feudal lord, a 'seigneur,' for three years in exchange for land, they become wood-cutters—barkskins. René suffers extraordinary hardship, oppressed by the forest he is charged with clearing. He is forced to marry a Mi'kmaw woman and their descendants live trapped between two inimical cultures. But Duquet, crafty and ruthless, runs away from the seigneur, becomes a fur trader, then sets up a timber business. Proulx tells the stories of the descendants of Sel and Duquet over three hundred years—their travels across North America, to Europe, China, and New Zealand, under stunningly brutal conditions—the revenge of rivals, accidents, pestilence, Indian attacks, and cultural annihilation. Over and over again, they seize what they can of a presumed infinite resource, leaving the modern-day characters face to face with possible ecological collapse." (Amazon)
"In an alternative future Japan, junior high students are forced to fight to the death! L to R (Western Style). Koushun Takami's notorious high-octane thriller is based on an irresistible premise: a class of junior high school students is taken to a deserted island where, as part of a ruthless authoritarian program, they are provided arms and forced to kill one another until only one survivor is left standing." (Amazon)
"With epic breadth and intimate detail, Ludmila Ulitskaya's remarkable work tells the story of three school friends who meet in Moscow in the 1950s and go on to embody the heroism, folly, compromise, and hope of the Soviet dissident experience. These three boys—an orphaned poet, a gifted yet fragile pianist, and a budding photographer with a talent for collecting secrets—struggle to reach adulthood in a society where their heroes have been censored and exiled." (Amazon)
"Madeline is a force to be reckoned with. She's funny and biting, passionate, she remembers everything and forgives no one. Her ex-husband and his yogi new wife have moved into her beloved beachside community, and their daughter is in the same kindergarten class as Madeline's youngest (how is this possible?). And to top it all off, Madeline's teenage daughter seems to be choosing Madeline's ex-husband over her. (How. Is. This. Possible?).
Celeste is the kind of beautiful woman who makes the world stop and stare. While she may seem a bit flustered at times, who wouldn't be, with those rambunctious twin boys? Now that the boys are starting school, Celeste and her husband look set to become the king and queen of the school parent body. But royalty often comes at a price, and Celeste is grappling with how much more she is willing to pay.
New to town, single mom Jane is so young that another mother mistakes her for the nanny. Jane is sad beyond her years and harbors secret doubts about her son. But why? While Madeline and Celeste soon take Jane under their wing, none of them realizes how the arrival of Jane and her inscrutable little boy will affect them all." (Amazon)
"Tracker is known far and wide for his skills as a hunter: 'He has a nose,' people say. Engaged to track down a mysterious boy who disappeared three years earlier, Tracker breaks his own rule of always working alone when he finds himself part of a group that comes together to search for the boy. The band is a hodgepodge, full of unusual characters with secrets of their own, including a shape-shifting man-animal known as Leopard.
As Tracker follows the boy's scent—from one ancient city to another; into dense forests and across deep rivers—he and the band are set upon by creatures intent on destroying them. As he struggles to survive, Tracker starts to wonder: Who, really, is this boy? Why has he been missing for so long? Why do so many people want to keep Tracker from finding him? And perhaps the most important questions of all: Who is telling the truth, and who is lying?" (Amazon)
"In The Blind Assassin, Margaret Atwood weaves together strands of gothic suspense, romance, and science fiction into one utterly spellbinding narrative. The novel begins with the mysterious death—a possible suicide—of a young woman named Laura Chase in 1945. Decades later, Laura's sister Iris recounts her memories of their childhood, and of the dramatic deaths that have punctuated their wealthy, eccentric family's history. Intertwined with Iris's account are chapters from the scandalous novel that made Laura famous, in which two illicit lovers amuse each other by spinning a tale of a blind killer on a distant planet. These richly layered stories-within-stories gradually illuminate the secrets that have long haunted the Chase family, coming together in a brilliant and astonishing final twist." (Amazon)
"Nahri has never believed in magic. Certainly, she has power; on the streets of 18th century Cairo, she's a con woman of unsurpassed talent. But she knows better than anyone that the trade she uses to get by—palm readings, zars, healings—are all tricks, sleights of hand, learned skills; a means to the delightful end of swindling Ottoman nobles.
But when Nahri accidentally summons an equally sly, darkly mysterious djinn warrior to her side during one of her cons, she's forced to accept that the magical world she thought only existed in childhood stories is real. For the warrior tells her a new tale: across hot, windswept sands teeming with creatures of fire, and rivers where the mythical marid sleep; past ruins of once-magnificent human metropolises, and mountains where the circling hawks are not what they seem, lies Daevabad, the legendary city of brass, a city to which Nahri is irrevocably bound." (Goodreads)
"Marion and Shiva Stone are twin brothers born of a secret union between a beautiful Indian nun and a brash British surgeon. Orphaned by their mother's death and their father's disappearance, bound together by a preternatural connection and a shared fascination with medicine, the twins come of age as Ethiopia hovers on the brink of revolution." (Amazon)
"In this tale of passion and obsession, Diana Bishop, a young scholar and a descendant of witches, discovers a long-lost and enchanted alchemical manuscript, Ashmole 782, deep in Oxford's Bodleian Library. Its reappearance summons a fantastical underworld, which she navigates with her leading man, vampire geneticist Matthew Clairmont." (Amazon)
Dune by Frank Herbert
"Science fiction's supreme masterpiece, Dune will be forever considered a triumph of the imagination. Set on the desert planet Arrakis, it is the story of the boy Paul Atreides, who will become the mysterious man known as Muad'Dib. Paul's noble family is named stewards of Arrakis, whose sands are the only source of a powerful drug called "the spice." After his family is brought down in a traitorous plot, Paul must go undercover to seek revenge, and to bring to fruition humankind's most ancient and unattainable dream. A stunning blend of adventure and mysticism, environmentalism and politics, Dune won the first Nebula Award, shared the Hugo Award, and formed the basis of what is undoubtedly the grandest epic in science fiction." (Amazon)
"This is the way the world ends. Again.
Three terrible things happen in a single day. Essun, a woman living an ordinary life in a small town, comes home to find that her husband has brutally murdered their son and kidnapped their daughter. Meanwhile, mighty Sanze — the world-spanning empire whose innovations have been civilization's bedrock for a thousand years — collapses as most of its citizens are murdered to serve a madman's vengeance. And worst of all, across the heart of the vast continent known as the Stillness, a great red rift has been been torn into the heart of the earth, spewing ash enough to darken the sky for years. Or centuries.
Now Essun must pursue the wreckage of her family through a deadly, dying land. Without sunlight, clean water, or arable land, and with limited stockpiles of supplies, there will be war all across the Stillness: a battle royale of nations not for power or territory, but simply for the basic resources necessary to get through the long dark night. Essun does not care if the world falls apart around her. She'll break it herself, if she must, to save her daughter." (Goodreads)
"With a compassionate realism and narrative sweep that recall the work of Charles Dickens, this magnificent novel captures all the cruelty and corruption, dignity and heroism, of India. The time is 1975. The place is an unnamed city by the sea. The government has just declared a State of Emergency, in whose upheavals four strangers–a spirited widow, a young student uprooted from his idyllic hill station, and two tailors who have fled the caste violence of their native village–will be thrust together, forced to share one cramped apartment and an uncertain future. As the characters move from distrust to friendship and from friendship to love, A Fine Balance creates an enduring panorama of the human spirit in an inhuman state." (Amazon)
"Sue Trinder is an orphan, left as an infant in the care of Mrs. Sucksby, a "baby farmer," who raised her with unusual tenderness, as if Sue were her own. Mrs. Sucksby's household, with its fussy babies calmed with doses of gin, also hosts a transient family of petty thieves—fingersmiths—for whom this house in the heart of a mean London slum is home.
One day, the most beloved thief of all arrives—Gentleman, an elegant con man, who carries with him an enticing proposition for Sue: If she wins a position as the maid to Maud Lilly, a naïve gentlewoman, and aids Gentleman in her seduction, then they will all share in Maud's vast inheritance. Once the inheritance is secured, Maud will be disposed of—passed off as mad, and made to live out the rest of her days in a lunatic asylum.
With dreams of paying back the kindness of her adopted family, Sue agrees to the plan. Once in, however, Sue begins to pity her helpless mark and care for Maud Lilly in unexpected ways…But no one and nothing is as it seems in this Dickensian novel of thrills and reversals." (Amazon)
Freedom by Jonathan Franzen
"Freedom comically and tragically captures the temptations and burdens of liberty: the thrills of teenage lust, the shaken compromises of middle age, the wages of suburban sprawl, the heavy weight of empire. In charting the mistakes and joys of Walter and Patty Berglund as they struggle to learn how to live in an ever more confusing world, Franzen has produced an indelible and deeply moving portrait of our time." (Amazon)
"In The Golem and the Jinni, a chance meeting between mythical beings takes readers on a dazzling journey through cultures in turn-of-the-century New York. Chava is a golem, a creature made of clay, brought to life to by a disgraced rabbi who dabbles in dark Kabbalistic magic and dies at sea on the voyage from Poland. Chava is unmoored and adrift as the ship arrives in New York harbor in 1899. Ahmad is a jinni, a being of fire born in the ancient Syrian desert, trapped in an old copper flask, and released in New York City, though still not entirely free. Ahmad and Chava become unlikely friends and soul mates with a mystical connection." (Amazon)
"Wily, charming Kuni Garu, a bandit, and stern, fearless Mata Zyndu, the son of a deposed duke, seem like polar opposites. Yet, in the uprising against the emperor, the two quickly become the best of friends after a series of adventures fighting against vast conscripted armies, silk-draped airships, and shapeshifting gods. Once the emperor has been overthrown, however, they each find themselves the leader of separate factions—two sides with very different ideas about how the world should be run and the meaning of justice." (Amazon)
"Cyril Avery is not a real Avery — or at least, that's what his adoptive parents tell him. And he never will be. But if he isn't a real Avery, then who is he? Born out of wedlock to a teenage girl cast out from her rural Irish community and adopted by a well-to-do if eccentric Dublin couple via the intervention of a hunchbacked Redemptorist nun, Cyril is adrift in the world, anchored only tenuously by his heartfelt friendship with the infinitely more glamourous and dangerous Julian Woodbead. At the mercy of fortune and coincidence, he will spend a lifetime coming to know himself and where he came from – and over his many years, will struggle to discover an identity, a home, a country, and much more." (Amazon)
"On the world called Hyperion, beyond the reach of galactic law, waits a creature called the Shrike. There are those who worship it. There are those who fear it. And there are those who have vowed to destroy it. In the Valley of the Time Tombs, where huge, brooding structures move backward through time, the Shrike waits for them all. On the eve of Armageddon, with the entire galaxy at war, seven pilgrims set forth on a final voyage to Hyperion seeking the answers to the unsolved riddles of their lives. Each carries a desperate hope—and a terrible secret. And one may hold the fate of humanity in his hands." (Amazon)
It by Stephen King
"Welcome to Derry, Maine. It's a small city, a place as hauntingly familiar as your own hometown. Only in Derry the haunting is real. They were seven teenagers when they first stumbled upon the horror. Now they are grown-up men and women who have gone out into the big world to gain success and happiness. But the promise they made twenty-eight years ago calls them reunite in the same place where, as teenagers, they battled an evil creature that preyed on the city's children. Now, children are being murdered again and their repressed memories of that terrifying summer return as they prepare to once again battle the monster lurking in Derry's sewers." (Amazon)
"At the dawn of the nineteenth century, two very different magicians emerge to change England's history. In the year 1806, with the Napoleonic Wars raging on land and sea, most people believe magic to be long dead in England-until the reclusive Mr Norrell reveals his powers, and becomes a celebrity overnight. Soon, another practicing magician comes forth: the young, handsome, and daring Jonathan Strange. He becomes Norrell's student, and they join forces in the war against France. But Strange is increasingly drawn to the wildest, most perilous forms of magic, straining his partnership with Norrell, and putting at risk everything else he holds dear." (Amazon)
"What if you could live again and again, until you got it right? On a cold and snowy night in 1910, Ursula Todd is born, the third child of a wealthy English banker and his wife. She dies before she can draw her first breath. On that same cold and snowy night, Ursula Todd is born, lets out a lusty wail, and embarks upon a life that will be, to say the least, unusual. For as she grows, she also dies, repeatedly, in any number of ways. Ursula's world is in turmoil, facing the unspeakable evil of the two greatest wars in history. What power and force can one woman exert over the fate of civilization—if only she has the chance?" (Amazon)
"A Little Life follows four college classmates—broke, adrift, and buoyed only by their friendship and ambition—as they move to New York in search of fame and fortune. While their relationships, which are tinged by addiction, success, and pride, deepen over the decades, the men are held together by their devotion to the brilliant, enigmatic Jude, a man scarred by an unspeakable childhood trauma. A hymn to brotherly bonds and a masterful depiction of love in the twenty-first century, Hanya Yanagihara's stunning novel is about the families we are born into, and those that we make for ourselves." (Amazon)
"It is 1866, and Walter Moody has come to stake his claim in New Zealand's booming gold rush. On the stormy night of his arrival, he stumbles across a tense gathering of 12 local men who have met in secret to discuss a series of unexplained events: a wealthy man has vanished, a prostitute has tried to end her life, and an enormous cache of gold has been discovered in the home of a luckless drunk. Moody is soon drawn into a network of fates and fortunes that is as complex and exquisitely ornate as the night sky." (Amazon)
"George Eliot's novel, Middlemarch: A Study of Provincial Life, explores a fictional nineteenth-century Midlands town in the midst of modern changes. The proposed Reform Bill promises political change; the building of railroads alters both the physical and cultural landscape; new scientific approaches to medicine incite public division; and scandal lurks behind respectability. The quiet drama of ordinary lives and flawed choices are played out in the complexly portrayed central characters of the novel—the idealistic Dorothea Brooke; the ambitious Dr. Lydgate; the spendthrift Fred Vincy; and the steadfast Mary Garth. The appearance of two outsiders further disrupts the town's equilibrium—Will Ladislaw, the spirited nephew of Dorothea's husband, the Rev. Edward Casaubon, and the sinister John Raffles, who threatens to expose the hidden past of one of the town's elite. Middlemarch displays George Eliot's clear-eyed yet humane understanding of characters caught up in the mysterious unfolding of self-knowledge." (Amazon)
Middlesex by Jeffrey Eugenides
"Middlesex tells the breathtaking story of Calliope Stephanides, and three generations of the Greek-American Stephanides family, who travel from a tiny village overlooking Mount Olympus in Asia Minor to Prohibition-era Detroit, witnessing its glory days as the Motor City and the race riots of 1967 before moving out to the tree-lined streets of suburban Grosse Pointe, Michigan. To understand why Calliope is not like other girls, she has to uncover a guilty family secret, and the astonishing genetic history that turns Callie into Cal, one of the most audacious and wondrous narrators in contemporary fiction. Lyrical and thrilling, Middlesex is an exhilarating reinvention of the American epic." (Goodreads)
"Saleem Sinai is born at the stroke of midnight on August 15, 1947, the very moment of India's independence. Greeted by fireworks displays, cheering crowds, and Prime Minister Nehru himself, Saleem grows up to learn the ominous consequences of this coincidence. His every act is mirrored and magnified in events that sway the course of national affairs; his health and well-being are inextricably bound to those of his nation; his life is inseparable, at times indistinguishable, from the history of his country. Perhaps most remarkable are the telepathic powers linking him with India's 1,000 other 'midnight's children,' all born in that initial hour and endowed with magical gifts." (Amazon)
"The circus arrives without warning. No announcements precede it. It is simply there, when yesterday it was not. Within the black-and-white striped canvas tents is an utterly unique experience full of breathtaking amazements. It is called Le Cirque des Rêves, and it is only open at night.
But behind the scenes, a fierce competition is underway: a duel between two young magicians, Celia and Marco, who have been trained since childhood expressly for this purpose by their mercurial instructors. Unbeknownst to them both, this is a game in which only one can be left standing. Despite the high stakes, Celia and Marco soon tumble headfirst into love, setting off a domino effect of dangerous consequences, and leaving the lives of everyone, from the performers to the patrons, hanging in the balance." (Amazon)
"On a damp October night, beautiful young Ashley Cordova is found dead in an abandoned warehouse in lower Manhattan. Though her death is ruled a suicide, veteran investigative journalist Scott McGrath suspects otherwise. As he probes the strange circumstances surrounding Ashley's life and death, McGrath comes face-to-face with the legacy of her father: the legendary, reclusive cult-horror-film director Stanislas Cordova—a man who hasn't been seen in public for more than thirty years.
For McGrath, another death connected to this seemingly cursed family dynasty seems more than just a coincidence. Though much has been written about Cordova's dark and unsettling films, very little is known about the man himself.
Driven by revenge, curiosity, and a need for the truth, McGrath, with the aid of two strangers, is drawn deeper and deeper into Cordova's eerie, hypnotic world. The last time he got close to exposing the director, McGrath lost his marriage and his career. This time he might lose even more." (Amazon)
"An Air Force loadmaster in the Vietnam War is shot out of the sky, then saved by falling into a banyan. An artist inherits a hundred years of photographic portraits, all of the same doomed American chestnut. A hard-partying undergraduate in the late 1980s electrocutes herself, dies, and is sent back into life by creatures of air and light. A hearing- and speech-impaired scientist discovers that trees are communicating with one another. These four, and five other strangers―each summoned in different ways by trees―are brought together in a last and violent stand to save the continent's few remaining acres of virgin forest." (Amazon)
"In the early 1900s, teenaged Sunja, the adored daughter of a crippled fisherman, falls for a wealthy stranger at the seashore near her home in Korea. He promises her the world, but when she discovers she is pregnant—and that her lover is married—she refuses to be bought. Instead, she accepts an offer of marriage from a gentle, sickly minister passing through on his way to Japan. But her decision to abandon her home, and to reject her son's powerful father, sets off a dramatic saga that will echo down through the generations." (Amazon)
"When the Great Depression hits, Florence Fein leaves Brooklyn College for a job in Moscow—and the promise of love and independence. But once in Russia, she quickly becomes entangled in a country she can't escape. Many years later, Florence's son, Julian, immigrates back to the United States, though his work in the oil industry takes him on frequent visits to Moscow. When he learns that Florence's KGB file has been opened, he arranges a business trip to uncover the truth about his mother, and to convince his son, Lenny—trying to make his fortune in Putin's cutthroat Russia—to return home. What Julian discovers is both chilling and heartbreaking: an untold story of a generation of Americans abandoned by their country, and the secret history of two rival nations colluding under the cover of enmity." (Amazon)
"When Rin aced the Keju—the Empire-wide test to find the most talented youth to learn at the Academies—it was a shock to everyone: to the test officials, who couldn't believe a war orphan from Rooster Province could pass without cheating; to Rin's guardians, who believed they'd finally be able to marry her off and further their criminal enterprise; and to Rin herself, who realized she was finally free of the servitude and despair that had made up her daily existence. That she got into Sinegard—the most elite military school in Nikan—was even more surprising. But surprises aren't always good. Because being a dark-skinned peasant girl from the south is not an easy thing at Sinegard. Targeted from the outset by rival classmates for her color, poverty, and gender, Rin discovers she possesses a lethal, unearthly power—an aptitude for the nearly-mythical art of shamanism. Exploring the depths of her gift with the help of a seemingly insane teacher and psychoactive substances, Rin learns that gods long thought dead are very much alive—and that mastering control over those powers could mean more than just surviving school. For while the Nikara Empire is at peace, the Federation of Mugen still lurks across a narrow sea. The militarily advanced Federation occupied Nikan for decades after the First Poppy War, and only barely lost the continent in the Second. And while most of the people are complacent to go about their lives, a few are aware that a Third Poppy War is just a spark away . . .Rin's shamanic powers may be the only way to save her people. But as she finds out more about the god that has chosen her, the vengeful Phoenix, she fears that winning the war may cost her humanity . . . and that it may already be too late." (Amazon)
"The Queen of the Night tells the mesmerizing story of Lilliet Berne, an orphan who left the American frontier for Europe and was swept into the glamour and terror of Second Empire France. She became a sensation of the Paris Opera, with every accolade but an original role—her chance at immortality. When one is offered to her, she finds the libretto is based on her deepest secret, something only four people have ever known. But who betrayed her?" (Amazon)
"1892: James Norbury, a shy would-be poet newly down from Oxford, finds lodging with a charming young aristocrat. Through this new friendship, he is introduced to the drawing-rooms of high society and finds love in an unexpected quarter. Then, suddenly, he vanishes without a trace. Alarmed, his sister, Charlotte, sets out from their crumbling country estate determined to find him. In the sinister, labyrinthine London that greets her, she uncovers a hidden, supernatural city populated by unforgettable characters: a female rope walker turned vigilante, a street urchin with a deadly secret, and the chilling 'Doctor Knife.' But the answer to her brother's disappearance ultimately lies within the doors of the exclusive, secretive Aegolius Club, whose predatory members include the most ambitious, and most bloodthirsty, men in England." (Amazon)
"Under the influence of their charismatic classics professor, a group of clever, eccentric misfits at an elite New England college discover a way of thinking and living that is a world away from the humdrum existence of their contemporaries. But when they go beyond the boundaries of normal morality they slip gradually from obsession to corruption and betrayal, and at last—inexorably—into evil." (Goodreads)
Six Four by Hideo Yokoyama
"For five days, the parents of a seven-year-old Japanese schoolgirl sat and listened to the demands of their daughter's kidnapper. They would never learn his identity. And they would never see their daughter alive again.
Fourteen years later, the mystery remains unsolved. The police department's press officer―Yoshinobu Mikami, a former detective who was involved in the original case and who is now himself the father of a missing daughter―is forced to revisit the botched investigation. The stigma of the case known as 'Six Four' has never faded; the police's failure remains a profound source of shame and an unending collective responsibility.
Mikami does not aspire to solve the crime. He has worked in the department for his entire career, and while he has his own ambitions and loyalties, he is hoping simply to reach out to the victim's family and to help finally put the notorious case to rest. But when he spots an anomaly in the files, he uncovers secrets he never could have imagined. He would never have even looked if he'd known what he would find." (Amazon)
"Vikram Seth's novel is, at its core, a love story: Lata and her mother, Mrs. Rupa Mehra, are both trying to find—through love or through exacting maternal appraisal—a suitable boy for Lata to marry. Set in the early 1950s, in an India newly independent and struggling through a time of crisis, A Suitable Boy takes us into the richly imagined world of four large extended families and spins a compulsively readable tale of their lives and loves. A sweeping panoramic portrait of a complex, multiethnic society in flux, A Suitable Boy remains the story of ordinary people caught up in a web of love and ambition, humor and sadness, prejudice and reconciliation, the most delicate social etiquette and the most appalling violence." (Goodreads)
"A most untraditional love story, this is the celebrated tale of Henry DeTamble, a dashing, adventuresome librarian who inadvertently travels through time, and Clare Abshire, an artist whose life takes a natural sequential course. Henry and Clare's passionate affair endures across a sea of time and captures them in an impossibly romantic trap that tests the strength of fate and basks in the bonds of love." (Amazon)
"In this thrilling adventure tale by the father of science fiction, three men embark on an epic journey under the sea with the mysterious Captain Nemo aboard his submarine, the Nautilus. Over the course of their fantastical voyage, they encounter the lost city of Atlantis, the South Pole, and the corals of the Red Sea. Along the way, they must battle countless adversaries both human and monstrous. This triumphant work of the imagination shows the limitless possibilities of science and the dark depths of the human mind." (Amazon)
"In a Tokyo suburb a young man named Toru Okada searches for his wife's missing cat. Soon he finds himself looking for his wife as well in a netherworld that lies beneath the placid surface of Tokyo. As these searches intersect, Okada encounters a bizarre group of allies and antagonists: a psychic prostitute; a malevolent yet mediagenic politician; a cheerfully morbid sixteen-year-old-girl; and an aging war veteran who has been permanently changed by the hideous things he witnessed during Japan's forgotten campaign in Manchuria." (Goodreads)
Villette by Charlotte BrontË
"With neither friends nor family, Lucy Snowe sets sail from England to find employment in a girls' boarding school in the small town of Villette. There she struggles to retain her self-possession in the face of unruly pupils, an initially suspicious headmaster, and her own complex feelings, first for the school's English doctor and then for the dictatorial professor, Paul Emmanuel. Charlotte Brontë's last and most autobiographical novel is a powerfully moving study of isolation and the pain of unrequited love, narrated by a heroine determined to preserve an independent spirit in the face of adverse circumstances." (Amazon)
"Set in London of the 1660s and of the early twenty-first century, The Weight of Ink is the interwoven tale of two women of remarkable intellect: Ester Velasquez, an emigrant from Amsterdam who is permitted to scribe for a blind rabbi, just before the plague hits the city; and Helen Watt, an ailing historian with a love of Jewish history.
As the novel opens, Helen has been summoned by a former student to view a cache of seventeenth-century Jewish documents newly discovered in his home during a renovation. Enlisting the help of Aaron Levy, an American graduate student as impatient as he is charming, and in a race with another fast-moving team of historians, Helen embarks on one last project: to determine the identity of the documents' scribe, the elusive 'Aleph.'" (Amazon)
"Toby is a happy-go-lucky charmer who's dodged a scrape at work and is celebrating with friends when the night takes a turn that will change his life – he surprises two burglars who beat him and leave him for dead. Struggling to recover from his injuries, beginning to understand that he might never be the same man again, he takes refuge at his family's ancestral home to care for his dying uncle Hugo. Then a skull is found in the trunk of an elm tree in the garden – and as detectives close in, Toby is forced to face the possibility that his past may not be what he has always believed." (Amazon)
"Respectable Lady Seeks Dependable Shop Girl. Those averse to magic need not apply.
New York in the spring of 1880 is a place alive with wonder and curiosity. Determined to learn the truth about the world, its residents enthusiastically engage in both scientific experimentation and spiritualist pursuits. Séances are the entertainment of choice in exclusive social circles, and many enterprising women—some possessed of true intuitive powers, and some gifted with the art of performance—find work as mediums.
Enter Adelaide Thom and Eleanor St. Clair. At their humble teashop, Tea and Sympathy, they provide a place for whispered confessions, secret cures, and spiritual assignations for a select society of ladies, who speak the right words and ask the right questions. But the profile of Tea and Sympathy is about to change with the fortuitous arrival of Beatrice Dunn.
When seventeen-year-old Beatrice leaves the safety of her village to answer an ad that reads "Respectable Lady Seeks Dependable Shop Girl. Those averse to magic need not apply," she has little inclination of what the job will demand of her. Beatrice doesn't know it yet, but she is no ordinary small-town girl; she has great spiritual gifts—ones that will serve as her greatest asset and also place her in grave danger. Under the tutelage of Adelaide and Eleanor, Beatrice comes to harness many of her powers, but not even they can prepare her for the evils lurking in the darkest corners of the city or the courage it will take to face them." (Amazon)
"England in the 1520s is a heartbeat from disaster. If the king dies without a male heir, the country could be destroyed by civil war. Henry VIII wants to annul his marriage of twenty years and marry Anne Boleyn. The pope and most of Europe opposes him. Into this impasse steps Thomas Cromwell: a wholly original man, a charmer and a bully, both idealist and opportunist, astute in reading people, and implacable in his ambition. But Henry is volatile: one day tender, one day murderous. Cromwell helps him break the opposition, but what will be the price of his triumph?" (Amazon)
For more recommendations for long books, check out my list of 7 long books to read in the colder months and a Rioter's list of 5 long books that feel way too short.