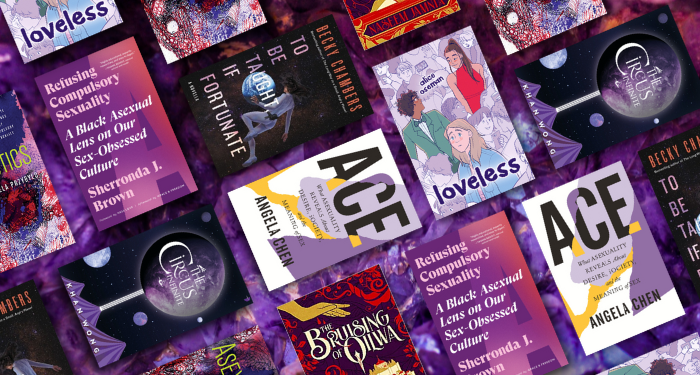 LGBTQ
20 Must-Read Asexual Books for Ace Week
This content contains affiliate links. When you buy through these links, we may earn an affiliate commission.
Finding asexual representation in fiction sometimes feels like looking for a needle in a stack of endless needles. Unlike some other queer representation, asexuality doesn't always leap off the page. You can't necessarily tell if a story will include asexual or aromantic representation from the blurb or bio alone, and that's assuming asexuality is ever explicitly mentioned. Plenty of books deal in subtext. But asexual books are very much out there and for Ace Week this October we want to celebrate the plethora of great representation on offer!
Not only are there books featuring great ace-spec representation across the entire gamut of genres, there are actually so many that I couldn't include all of them on this list. That's right, folks, I had more than enough asexual books to pick from for this must-read list, and the pickings weren't even all that slim. Though asexuality lags in on-page representation behind many other LGBTQ+ identities, like those other identities we're continuing to see more and more queer representation in fiction. Hallelujah!
I did my best to include the specific flavor of representation in all of the books and made note of books containing explicit sex scenes wherever possible. And on that note, an important disclaimer:
Please, please, note not all ace-spec people are sex-repulsed. That does not invalidate their identity! A number of these books include characters who have sex and even enjoy sex. It's totally valid to avoid those if reading sex scenes isn't for you. But it's not okay to invalidate the experience of ace-spec people who do. I'll add an asterisk for all the books I know contain explicit sex so people can avoid that as needed. Remember, my dears: read what you want to read and let others read what they want to read. It's that simple.
Adult Romance
Nonfiction
Explore even more asexual books with these other Book Riot lists:
8 Asexual Books to Help You Celebrate Pride Month
7 Fantasy Books with Asexual Leads