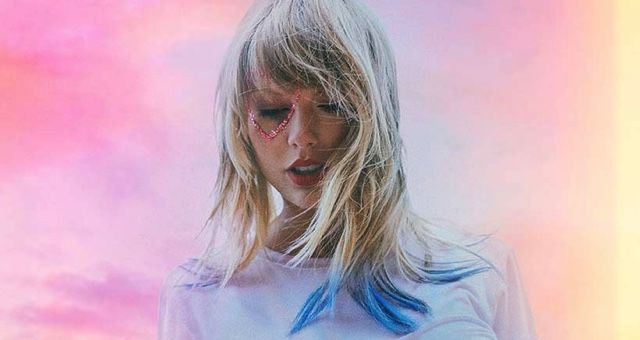 Lists
Matching Books to Songs from Taylor Swift's LOVER Album
This content contains affiliate links. When you buy through these links, we may earn an affiliate commission.
Taylor Swift recently released her latest album Lover. It is full of romance, lightness, and a celebration of the people and things we love in life. It's a much airier, delicate piece of artwork, compared to Taylor's previous album Reputation. And in celebration of her latest work, I wanted to match books to each song on Taylor Swift's Lover album.
"I Forgot That You Existed"
"I forgot that you existed / It isn't love, it isn't hate, it's just indifference"
After Marlee finds out that her boyfriend of 10 years has been cheating on her, she takes life into her own hands and vows to put herself first. Instead of dwelling over the broken relationship, she finds love with a caring, compassionate man and focuses on her career rather than putting others' needs before her own.
"I Forgot that You Existed" is the perfect song to reflect Marlee's mood once she's moved on and has put her past behind her.
"Cruel Summer"
"I don't wanna keep secrets just to keep you… / And I scream, "For whatever it's worth / I love you, ain't that the worst thing you ever heard?"/ He looks up, grinning like a devil"
Alisha Rai's Hate to Want You is the second-chance romance, enemies-to-lovers book of our dreams. Livvy and Nicholas should not be together; their families are rivals and any form of a relationship they can have is off-limits.
No matter how much they fight the chemistry flowing between them, there's no denying that they belong together. Filled with tension and pining for one another without anyone else knowing, Alisha Rai's steamy romance fits perfectly with Taylor's "Cruel Summer."
"Lover"
"Can I go where you go? / Can we always be this close forever and ever? / And ah, take me out, and take me home"
This New Adult romance follows two ballet dancers who have faced a life-changing tragedy. And, they are trying to pick up the pieces and find normalcy with one another, again. Throughout this story, Aly and Zed rely on one another for support and comfort as they process something that has changed their relationship and themselves, as individuals.
Some of their deepest moments occur in their tiny apartment where they bare their hearts and souls to one another, knowing they will love each other no matter what, which reminds me of Taylor Swift's "Lover."
"The Man"
"I'm so sick of running as fast as I can / Wondering if I'd get there quicker if I was a man / And I'm so sick of them coming at me again / 'Cause if I was a man, then I'd be the man"
Evelyn Hugo's career during the Golden Age of Hollywood is a time that tests her limits. Between scandals, multiple marriages, and secrets hastily tucked away from the eyes of the press, Evelyn is familiar with the leaps and bounds women have to make to get an ounce of recognition that actors received just by smiling at the camera.
"The Man" is most definitely a song she would blast on repeat to annoy her neighbors and the paparazzi outside of her home to remind them that all her marriages, divorces, and escapades would have been seen in a kinder light if she were an actor and not an actress.
"The Archer"
"I've been the archer, I've been the prey / Who could ever leave me, darling / But who could stay?"
The moment a friend said that "The Archer" reminds them of Juliette from Shatter Me, I couldn't stop thinking about the comparison. Juliette lives a very sheltered life, considering the fact that her touch could kill, which leads to her imprisonment in the first novel of this series.
Throughout the book, she grapples with the fact that she is both the villain and the prey. And, she wonders who will love her enough to stay by her side, similar to the vibes in this slow-moving, haunting song.
"I Think He Knows"
"He got that boyish look that I like in a man / I am an architect, I'm drawing up the plans / He's so obsessed with me and, boy, I understand"
The "I am an architect, I'm drawing up the plans" lyrics immediately reminded me of Maurene Goo's I Believe in a Thing Called Love. It is a Young Adult novel about a girl named Desi who concocts a step-by-step plan to make the new boy in school fall in love with her in the way characters do in K-Dramas. She is a girl who loves order and lists, and knows that all her scheming and plans will get this boy to fall for her, once and for all.
"Miss Americana and the Heartbreak Prince"
"Boys will be boys then, where are the wise men? / Darling, I'm scared"
After Romy gets raped by the All-American golden boy in her high school, she gets alienated from everyone in town who believes that she's lying because the local Sheriff's son could "never" do something so horrific to a girl.
This hard-hitting young adult novel delves deep into the heart of the discussion around rape culture and victim-blaming, and it immediately reminded me of this political and symbolic song set in a high school.
"Paper Rings"
"In the winter, in the icy outdoor pool / When you jumped in first, I went in too / I'm with you even if it makes me blue / Which takes me back / To the color that we painted your brother's wall / Honey, without all the exes, fights, and flaws / We wouldn't be standing here so tall…"
"Paper Rings" reminds me of what Emma and Julien wish they had in Cassandra Clare's Lady Midnight. While they are forbidden to be together, Emma and Julien still hope that one day they can share a life together with his many siblings whom he cares for.
This hopeful, light song made me think of this couple from the Shadowhunter world in the way that they are aching to have a happily ever after, despite the odds stacked against them.
"Cornelia Street"
"And baby, I get mystified by how this city screams your name / And baby, I'm so terrified of if you ever walk away"
Natasha and Daniel are strangers who meet in New York City and end up spending the entire day together where they learn about each other's hopes, dreams, and fears. At the beginning of the novel, Natasha is wary of hopeless-romantic Daniel, but at the end of the story, they have created such a bond that they are afraid of losing each other because they have made such an imprint on each other's hearts while exploring what the city has to offer.
"Death by a Thousand Cuts"
"Saying goodbye is death by a thousand cuts / Flashbacks waking me up / I get drunk, but it's not enough / 'Cause the morning comes and you're not my baby"
The moment this song played, I knew it was a Daisy Jones and Billy Dunne type of song. In Taylor Jenkins Reid's latest release, we follow two singers who have a love-hate relationship and are forced to work alongside one another in order to make an album together. They both know they aren't right for one another and can never be together, but that doesn't lessen the sting when they fall apart and realize that their feelings for each other can never be shown.
"London Boy"
"You know I love a London boy, I enjoy walking Soho / Drinking in the afternoon (Yeah) / He likes my American smile, like a child when our eyes meet / Darling, I fancy you (You)"
I think we can all agree that "London Boy" is a Red White & Royal Blue song from the perspective of First Son, Alex Claremont-Diaz, falling for Prince Henry. Their love that spans continents is the perfect match for this upbeat, playful song mirroring the mood of this lovely New Adult romance that has stolen the hearts of countless readers.
"Soon You'll Get Better"
"And I hate to make this all about me /But who am I supposed to talk to? / What am I supposed to do / If there's no you?"
The Astonishing Color of After deals with a daughter's grief after losing her mother and her hope of finding some connection to her after she's gone. This reminds me of Taylor Swift's slow and melancholic "Soon You'll Get Better," a song about her fears of losing her own mother.
"False God"
"But we might just get away with it /Religion's in your lips / Even if it's a false god / We'd still worship / We might just get away with it"
Ead and Sabran share a forbidden romance in Samantha Shannon's Priory of the Orange Tree. Sabran is a queen in danger of assassins attacking her while Ead sets out to protect Sabran at all costs.
While they both follow different religions and live very different lives, eventually they realize that their unlikely love for one another trumps the differences in their lifestyles, similar to Taylor Swift's "False God" which uses religious symbolism to express how all-consuming and ethereal a relationship can be.
"You Need to Calm Down"
"And I ain't tryna mess with your self-expression / But I've learned a lesson that stressin' and obsessin' 'bout somebody else is no fun / And snakes and stones never broke my bones"
"You Need to Calm Down" is perfect song to sum up Simon vs. the Homo Sapiens Agenda's mood. After Simon receives mysterious, heart-stopping messages from someone who knows that he's gay, his life gets ten times more complicated than he wants it to be. And, he wishes his blackmailer would just calm down and realize that controlling and manipulating someone else's life is a terrible choice to make.
"Afterglow"
"Fighting with a true love is boxing with no gloves / Chemistry 'til it blows up, 'til there's no us / Why'd I have to break what I love so much? / It's on your face, and I'm to blame, I need to say"
Somewhere Only We Know is a Roman Holiday retelling where paparazzo Jack spends one fun-filled, spontaneous day with K-Pop idol Lucky, who is unaware of his career or intentions when he offers to spend a day showing her Hong Kong.
As they slowly fall for one another, Jack realizes that the secrets he hides and the plans he's scheming will only blow up in his face and ruin everything between him and Lucky, who captures his heart during the short time they spend together.
"Me!"
"But one of these things is not like the others / Like a rainbow with all of the colors / Baby doll, when it comes to a lover / I promise that you'll never find another like / Me-e-e, ooh-ooh-ooh-ooh"
This upbeat, bright, and airy song is basically a Lara Jean anthem. She is happy, caring, and is a ray of sunshine. I'd picture her singing this to Peter Kavinsky to remind him that he'll never find a girl like her who's as quirky, cute, and utterly unique as Lara Jean, who embraces how different she is from her peers in high school.
"It's Nice to Have a Friend"
"It's nice to have a friend (Ooh) / Light pink sky, up on the roof / Sun sinks down, no curfew"
Frank's parents want nothing more than for him to date Joy, a Korean American girl who attends the same gatherings as him and his family. While they aren't the closest of friends, they draw closer together as they bond over how intrusive and controlling their parents can be when trying to control their love lives.
The bond that they form together in this book is the perfect match to Taylor Swift's dreamy, eclectic sounding "It's Nice to Have a Friend."
"Daylight"
Flashed by Zoey Castile
"I don't wanna look at anything else now that I saw you / I don't wanna think of anything else now that I thought of you / I've been sleeping so long in a 20-year dark night / And now I see daylight, I only see daylight"
Zoey Castile's Flashed is an angsty, slow-burn romance similar to that of Beauty and the Beast in the way that Lena takes up the offer work for Patrick, a grumpy recluse who is afraid to show himself and his injuries to the world after surviving a terrible accident. Together, they find hope and heal past wounds and finally embrace the daylight shining now that they've learned to put what happened in their pasts behind them in order to look towards a brighter future.
---
Are there other books that you think would match Taylor Swift's songs from her new album Lover?