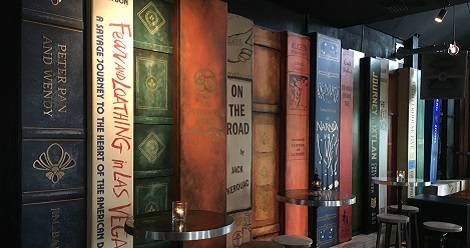 This content contains affiliate links. When you buy through these links, we may earn an affiliate commission.
When you allow a book-loving travel nerd to roam the alleys of Melbourne (Australia), the odds of finding a magical door are definitely in your favour.
Just visible from one of the main CBD streets is a huge painted wall, with the words Once upon a time… It doesn't look like much; an unassuming door opening out into the alley, with a soft smell of musk lingering in the air.
It's intentional. It's a subtle invitation to appease your literary love. Like the wardrobe to Narnia, this door leads you through a darkened room into a whole other world of fantastical delight.
I arrived at 5 pm on a Friday; the cusp of the weekend, when Melbourne is slowly transitioning from business attire to lively social life. I will be brutally honest: I consider myself a socially-functioning introvert. I love to catch up with friends at social events but there is a limit to the madness. Too much loud noise and all I want to do is go home and curl up with a good book.
Setting the Scene
When I stepped out of the stairwell and into the main room, I felt like I had found my nesting spot for the rest of the weekend. To hell with the impending crowds already planning their path to the door! Within the first minute, I picked out five nooks to sit down and enjoy a drink, without the usual instant exposure to a dance floor. StoryVille really does cater for both. Even at 5 pm, there was a DJ in play with some very chilled out beats. It has all the makings of a vibrant social hub and a safe space for bibliophiles.
The two-storey venue is completely dedicated to literary delights. From the giant mushroom looming over the bar to the oversized novels lining the walls, everything has a touch of bookish charm to it. The lighting is reminiscent of Alice's Adventures in Wonderland. I also loved the featured quotes on table-tops. Some of them tend to evoke a deeper consideration over the social drink.
Drink Me
Of course, the menu matches the décor—with a selection of signature cocktails to bring out the timidest of bookworms. The selection is thanks to Bar Manager Zach, an extraordinary fellow with a relaxed charm and serious love for literature.
"We're kind of torn between wanting to be full and popular and successful, while also wanting to create a space for all those people who love escaping into a good book. We want them to escape in Storyville as well. I think the owners have captured the best of both worlds. We all work really hard to capture the best of both worlds."
For the Harry Potter fans, mix your own Polyjuice (minus the human hairs… unless you are really into that sort of thing). For the classics, there's an apple liqueur, bourbon, and bacon treat straight from Animal Farm. Personally, I love the cocktail/tea inspired by Through the Looking Glass. The picture below doesn't do it justice; it is served with a veil of fog pouring over the pot, creating an atmosphere of confusion, just like Lewis Carroll himself.
Happily Ever After
Within the hour, StoryVille filled with patrons looking for a great night out. The music was uplifting, the drinks were inspiring, and the atmosphere bubbled like an excited book club. This is possibly the best way to start your weekend, with no expectations or gaudiness.
It seems strange to suggest a single venue as the reason to visit Melbourne but StoryVille achieved something I haven't felt in years: curiosity. Returning to the real world outside, I felt this buoyant urge to explore Melbourne all over again. That quiet unassuming mural motivated me to take a second look at every alley in Melbourne, with the hopes of discovering another magical door or even just a comfy reading nook.
Is There A Sequel?
I, the socially-functioning introvert, am totally enamoured with StoryVille. I can't recall any other place that has totally hooked both sides of my personality in such a smooth, sumptuous manner. If only there more venues like this all around the world!
For more literary tourism for Melbourne, Carissa Lee has covered all the best spots in her Literary Tourism: Melbourne, Australia. She has all the best bookstores to match the perfect book to your perfect drink.
StoryVille is found at 185 Lonsdale Street, Melbourne (Australia). It is down towards Chinatown, with its entry in the alley just slightly off the main street. The door opens from 4 pm to the ambiguous 'Late', seven days a week. Head in early for quiet enjoyment or save yourself for a few hours if you're looking for the crowd.