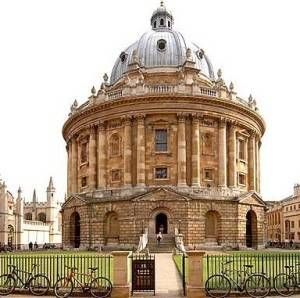 This content contains affiliate links. When you buy through these links, we may earn an affiliate commission.
Like London, Oxford is a city full of books.
No matter where you go in Oxford, it seems you are only a few cobblestones away from a bookstore, a library, a literary landmark, or a reader.
Oxford is packed with literary history and bookish places to visit. Here are just a few of the highlights.
The Radcliffe Camera and the Bodleian Library
It's so pretty and crammed full of books. Even if you don't go inside, the building is awesome.
The University of Oxford is divided into colleges, and every one of them has a long and storied history.
C. S. Lewis taught English at Magdalen, John le Carré studied at Lincoln College (while also spying for MI-5), and Hugh Grant graduated from New College. (He was in Sense and Sensibility that one time, so it counts.)
Christ Church has its share of authors (W. H. Auden, for example) and it's also where Lewis Carroll met Alice Liddell, the inspiration for Alice in Wonderland.
Speaking of Alice in Wonderland…
Across the street from Christ Church you'll find Alice's Shop, which is a shop that featured in Through the Looking Glass, and which now sells Alice bookmarks and tea towels and all sorts of Wonderland-y memorabilia.
And if you're worn out and ready for a tea, you might head next door to Cafe Loco (Mad Hatter decor included).
Further Reading: The Other Alice: The Story of Alice Liddell and Alice in Wonderland by Cristina Bjork and Inga-Karin Eriksson, The World Behind Alice in Wonderland in Oxford, and of course, Alice in Wonderland by Lewis Carroll.
While Harry Potter takes place, of course, mostly in London and up at Hogwarts (in Scotland!) some bits of the movies were filmed in Oxford.
You can stand on the stairs where the first years (including Harry, Ron, and Hermione) first met the formidable Professor McGonagall, the library scenes were filmed in Duke Humfrey's library at the Bodleian, and the Hogwarts dining hall was inspired by the dining hall at Christ Church.
Of course, arguably the most famous Oxonians would have to be C. S. Lewis, J. R. R. Tolkien, and the rest of their writing friends, who called themselves the Inklings.
The Eagle and Child (which they called The Bird and the Baby) is just one of the places in Oxford that was frequented by the Inklings. You can get a pint or a nice meal and sit and contemplate the works of literary genius that began right there…
Further Reading:
The Inklings of Oxford by Harry Lee Poe and James Ray Veneman, The Inklings: C. S. Lewis, J. R. R. Tolkien, Charles Williams, and Their Friends by Humphrey Carpenter, C. S. Lewis: A Life by Alister McGrath, J. R. R. Tolkien by Humphrey Carpenter, and of course, everything ever written by C. S. Lewis and J. R. R. Tolkien.
There are lot's of good bookshops in Oxford, including a four story Waterstones and the Oxford University Press bookshop…but I can't talk about literary Oxford without mentioning Blackwell's.
You'd never know from the small shopfront how many piles of books are in this cavernous store! Seriously, this is one of the greatest bookstores ever.
Really all of this barely scratches the surface. The list of authors who studied or lived in Oxford is long and includes Dorothy Sayers, Ian McEwan, Graham Greene, Aldous Huxley, Samuel Johnson, Iris Murdoch, Evelyn Waugh, Phillip Pullman, and Oscar Wilde.
There is so much to explore in literary Oxford!
Save
Save