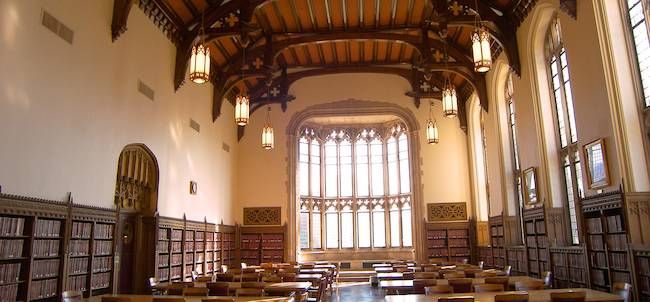 Featured
Literary Tourism: Norman, Oklahoma
This is a guest post by Jen Rickard Blair. Jen is the digital media editor for World Literature Today where she manages the websites for the magazine and it's associated literary prizes and festivals. She is also a graphic artist and web designer in Norman, OK.
When we think of "literary tourism," what often comes to mind are the great publishing cities like New York and Chicago, the historic cities with romantic backdrops such as Paris, or even tours that identify with a particular author or work, as with Mississippi River boat cruises focused on Mark Twain's Huckleberry Finn. What may not come to mind is Norman, Oklahoma.
Well, it should. Home to the University of Oklahoma, Norman is probably best known to most outside the area for big-time college football (Boomer Sooner!). However, Norman also has a robust and historic literary culture—one of the richest anywhere. Norman has the usual bookish coffee shops and cultural festivals, but it also hosts some of the most important literary events in the world.
The Main Events: Neustadt, NSK, and Puterbaugh Festivals
The major attractions that make Norman a great destination for literary tourists are the Fall Neustadt Festival and the Spring Puterbaugh Festival. Hosted by the University of Oklahoma and World Literature Today, these two literary festivals feature some of the greatest writers from the world over. They are events where you can meet the latest literary sensation from Spain, pick up a new book from France, learn about a new culture in Africa, and even have coffee with writers and scholars from many remote places.

For the kids, the Neustadt Festival hosts the NSK Neustadt Prize for Children's Literature in alternating years with the Neustadt Prize. The NSK Festival honors award-winning children's and young adult authors – such as Mildred Taylor and Katherine Paterson – who read from their works and host Q&A sessions with area schoolchildren.

Famous Faces: World Literature Today
One of the world's most respected literary magazines anywhere, World Literature Today is located on the OU campus. Thanks to the magazine – and its Neustadt and NSK Prizes and many festivals – no city in the state of Oklahoma and few in the nation have welcomed more world-renowned authors than Norman. Famous faces who have walked its halls include Jorge Luis Borges, Claribel Alegría, Gabriel "Gabo" García Márquez, Elizabeth Bishop, Kenzaburo Oe, Dacia Maraini, Rohinton Mistry, Marina Carr, J. M. Coetzee, Orhan Pamuk, Mo Yan, among many, many others. WLT is a great place to stop by to engage in informed literary conversation or just pick up a few recommendations for your next favorite book.

Education Station: The University of Oklahoma
Boasting a high-achieving student population of approximately 30,000, the University of Oklahoma also has some world-class reading spots.
Café Plaid on Campus Corner hosts poetry slams and, with a community bookshelf, is a favorite venue for quiet reading (or not-so-quiet reading during the busy lunch-hour.)
The Great Reading Room in the Bizzell Library is reminiscent of the grand libraries associated with New England and Europe. With vaulted ceilings, floor-to-ceiling windows, and dark wood accents, it is the perfect place to settle in to read or write in peace.
There is also the world-famous OU History of Science Collections, located on the 5th floor of Bizzell Memorial Library, where you can find countless world treasures, including original copies of Charles Darwin's works in their first editions and Galileo's own copies of his work. In August 2015, this library will host an exhibit called Galileo's World.
Book Nooks: Gray Owl and Crimson & Whipped
Norman also boasts excellent, artisan coffee shops that are the perfect place to enjoy an afternoon. Gray Owl Coffee offers floor-to-ceiling community bookshelves and reading corners for a perfect, quiet afternoon. The shop also hosts poetry nights, where you can enjoy listening or even reading your own works if you can muster the nerve.

If you're in the mood for something a little more social, take a stroll over to the Crimson & Whipped Cream bakery and coffee shop for cupcakes and board games. Bring a friend, or even join in with strangers at the café. Oklahoma's a pretty friendly place, so you might be surprised how many new friends would be up for a game and a trip to the photo booth to commemorate the experience.
Eyes and Ears: MAINSITE Art and Norman Train Depot
For public readings in cool venues, check out the MAINSITE Art Gallery or the Performing Arts Studio at the Norman Train Depot, both of which host literary and cultural events regularly. Visitors are invited to enjoy readings, music, and discussions surrounded by gorgeous aesthetics. MAINSITE features local artists, while, the Train Depot – a National Historic Place – serves as an art gallery and music and performance venue in addition to being a convenient transportation hub.

Private or Public: Full Circle Books and the Norman Public Library
When in the area and looking to buy a few books by local authors, be sure to take a short trip north to Full Circle Books in Oklahoma City. It's the largest independent bookstore in Oklahoma, one of the best in the country, with shelves stacked full of works that you can't find at home.
If buying a book or two isn't your goal, then head over to the Norman Public Library, a part of the Pioneer Library System. Enjoy events for children such as "Story Time" and for adults there's "The Big Read," which sponsors scholarly discussions of popular literature. If you're lucky enough to visit at the right time, you can catch a special event with the likes of Amy Tan, Tim O'Brien (pictured), Rudolfo Anaya, and Tobias Wolff just to name a few.
But don't just take our word for how interesting Norman is…
Celebrated French author and critic Michel Butor visited Norman as a Neustadt juror in 1971 and wrote a poem about it. Adapted from the French by Ivar Ivask, the poem is entitled "An Evening in Norman," and the first stanza reads:

"My window faces west just as it does in Nice /
Where it's deep night now /
The rays of the moon's first quarter /
Illuminate the sky both here and there."
Final tip: if you decide to plan a trip to Norman to take in the great literary culture, be sure to stay in the same lodging that many of the literary greats choose when they're in town: the Montford Inn & Cottages and the Holmberg House.
Save