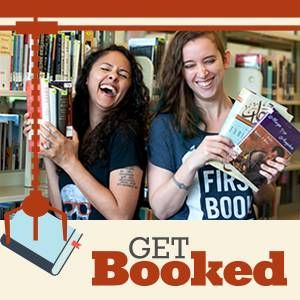 This post contains affiliate links. When you buy through these links, Book Riot may earn a commission.
Amanda and Jenn discuss Asian sci-fi, books about mental illness, starter graphic novels, and more in this week's episode of Get Booked.
This episode is sponsored by Goodbye, Vitamin by Rachel Khong and Meddling Kids by Edgar Cantero.
Subscribe to the podcast via RSS here, or via Apple Podcast here.
The show can also be found on Stitcher here.
Questions
1. I have never read a graphic novel but am excited to get into them. However I really am just not into fantasy or sci fi. Where should I start? Thank you!
–Sara
2. Hi, I am looking for science fiction set in Asia by Asian writers for my bookclub and to read something in the vein of #ownvoices. I would prefer it not to be YA, but it is not a requirement. I tend to like science fiction with great characters over great science.
–Sidsel
3. Hey Jenn and Amanda,
I've been thinking and don't know how I missed this in my reading life. But some of my favorite movies are multi-generational female-lead stories that jump back and forth in their timelines. Examples are movies like Fried Green Tomatoes, How to Make an American Quilt, and Now and Then. Please help correct this 90's kid's need for some lady-friendships books.
–Teenie
4. I recently read The Vegetarian and I found it absolutely incredible. I have made it a mission to try to read other translated books. What are some suggestions you have? Thanks
–Ashley
5. Can you please recommend books with characters with mental illness? I recently been diagnosed with bipolar disorder and it really helps reading about characters that go through similar experiences. I read 'It's kind of a funny story' 'The rest of us just live here' and 'All the bright places'. I enjoy YA, but I would like to read other genres as well. (I usually like my books as diverse as possible)
Thank you for your help!
–Theodora
6. You two seem to know a lot about diversity in fiction so I figured I'd ask you two instead of taking my question to google (I figure you both will offer me better quality recs). So I'm a big reader of fantasy. It's always been my favorite, and preferred reading genre. However I'm also a gay man who enjoys reading about gay men (preferably if a romance is involved), so to find that I've pretty much had to go outside the fantasy genre for that one. I'd love it if I could read a (quality) fantasy novel with gay characters, and maybe a little bit of romance.
I'm so excited to hear what you two have to recommend, this is my favorite podcast, and I've read so many amazing books because of you two.
–Sam
7. I'm trying to get into post apocalyptic books, but don't know where to start. I recently read Station 11, and now I want more. There seems to be no shortage of YA post apocalyptic novels, but I've read several, and so far have not liked any of the ones I have read. I've never NOT liked YA, but I've never been too crazy about it either, so I figure I better look at 'adult' (I'M SO SORRY. I DON'T LIKE CALLING IT THAT EITHER) books of the genre.
Thanks so much you two! I can't wait to hear what you two have to recommend.
–Chloe
8. I am a sucker for sad books, especially those that revolve around loneliness. The History of Love, Everything I Never Told You, and Oryx and Crake (is that an odd third?) were all fantastically devastating for me. I am looking for recommendations that will send me to that despairing place in the company of the fictional.
–Sasha
Books Discussed
The Rise and Fall of D.O.D.O. by Neal Stephenson and Nicole Galland
Isaac's Storm by Erik Larson
March, Book 1 by John Lewis
This One Summer by Mariko Tamaki and Jillian Tamaki
Invisible Planets, edited by Ken Liu
The Sea Is Ours, edited by Jaymee Goh and Joyce Chng
The Joy Luck Club by Amy Tan
Mama Day by Gloria Naylor
Penance by Kanae Minato, translated by Philip Gabriel
The Queue by Basma Abdel Aziz, translated by Elisabeth Jaquette
Haldol and Hyacinths by Melody Moezzi
Hyperbole and a Half by Allie Brosh
Captive Prince by CS Pacat
Amberlough by Lara Elena Donnelly
The Age of Miracles by Karen Thompson Walker
Borne by Jeff VanderMeer
Shelter by Jung Yun
A Girl is a Half-Formed Thing by Eimear McBride