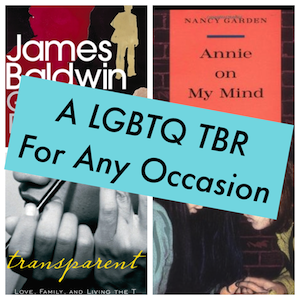 LGBTQ
An LGBTQ TBR List For Any Occasion
This content contains affiliate links. When you buy through these links, we may earn an affiliate commission.
I recently had the pleasure of reading Queerly Beloved: A Love Story Across Genders. The authors of the memoir, Diane and Jacob Anderson-Minshall, are both active in the LGBTQ world – as writers, editors and educators, and just through their own memoir-ific life experiences. Naturally, after I read their book I wanted to know what books influenced them. I asked for their top 5, but if you're not gonna let a simple thing like gender deter you, why stick to a mandated book shortlist? Sorted by genre, here are their suggestions for LGBTQ-centric books for any occasion-whether you're looking for some self help, memoir, comic/graphic novel, books for kids, fiction, or just want a classic LGBTQ read. With a couple of my favorites at the end.
(Warning: this list lists heavily to the L and T sides of the equation.)
JACOB ANDERSON-MINSHALL: Because I believe that rules don't apply to me (;-) I have discarded your request for five influential LGBT books in exchange for the following:
Memoirs that helped open my eyes to the diversity of the gender variant community
1. Exile and Pride: Disability, Queerness and Liberation, by Eli Claire.
This great autobiographical by work is also a dissertation on the intersections of disability, class and queerness. It spoke to me not only as a disabled trans man but also because Claire and I share a connection to the American Northwest. Never
before had I heard an LGBT writer so eloquently describe the love-hate relationship I have with rural Idaho.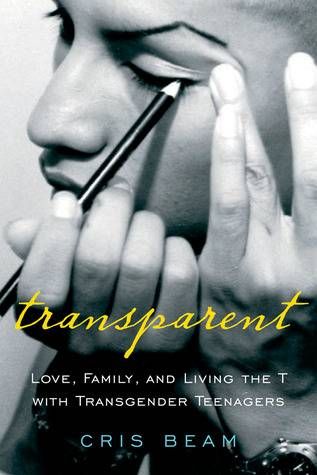 2. Transparent: Love, Family, and Living the T with Transgender Teenagers
Lesbian journalist Cris Beam's memoir about teaching—and later parenting—homeless trans kids from the streets of LA. One of the first works that really gave me insight into the plight of queer homeless kids and the experiences of young black and Hispanic transwomen. It helped recruit me as a foster parent. If you don't know what pumping parties are, you have to read this book.
3. Intersex (For Lack of a Better Word)
Thea Hillman's memoir is one of the best to read when pondering why the "I" belongs with the LGB and T. She's clearly one of us. She dates girls and genderqueer partners, attends SM parties, and explores ideas about what is "normal" in terms of gender, sex, sexuality and ablebodiedness. As Hillman begins to embrace her intersex identity she also finds herself being rejected by other members of the intersex community for not being intersex enough, because she wasn't forced to undergo invasive surgeries as a child.
5. Gender Outlaws: the Next Generation, edited by Kate Bornstein and S. Bear Bergman.
This anthology gathers together emerging voices in a diverse, multiethnic and transnational exploration of trans and gender variant lives.
Academic work that may be most at home in college bookstores but should be read by a broader audience
1. Fixing Sex: Intersex, Medical Authority, and Lived Experience, by Katrina Karkazis. Beginning in the mid-1950s the natural diversity in human genitalia has primarily been seen as a medical "problem" that needs to be "fixed" by doctors/surgeons. Karkazis work examines multiple perspectives—interviewing doctors, parents, and those who have been the target of our fear of different looking genitals. Helped me with how the trans and intersex experiences may be related but they are not similar (It boils down to surgery: most trans people who undergo genital surgery seek it out themselves as adults. Most intersex people who've undergone genital surgery did not choose it and were subjected to it when they were children.) Plus, it introduced me to the unfortunate phrase "it is easier to create a hole than a pole," which not only explains why boys with very small penises were often reassigned as female at birth but also why the bottom surgeries for trans women have been far more successful in creating natural looking genitalia than those for trans men.
2. Imagining Transgender: An Ethnography of a CategoryImaganing Transgender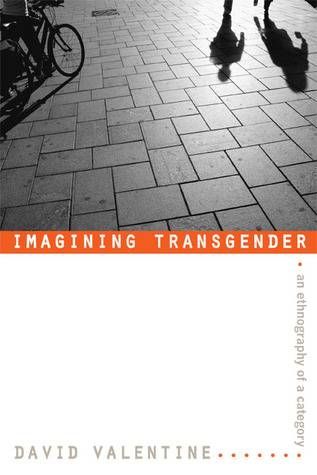 David Valentine takes an anthropological view of the emergence and adoption of transgender as a category of collective identity and political activism. He explains why the term/identity is a natural extension of LGBT and feminist politics, but also argues that it embraces the experiences of many gender variant individuals, especially people of color who he found were more likely to see their gender as a reflection of their queer sexual orientations, rather than a separate identity.
3. The Transgender Studies Reader, edited by Susan Stryker and Stephan Whittle. The quintessential introduction to transgender studies.
4. Transgender Rights, edited by Paisley Currah, Richard M. Juang and Shannon Price Minter. This anthology looks at the activism, legal arguments, court cases, lobbying and policy making that have defined what rights gender variant folks have and what we're still fighting for—or were (this 2006 collection misses the changes won during the Obama administration).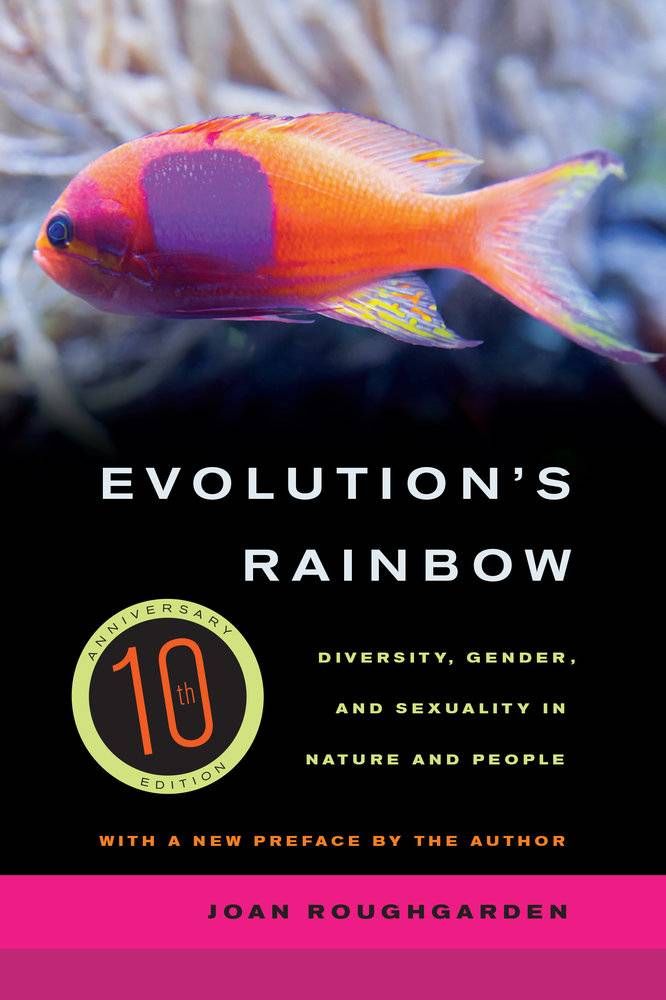 5. Transgender History, by Susan Stryker
Introduction to the history of trans/gender variant community struggle for rights in America post WWII.

6. Evolution's Rainbow: Diversity, Gender, and Sexuality in Nature and People
Distinguished evolutionary biologist Joan Roughgarden explores the surprisingly extensive evidence of gender and sexuality diversity found in nature and in human history. Then she uses that evidence to dispute broadly accepted tenants in religion, medicine, social studies and biological sciences. Revolutionary.
Queer Comics/Graphic Novels for every LGBT reader
1. Fun Home: a Family Tragicomic, by Alison Bechdel. There's a reason this autobiographical graphic novel by the creator of Dykes to Watch Out For was chosen as Time magazine's book of the year. Plus, her father had a gay life he'd kept secret from her.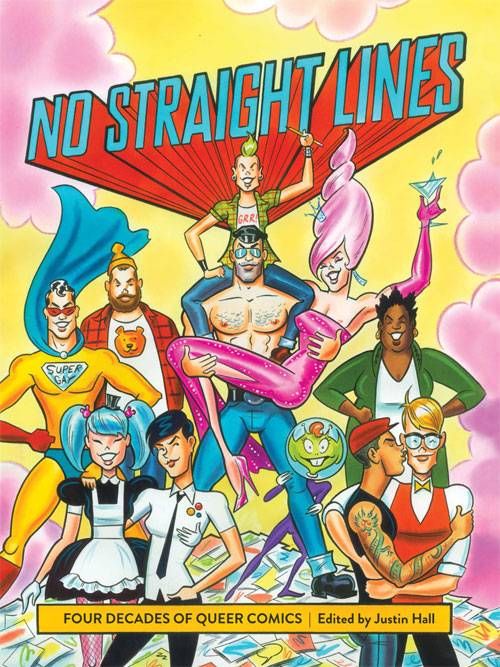 2. No Straight Lines: Four Decades of Queer Comics, edited by Justin Hall. A Wonderful introduction to the past forty years of LGBT comic strips.
3. Transposes, by Dylan Edwards. Edwards uses the real lives of six trans men to introduce audiences to gay, bisexual and queer-identified trans men and illustrate how diverse their experiences can be.
4. Anything That Loves: Comics Beyond Gay and Straight
Edited by Charles Zan Christensen, an anthology of comics about bisexual characters and experiences.
5. Queer: New Comics from 33 Creators, Edited by Rob Kirby. An introduction to emerging comic and the graphic novel creators.
A handful of other influential trans works
1. Trans Bodies, Trans Selves: A Resource for the Transgender Community,
edited by Laura Erickson-Schroth. Like Our Bodies, Ourselves before it, this anthology is an owners manual to the trans body/community. Includes segments on race, religion, employment, medical and surgical transitions, mental health, relationships, sexuality, parenthood, culture and more.
2. Trans/forming Feminisms: Transfeminist Voices Speak Out, edited by Krista Scott-Dixon.
3. Whipping Girl. Julia Serano was one of my first introductions to transfeminism. But this 2013 anthology provides such a wide range of perspectives by gender variant feminists of all colors and sizes, that it has become my favorite transfeminism work.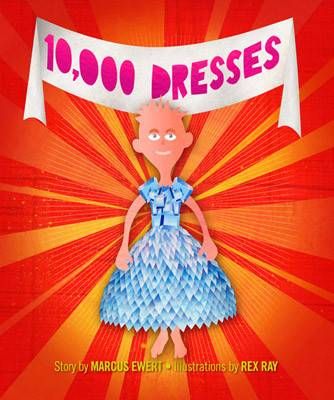 4. The Transgender Child: A Handbook for Families and Professionals, by Stephanie Brill and Rachel Pepper. This is a groundbreaking and essential guide to health care providers and parents of trans and gender variant children.
5. 10,000 Dresses, by Marcus Ewert, illustrated by Rex Ray. A children's books for trans and gender variant children—and parents who want to introduce their own children to gender variance; 10,000 Dresses is about Bailey, whose parents think is a boy, but is actually a girl who dreams of beautiful dresses created from unusual items. When Bailey meets an older girl they transform the dreams into reality.
6. Stone Butch Blues, by Leslie Feinberg. An oldie but a goodie. Although Feinberg's thinly veiled autobiographical novel is set in a gritty, urban, blue collar and pre-Stonewall world I identified immediately with its protagonist, Jess. She captured a type of female masculinity I most wanted to embody.
7. The Collection: Short Fiction from the Transgender Vanguard, edited by Tom Leger and Riley MacLeod. A fabulous collection of work from emerging authors writing trans narratives.
DIANE ANDERSON-MINSHALL: Slightly more than 5 but not nearly as big as Jake's list!
Zami: A New Spelling of My Name by Audre Lorde is still a must-read. It starts with Lorde, legally blind, learning to read, and there are so many parts of it that talk about Jim Crow America (their landlord commits suicide after having to rent his apartment to black people) but at its heart it's a book about being a woman, a lesbian, and her relationship with her parents and the women who populate her life, all fascinating.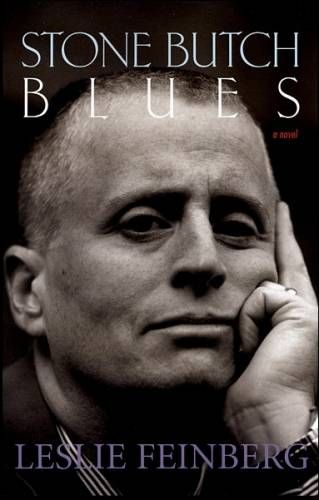 Two favorites, memoirs I've read over and over again: Stone Butch Blues by Leslie Feinberg was one of my favorites as is Joan Nestle's A Restricted Country. Both books were about out people who defied gender expectations, who show what life was like for queer women and trans men in the 1950s and 60s, and most tellingly really outline the sisterhood that was a bond between lesbians and prostitutes (or female sex workers, as we prefer to say now). That's been largely forgotten or ignored by the queer movement but you can see the sisterhood in these books in a way that's smart and telling.
Unlike the other books on this list, this is a newer book and it may not really have influenced my writing but I like the info in it and the conversational style: The Godfather's Daughter by Rita Gigante. Her dad was Vinnie the Chin, the famous mobster and head of the Genovese crime clan and at one point head of all five NY crime families for decades, and she din't know what was "wrong" with her father until she was 16. Imagine having to have windows covered at all times so nobody shoots through the windows but as a kid you just know curtains are never to be opened. Crazy, unique childhood (and I had a crazy childhood) and she grew up to be a lesbian. So I related a bit.
Trash: Short Stories, by Dorothy Allison
These are positioned as short stories but we all know they are thinly veiled memoir. And they are amazing, gut punch writing about her life, about the relationships between abuse and poverty and survival. One piece, "Don't Tell Me You Don't Know" just makes me think of the women on my mothers side of the family, always choosing between abuse and men they think they need to support them, endless cycles of violence and sexual abuse.
Strange Piece of Paradise, by Terry Jentz
I love true crime and lesbian stories and this one has it, but I didn't even realize at first who Terry Jentz was (her partner is Donna Dietch, the filmmaker who did Desert Hearts, itself still one of the greatest lesbian movies ever made). Anyway, this book took me back to my rural state, the fears I have while camping or traveling with another woman, the small town feel where people know a secret and don't tell. Basically, when she was in college she went biking cross-country during the summer of 1977. She and her roommate were in their tent at a state park in Oregon sleeping when they were attacked by a guy with an ax. I'm a big camper so that terrified me. She isn't injured, but her friend is nearly blinded and doesn't remember ANY of the attack (a blessing for her, a curse for Jentz who desperately needs to talk about it). Jentz goes back to that same town, campground, etc., fifteen years later to find to the truth (nobody was ever charged) and she finds out lots of people think they know who did it. It's an amazing book, it resonated a lot.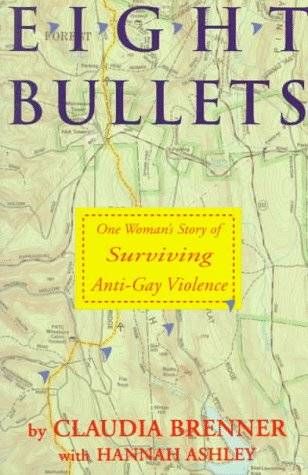 Eight Bullets: One Woman's Story of Surviving Anti-Gay Violence, by Claudia Brenner, is another gut punch. Basically she and her girlfriend Rebecca were hiking the Appalachian Trail in the late 1980s. They camped, they cooked, they made love, and after the latter, eight bullets shot out of nowhere. Claudia took 5 of those bullets, Wright took two, but it was a bad hit. She couldn't move, Claudia couldn't move her so she ran to get help and had to hike out four miles to get to a road. Rebecca Wright died. This book is Claudia's memory of that day and the hunt for the killer. It's not expertly written- you can tell Claudia isn't a trained writer- but it's the kind of story we all feared in those days and she survived it to become an LGBT activist, not just a victim who lost her girlfriend. And this perpetrator was caught.
Why Can't Sharon Kowalski Come Home?, by Karen Thompson
Wow, I apparently really like gut punch memoirs. This one shaped our younger years. I was paranoid about documenting everything we agreed on, we had wills and power of attorney and medical power and all that when we were 22 because this story always stayed with me. In 1983, Karen Thompson and her partner Sharon Kowalski lived together but were closeted, even to their parents and the university where they worked. Then Sharon was in a huge car accident and her parents denied Sharon the right to see her or be in her life, saying there was no way their daughter was a lesbian. Hence began like a decade long battle for guardianship of Sharon, during which the courts sided with the parents and Sharon's care was neglected making it so the disabilities from her accident were permanent rather than lessened through physical therapy and other therapies. By the time Karen wins, a lot of damage has been done. And can you imagine fighting in courts for years over having your partner returned to your life, letting you care for her, and never giving up? Seriously I'm crying just writing this.
This isn't memoir but it informs so much of what I do: Unspeakable: The Rise of the Gay and Lesbian Press in America, by Rodger Streitmatter. I'm going to get to finally meet Lisa Ben (the creator of the first lesbian magazine, whose real name is Edyth Eyde) soon and I couldn't be more thrilled. Read this book and find out why.
And there are a ton of other books that I think are amazing memoirs by LGBT people that you should check out:
AND the latest addition is Sunshine Mugrabi's When My Boyfriend Was a Girl. I'm going to do a Google hangout with her and another transitioning couple, Bobbie Thompson who wrote My HUSBAND Looks Better in Lingerie Than I Do . . . DAMN IT as companion memoir to Hung in the Middle: A Journey of Gender Discovery written by her wife Alana Nicole Sholar.
ALISON NORRIS PETERS: Short and sweet, and in no particular order.
1. The Color Purple, by Alice Walker. This is THE book that lesbians of color have been reading, identifying with, loving, and quoting since its publication. Celie and Shug redefine what it means to be a woman in the South. You've seen the film-please read the book.
2. Orlando, by Virginia Woolf. I've been mesmerized by this novel since the first time I read it: about Orlando, who, every few hundred years or so, wakes up presenting a different gender. Just hauntingly beautiful, it'll make you dream of ice breaking on a frozen river.
3. A Queer and Pleasant Danger, by Kate Bornstein (see above for Jacob's anthology editied by Bornstein.) I love when a great subtitle is all you need to know: "The true story of a nice Jewish boy who joins the Church of Scientology and leaves twelve years later to become the lovely lady she is today." Truly a laugh-and-cry memoir relating Bornstein's life. The book is the inspiration for the award-winning documentary, Kate Bornstein is a Queer and Pleasant Danger, starring the fabulous Kate herself, and is on the way to theaters near you.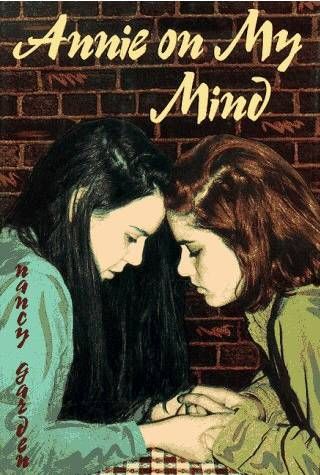 4. Annie on My Mind, by the much missed Nancy Garden. Annie was the LGBTQ book you got assigned in college, and, per the prof who assigned it, the book Most Likely to Inspire Essays About Girls Kissing Girls. It's a gay young adult Forever, albeit with slightly different concerns: rather than worrying about pregnancy after her first time, Liza worries about getting thrown out of her prestigious private school after her sweet, burgeoning relationship with Annie is discovered by the gossipy town. But the best part is the happy ending. Even happier: originally published in 1982, Annie has never been out of print.
5. Giovanni's Room, by James Baldwin. I wrote about this book earlier this year as one of my favorite Baldwins, and a re-read has only strengthened that claim. A love story about possibly the worst outcome ever of a relationship gone wrong because one person isn't ready to admit their G lifestyle, and claim who they are. And I believe all of us have had a room like Giovanni's: an otherwise cramped, dreary apartment that becomes a magical oasis, once its shared with someone you love.
____________________
Want more bookish goodness, news, posts about special book deals, and the occasional puppy reading pic? Follow us on Facebook: