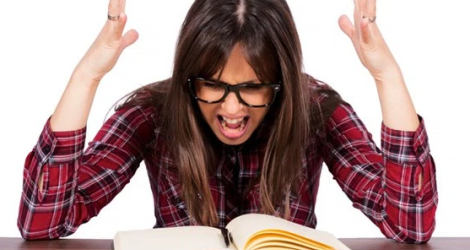 Epilogues are my nails on chalkboard. I cringe as soon as I reach what I thought was the end of the book and turn the page and see the word Epilogue. Then I internally scream.
I don't want to read on but I have to because I've now read 99% of the book and must finish it. I feel backed into a corner, forced to read on knowing my reading experience is about to take a hit.
A perfect example of said hit is a romance novel that I love, and recommend often, that I always have to bite my tongue so I don't yell, "But for the love of god don't read the epilogue." The entire book is funny, and shexy, and swoony and it has it's happy ending so everything is right with the world, until you turn the page and see Epilogue! Not only is it not needed–I was fully satisfied, thanks–it abruptly changes character and POV.
Hundreds of pages were written from the POV of one character, the book finishes, and then BOOM you're hit with a different character and their POV. I call that the the bad type of book whiplash. That epilogue is the 4th movie in the Indiana Jones series and I have to pretend it doesn't exist. Now if we just said No to epilogues I could save space in my brain for pretending things like Chris Evans and I fight nazis and host a book club. Phoebe Robinson and I are best friends. My house is a private library. And Veronica Mars and I opened a detective agency. Instead, I have to waste brain power pretending these epilogues don't exist.
It isn't that I necessarily have an issue with the information revealed in the epilogue–sometimes it is, but mostly it isn't–it's just always in a different gear than the rest of the book. Reading a thriller that has my heart in my throat throughout should leave me like that. It should end with me putting the book down and trying to catch my breath while thinking of everything I just read. It should not end like that and then have an epilogue which is in the future and calm and ties everything together in a manner that leaves me feeling like a deflated balloon after hours of furiously turning the page.
Epilogues are the unnecessary "and" which makes me want to take a sword and cut the book so the epilogue flutters away never to be seen or heard from again. If the information is important, needed, or how the book should end then please just write it as a chapter like all those that preceded it. Don't suddenly slam the brakes and down shift from 4th gear into 2nd. You can leave me hanging off a cliff, scratching my head, having to guess what may have happened next, and even tie everything perfectly together with a bow in a final chapter if you must, but I beg you no more epilogues.
Save
Save
Save
Save
Save
Save
Save
Save
Save
Save
Save
Save
Save
Save