Poetry
Travels in "Amerikkka" through Poetry and GIFs
This content contains affiliate links. When you buy through these links, we may earn an affiliate commission.
Recently, poet jayy dodd (author of Mannish Tongues) relocated from Michigan to California. To get from A to B, dodd took a train and—facing days staring out at passing plains—asked Twitter for writing prompts and then spent more than 50 hours posting bits of poems, pictures, GIFs, and other ephemera from the trip.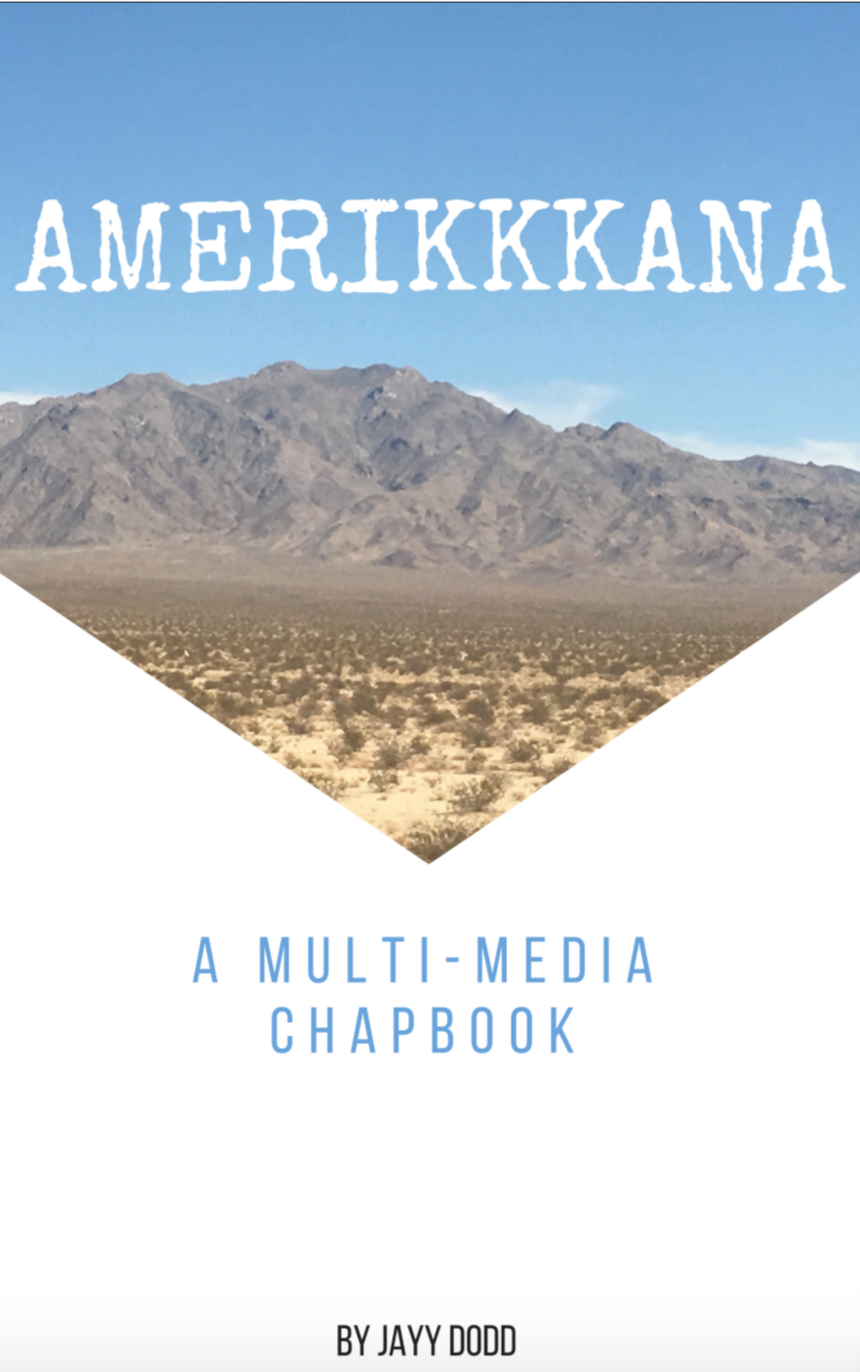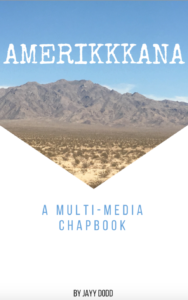 For those of you who didn't take my advice to follow dodd on Twitter, or for anyone who hoped to make that ephemera less ephemeral, there's some good news: dodd has just collected those flash poems and GIFs into AMERIKKKANA, a digital chapbook distributed via Big Cartel.
It's a startling, challenging, sparkling collection that records and reworks dodd's encounters with landscape, racism, transmisogyny, wildlife, and lust. In this post, I want to consider dodd's chapbook as an innovative poetic document in itself and a very twenty-first-century exemplar of a centuries-old tradition of books about travel and race.
AMERIKKKANA is a travel narrative. But while the condition of its creation was travel through space, dodd is as interested in travel across skin and through centuries and between genres. Moving across successive colonial borderlands, dodd at the same time cuts deep furrows across boundaries of bodily and poetic form. GIFs stutter and loop landscapes of soil and flesh alongside poems that resist the distinction.
Some lines break, others don't.
Far more than the sum of its parts, AMERIKKKANA is marked throughout by juxtaposition and harmony. GIFs talk back to the poems they are nestled in, and the poems are ordered in disorientingly meaningful ways. The back-and-forth, corporeal energy of poem and GIF in "For the Percussion of Fingertips" ("clk-clk clk clk cuts the calm of a room clk draws attention to limitations clk of my extremity") is, for example, followed immediately by "Slice of Amerikkkana #18," which grapples in terms both personal and world-historical with the interlocking legacies of settler colonialism and slavery:
"there are only so many things here i have to be proud of, / can't love stolen land too much, but there has to be mercy / for a stolen body displaced to such."
And throughout the chapbook, physical pain ("did you know how easy stalks can slice the skin?"), psychic expenditure ("i'm trying to find the words / for y'all don't know what this is costing me"), and sensual pleasure ("panting toward the stars. / tell me my body tastes / waning moon wet.") together run long fingers along the heart line of America.
"RACE ISN'T THE ELEPHANT IN THE ROOM," one poem insists, "it's the room."
AMERIKKKANA is a literary object very much of our moment (sketched via Twitter, released via online store, studded with GIFs), but it plays in and with a centuries-old tradition of using travel through space to understand self and history in this strange, stolen land.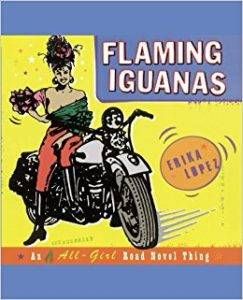 At least as far back as Olaudah Equiano's The Interesting Narrative of the Life of Olaudah Equiano, people of color have used movement across ocean and earth to tell stories about how the world is warped by white supremacy and woven by blackness, indigeneity, Latinidad. In more recent decades, authors like William Least Heat-Moon (Blue Highways), Louis Mendoza (Journey Around Our America), Erika Lopez's (Flaming Iguanas: An Illustrated All-Girl Road Novel Thing) have continued to dissect America by traveling along its arteries.
Navigating, with GIFs and verse, the "mounds / of debris" that litter this "land of natural disaster," AMERIKKKA offers us a striking glimpse of where that tradition—and literature itself—might travel as we move deeper into the twenty-first century.