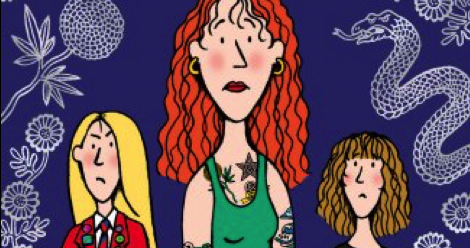 Children's
Things I Learned from Jacqueline Wilson
This content contains affiliate links. When you buy through these links, we may earn an affiliate commission.
As a child, I lived for the words Jacqueline Wilson wrote—every single sentence jumped into my sense of self. Wilson taught me a lot about the world, but I didn't realise that until I was recently standing in a bookshop, looking at a hardback copy of her latest work, and a whack of nostalgia hit me right in the chest.
I've done some research and it appears that I lived my Wilson Years between 1997 and 2002, when I was between 7 and 12 years old. I have clear memories of all of the books I read and, after my book shop visit, I thumbed back through a few to fulfill the weird nostalgic loneliness I had in my heart for Tracy Beaker, Ruby and Garnett, Treasure and India—my Wilson friends.
Below is a rundown of the real-life lessons I learned from Jacqueline Wilson, which I still use in daily life. Also, all of these covers have changed since I was a child and it's so lovely to see the updates. Nick Sharatt's illustrations are as amazing now as they were in 1997.
Plot: Tim is sent to a sports camp by his father despite his hatred of physical activity. He makes friends with Biscuits and triumphs against some nasty bullies.
Lesson Learned: Your Dad shouldn't push you to be someone you're not. It doesn't matter if you're not good at sports/drawing/making expensive coffee; sometimes you have to recognise your own strengths are just as worthwhile.
Plot: Mandy, trying to feel more grown-up but swaddled by her mother, falls in with Tanya, a foster care kid with a penchant for theft who desperately wants to be free.
Lesson Learned: Tell your Mom if she's overprotective. But not before you get caught shoplifting, cos she just won't get it. On a more serious note, don't judge people for their background; everyone is worthwhile and deserves love.
Plot: Dolphin and Star live with their mother, Marigold, who suffers both alcoholism and bipolar disorder, and is heavily tattooed. She becomes ill when Star leaves to spend time with her father and Dolphin, fearful, must accept that hospital care is needed to help her mother get better.
Lesson Learned: Mental health illnesses absolutely suck and their impact can create an atmosphere of worry and fear for young people as well as those suffering. Also, quit judging other people's tattoos, it's not nice.
Plot: Vicky and Jade are best friends, but during a row Vicky runs into the road and is killed when she is hit by a car. She appears as a ghost to Jade, who is overcome with grief and cannot deal with the guilt of surviving. The ghost later saves Jade's life, frees her from guilt and floats into the sky.
Lesson Learned: Do not dip your finger into the sugar jar; this is a disgusting habit. (I remember this plot point 17 years later, that's how disgusting it is). But also: Grief is a discombobulating experience, which, when compounded with survivor's guilt, can be overwhelming.
Plot: April is abandoned immediately after birth in a dustbin. She moves between foster homes and adoptive homes, living through some harrowing experiences before being adopted by Marion.
Lesson Learned: This was one of the last Wilson books I read—and the darkest, tackling suicide and depression as well as the relentless sadness of the foster system. Mostly, here I learned about identity and how important it is for people to understand who they are.
Plot: In a series of four books, Ellie, Nadine and Magda traverse the difficulties of puberty, boys and body issues. The stories tackle eating disorders, sexual predators and female friendship.
Lesson Learned: I think these ones made me a feminist. There are many dangers out there for women young and old, but the lessons about keeping friends close and sticking up for one another was key.
Plot: Twins Ruby and Garnett look the same but their personalities are entirely different. When Garnett is accepted to a prestigious school (though Ruby was the one who wanted to attend), the girls must come to terms with being together while living apart.
Lesson Learned: Your siblings are the best friends you will ever have, through thick and thin. Love them. (Easter Egg: Apparently, grown up Ruby and Garnett make an appearance in The Butterfly Club, which I haven't read but oh wow!)
Save
Save