Lists
18 Books About Islam for Complete Beginners
This content contains affiliate links. When you buy through these links, we may earn an affiliate commission.
Whether you're a complete beginner when it comes to reading about Islam or you already have tons of experience with Islamic books, these books with Islamic themes provide a variety of insights into a widespread and complex religion. I've included both fiction and nonfiction books, primarily from #ownvoices authors.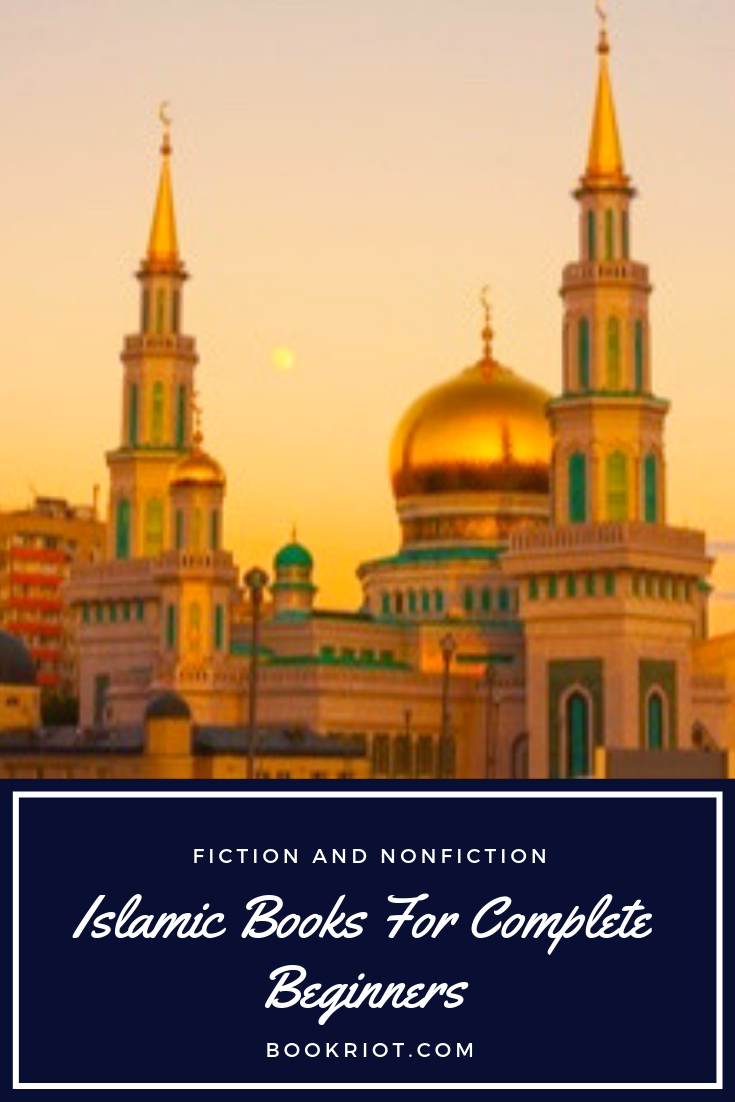 Nonfiction Islamic Books
These easy-to-read books about Islamic history, religion, and sociology introduce different aspects of the faith and its many followers.
Aslan's immensely readable introduction to Islam explains the religion's origins and development through history. Yet it also discusses its future. Aslan considers what an Islamic Reformation might look like, given the widespread and heterogeneous nature of the religion today.
By the same author: Tablet and Pen: Literary Landscapes from the Modern Middle East.
Nusseibeh introduces readers to the philosophical concept of reason, which he defines as "a methodological and systematic approach to analyzing problems." He discusses the role that reason played in the early stages of Islam in particular. Then a narrative emerges: one that involves history and language but always revolves around reason, both its rises and its declines.
By the same author: Once Upon a Country: A Palestinian Life.
Islam is an extremely diverse religion represented by many communities across the globe. Therefore, Ahmed addresses this fact by conducting research in all three major regions of the Muslim world: the Middle East, South Asia, and East Asia. This book records his discoveries about what the people living there believe, how they live, and what they think of the USA.
By the same author: Islam Under Siege.
What is the reality of modern Muslim thought? How can one begin to answer this question when there are so many conflicting voices? These are the questions El Fadl seeks to address in this discussion of contemporary Islam. As a result of his research, he argues that Islam is experiencing a "transformative moment." Unfortunately, such moments are never easy.
By the same author: A Search for Beauty in Islam.
This history book reads like a novel. Perhaps this is not surprising, given the ups, downs, and unexpected twists of Islamic history. Ansary's goal is to tell world history from a Muslim point of view. Although the West appears sometimes as a bystander, sometimes an antagonist, from the time of Muhammed to the early 2000s the narrative of this book is driven by the Islamic world.
By the same author: Games Without Rules: The Often-Interrupted History of Afghanistan.
The result of thousands of interviews conducted with Muslims all over the globe, this book aims to counter misinformation by accurately representing Muslim viewpoints. Issues such as democracy, extremism, feminism, and opinions of the U.S. are discussed. The responses from those surveyed are diverse, but trends shed some light on contemporary Muslim views.
Also by John Esposito: What Everyone Needs to Know About Islam.
Safi collects passages from classical Islamic texts that celebrate love for humans and for God. The Qur'an, Rumi, and the writings of Muslim mystics are all represented in this volume of Sufi love poetry.
By the same author: Memories of Muhammed: Why the Prophet Matters.
An understanding of Islam cannot be complete without an understanding of the Qur'an. This fact is well-recognized by Hareem, the translator of the Oxford World's Classics edition of the Qur'an in English. Therefore, in Understanding the Qur'an, he discusses the themes, language, and structure of Islamic scripture, bringing these issues to bear on the practice of Islam today.
By the same author/translator: The Qur'an (Oxford World's Classics)
Memoirs and Personal Essays
The best way to learn about a religion is to become familiar with the stories of those who practice it. These memoirs and personal essays by Muslim writers explain some of the principles and concerns that guide their lives.
9. Muslims of the World by Sajjad Shah, Iman Mahoui, Ala Hamdan, and Yasmin Mogahed
Short personal essays by Muslims across the globe make up this beautiful book. Each story is as unique as the narrator whose picture accompanies it. The essays are divided into topics, each of which is introduced with a brief explanation. Even seemingly straightforward themes like "Hijab" encourage a variety of viewpoints, broadening the simplistic definitions often assigned them.
I first heard about Abdel-Magid on The Guilty Feminist podcast (which I highly recommend, by the way!). After reading more about her life, I couldn't believe what a variety of experiences she's had at such a young age. This memoir describes, among other things, her time as the only woman and only person of Sudanese-Egyptian heritage working as an engineer on an Australian oil and gas rig.
11. American Radical by Tamer Elnoury (with Kevin Maurer).
For the first time, a book describes the inner workings of an elite counter-terrorism unit of the FBI. Elnoury writes about his experience as a Muslim and an American working on top-secret missions to prevent terrorist attacks on the U.S. A tense and fascinating read.
Fictional Islamic Books
These works of fiction aren't necessarily about Islam, but they familiarize readers with important aspects of the religion and its history. Muslim characters and Islamic settings can reveal so much about the different communities that make up Islam. These Islamic books are definitely worth a read!
Mariam and Laila come from very different backgrounds, but they end up in the same terrible situation in Kabul. This experience unites them into a close friendship. The extreme depth of their bond is revealed when a dramatic event changes their lives forever. Even though I read this book for the first time ten years ago, I still think about it all the time.
By the same author: The Kite Runner and And the Mountains Echoed (both also excellent).
Voyeuristic and extremely difficult to put down, this novel about the private lives of four wealthy Saudi women will keep you hooked from the first page. The women exist between the realms of education and of tradition, between worldliness and parochialism. Their struggles and indiscretions come to light when an anonymous writer reveals all in a series of scandalous emails. Romance fans will love this one!
14. The Yacoubian Building by Alaa Al Aswany, Translated by Humphrey Davis.
Al Aswany's widely popular novel centers around the Yacoubian Building in downtown Cairo. The diverse group of people who pass through it represent the many and changing facets of twentieth-century Egypt.
By the same author: Chicago: A Novel
Ali's books represent a vast array of historical eras and geographical settings within the Muslim world. The five novels that make up this collection take place in Spain, Jerusalem, Istanbul, Sicily, and Pakistan respectively. For historical fiction lovers, these books are not to be missed.
By the same author: Conversations with Edward Said.
Jassim and Salwa immigrate from Jordan to a recently post–9/11 USA. They quickly find that their new life is full of unforeseen complications. Although each of them hides a guilty secret, they are viewed with suspicion for all the wrong reasons.
By the same author: My Name on His Tongue: Poems
The great news is that there are plenty more exciting novels by Muslim authors coming out in 2019!
Graphic Novels/Illustrated Islamic Books
Satrapi is best known for her Persepolis novels, but I first came to know her work through Chicken with Plums. This story is based on her great-uncle's life and love of music. I was so hooked on the poignant narrative and beautiful illustrations that I finished it in an afternoon!
By the same author: Persepolis, Embroideries, and The Sigh
In 472 colour illustrations, Birk transcribes the English translation of the Qur'an against images of American life. This beautiful volume is the artist's interpretation of the sacred text and its relevance for everyday life.
---
What are some of your favorite books about Islam?