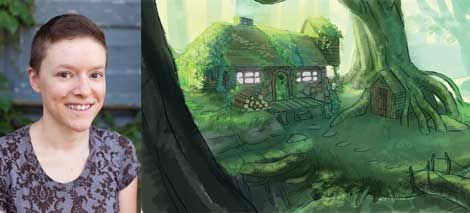 Graphic novelist and artist Kat Leyh comes out with Roadkill Witch in 2019, about magic and friendship from First Second Books. The art is loose and flowing, with stunning character designs.
"Snap is a skeptical young girl who knows there's no such thing as magic. However, when her dog goes missing, she decides to confront her town's local 'witch'. This leads to an unexpected friendship, an unusual hobby, and Snap learning there's a lot more to some things than first meets the eye."
We had the pleasure of interviewing Kat, who also writes the webcomic Supercakes, about two superheroines who fight crime while pursuing a romantic relationship.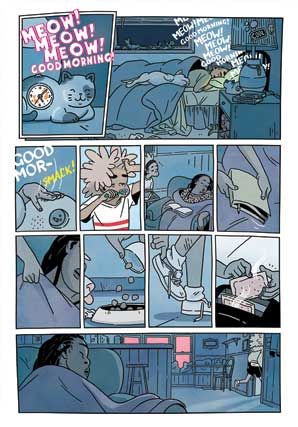 Magic, friendship, and a quest to find a missing dog! All the ingredients to make a tantalizing graphic novel! What inspired

Roadkill

Witch

?
Seeing roadkill has always been jarring for me. Even more so now when I visit the country from the city.
I wrote out the basic plot and did a couple sketches when I was on the interstate, my mom driving me to my parents' place for a visit. I kept seeing roadkill and wishing them a bit of dignity. And to me witches have always seemed like powerful symbols for the unwanted and misunderstand. The main characters and plot for Roadkill Witch sprung from that car ride.
If you could have any magical ability or superpower, what would it be?
Shapeshifting. Hands down.
What art styles, media or programs do you prefer to use for work?
I work all digitally in Photoshop with a Cintiq.
Female/female relationships, including friendships and romantic bonds, are a field of potential in comics, both in graphic memoirs and in fiction. What is your view on how they are handled in the mainstream?
What we see in mainstream entertainment is such a frustratingly narrow view of the world—in so many ways. So often, female characters are defined by their relationships to the male characters, and the ratio of female to male characters make it so we don't often get to see varied and complex relationships between women. I want to do all I can to change that.
How is

Roadkill

Witch

different from Supercakes, in terms of your vision and style?
Supercakes was never planned as a series, and all the comics I've done for it so far have been short vignettes. Roadkill Witch tells a much longer, linear story.
Also with Supercakes I was often learning as I went and experimenting with different coloring and storytelling techniques. With Roadkill Witch I'm striving for a more consistent style.
SUPERCAKES EXPLORES TWO SUPERPOWERED GIRLFRIENDS WHO FIGHT CRIME AND ENJOY SPENDING TIME TOGETHER OUT OF COSTUME, INCLUDING MAKING AND EATING BREAKFAST. What's the most fun part of exploring that angle?
I love the juxtaposition of the extraordinary and ordinary. That's a common thread in a lot of my stories.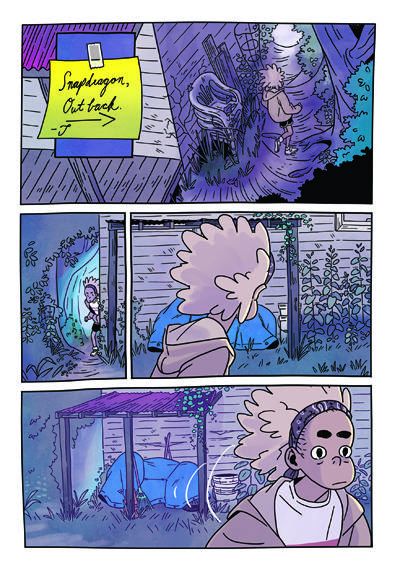 Mainstream comics have faced controversy, due to executives dismissing readers who want more representation and diversity. How can readers and comic artists help with change?
The internet makes it easier than ever to not only find the kind of content you want, but to create it and put it out there yourself. Start by making the kind of stories you want to see, then your audience will find and support you.
If you can't make it yourself, support the creators that are. There are more ways than ever to do that as well.
What upcoming projects in addition to

Roadkill

Witch

, would you like readers to find in 2017 and 2018?
I am a writer and cover artist for Lumberjanes, which is an on going series. And once Roadkill Witch is done, I have several stories I'll be telling after that.
Readers, look out for Roadkill Witch in 2019! You can also see more of Kat Leyh's work and read her comics at her artist's website.
Save
Save