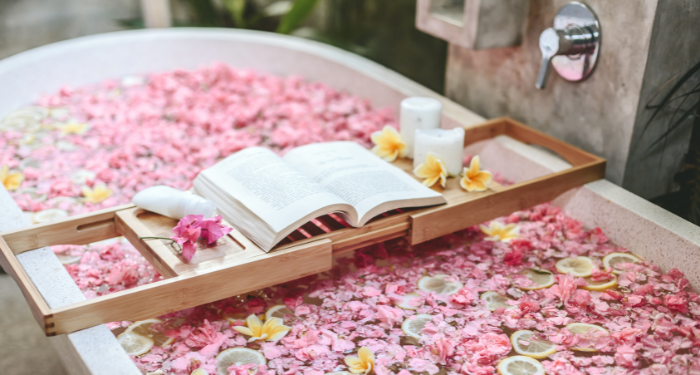 This content contains affiliate links. When you buy through these links, we may earn an affiliate commission.
What's your favorite place to read? Some people have a favorite reading chair, others like a hammock, and still, others prefer to read in bed. I have friends whose favorite way to read is listening to audiobooks on their commutes, and others who bring a physical book absolutely everywhere, reading while waiting in line, at intermission, even while walking.
Me, I like to read in the bathtub. I'm a big fan of baths in general — I deal with a lot of body aches and pains, and there's no faster way to ease those than hot water, Epsom salts, and bubbles. Add in a book and it's just about perfect…but there are ways to make it even better. Ideal, even. Would you like to read in the bathtub, too? I can help you find the ideal way to read in the bath.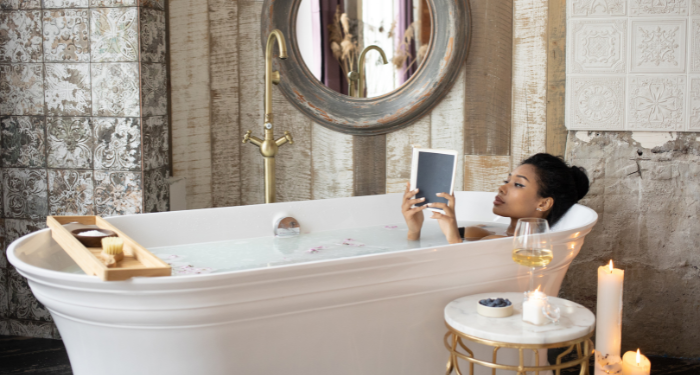 First, you'll want to set the mood with lighting. You could, of course, turn off all the lights and read with a headlamp, a book light, or on a backlit device, but why not treat yo self? Try a galaxy light projector, and add some color change LED candles for a little more light. Or, if you're feeling particularly groovy, try this underwater lighting system.
Next, you need to get the water just right. Everyone has a different ideal temperature, so I cannot advise you there except to say that you will want to err on the hotter side of your preferred range because water does have a habit of cooling down. But of course, it's not just the temperature! As I mentioned, I like Epsom salts; I buy the unscented ones, partly because I find the scented ones too perfume-y and cloying (your mileage may vary!) and partly so that I can add other scented items without everything competing for my nose. As an alternative — or, let's be real, in addition — to Epsom salts, I love an Epsom salt bubble bath.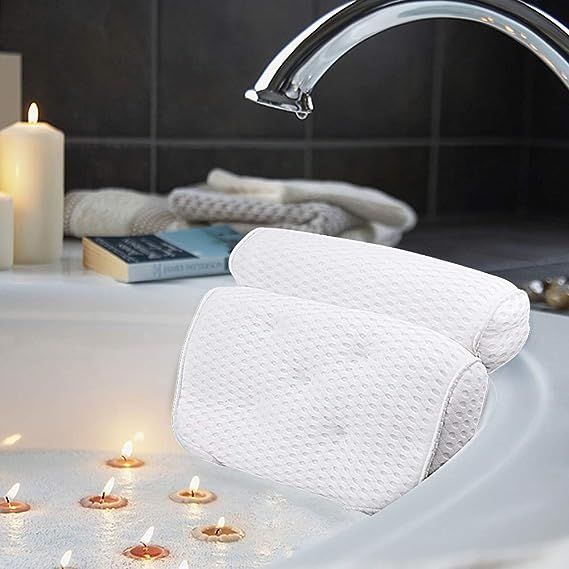 Next, for your comfort, you'll want a pillow. There are bathtubs out there that are comfortable without the addition of a pillow, and if you have one of those, skip to the next paragraph! Also, can I come live with you? Ahem. Anyway! This mesh one suction cups onto the tub in six spots, which sounds nice and secure. Here's another mesh option, with seven suction cups, which may work better depending on your tub (and probably your neck). Or maybe you'd prefer a full-body bath pillow? I know I would. One last option if you're just looking for something super simple: a pillow-shaped bath pillow with two suction cups.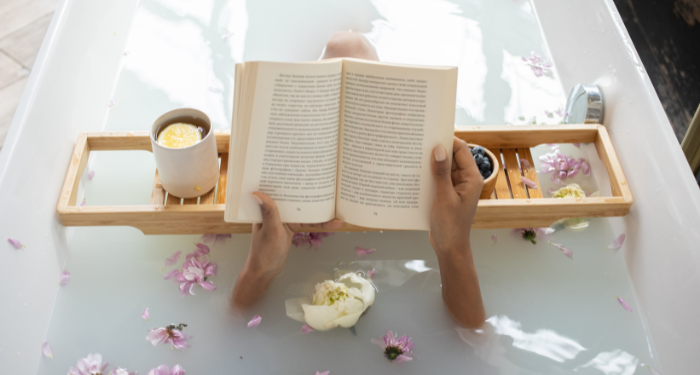 Now let's get down to it and talk gear: you'll want somewhere to put your book, and maybe your phone, and a beverage and a towel and a snack and whatever else your heart desires! You've got options, and the best options are bath trays. These range from a simple plastic tray or a folding plastic tray to a teak tray with a bookstand or a similar one in bamboo; if you don't want a tray covering the tub, check out this wonderful freestanding bamboo tray table.
Maybe you just need a place to keep your beverage. I've got you! Go whimsical with this flamingo floating drink coozy (made for swimming pools, but I've got a similar one that's fine in the bath), or practical with these hanging sleeves (just add a hook to the wall). Or there's this guy — also useful for shower beverages, if that's your thing!
There are just two things missing now, and one of them is you! Are you ready to shed your cares and escape into a book — and a bath? You are? Good. Now you just need one last thing: your book! If you already have one, great. You're all set! If not? Check out the latest summer romance.
One last idea for you: want to really relax in that bath, while still reading? Try an audiobook! You can hook up a waterproof bluetooth speaker and let someone else do the reading for you.
Happy reading — and happy bathing!