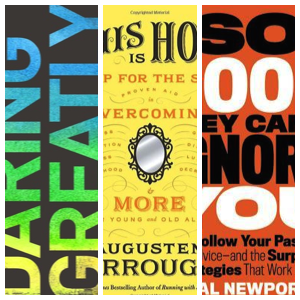 Nonfiction
Helping Ourselves: Rioters' Favorite Self-Help Books
This content contains affiliate links. When you buy through these links, we may earn an affiliate commission.
Recently, I had a Book People Problem. My reading had slowed down to almost nothing but YA re-reads and social media updates, but the process of trying to force myself to pick from my TBR list sent me through something like the stages of grief: denial (I don't have a problem), anger (I don't have a problem!), bargaining (ok, just one more chapter of Eclipse (again) then back to a new adult fiction), depression (I defiantly continued on to Breaking Dawn (again)). Never made it to acceptance.
So, I turned to self-help. And then realized that we all have favorite self-help books we turn to in times of trouble, but we don't share them as easily as books from other genres. I put out the call to Rioters, and now we're sharing our favorite self-help books, in the hope that our self-help can be group-helpful. Readers, heal yourselves.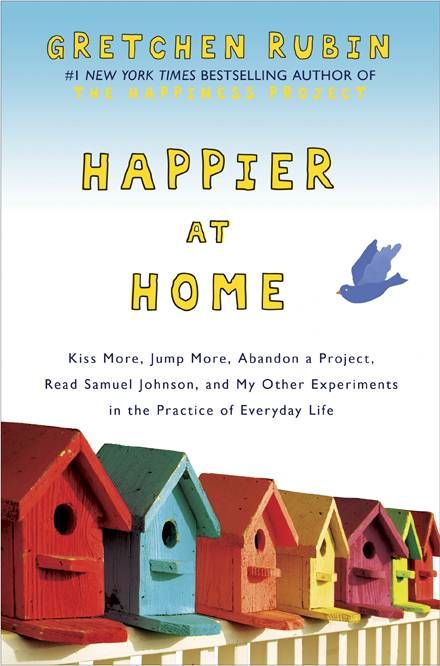 Alison: Happier at Home and The Happiness Project Blog by Gretchen Rubin
I read Rubin's book as as a reminder to get some balance back in my life. Or, in her subtitled words, "Kiss More, Jump More, Abandon a Project, Read Samuel Johnson." And I liked it. Rubin's Happiness Project Blog consists of gentle reminders, quotes and anecdotes to brighten your busy, overstuffed days. I have been ignoring them. But this one, from my wife, clearly empathizing with my summertime non-reading pain (or just wanting me to shut up about it) struck a nerve: 13 Tips for Getting More Reading Done. Of the 13, two jumped out and smacked me across the head with their righteous, YES, common sense, "duh" simplicity: Read books you enjoy, and Don't fight your inclinations. I've been trying so hard to keep up with current publications, I forgot that what I really love is a great re-read, particularly during those summer nights when vampires roam at twilight, wizards battle to preserve humanity, young orphan girls find loving new island homes, and farm girls turn into princess brides. I should've remembered this and given myself a break. At the end of the 13 Tips list, Rubin includes some get 'em done tips from authors, as well as this wonderfully priceless list from French author Daniel Pennac: The 10 inalienable rights of the reader. Number one on this genius list? The right not to read. Consider my mind blown.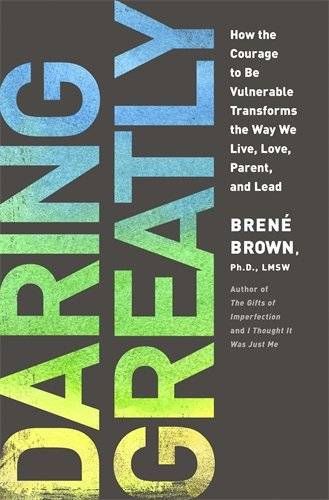 Kelly: Daring Greatly by Brene Brown
Brown's book explores the value of feeling and working with the feeling of vulnerability while simultaneously learning how to let go of shame in order to reach toward your goals. There's a lot of great food for thought on careers and goal attainment, but I think the thing that spoke to me the most in the book was how we build, cultivate, and nurture relationships with other people through vulnerability. It hit on a lot of things I value in my closest relationships in a way I hadn't thought about before and in a way that made me pause and think about whether I offer to the people I love what they offer to me. This is less anecdotal for self-help and more research-based, and Brown gets into some great stuff about gender and how women and men express and internalize shame. I'd give this book to those in their mid-20s or older, especially to those who have a lot of drive and passion but don't always feel like they're fulfilling a lot of the things they really want to or who question their strength/motivations/end goals. Also, this was way more valuable to me in my late 20s regarding changing relationships than any books about how friendships change as people grow up.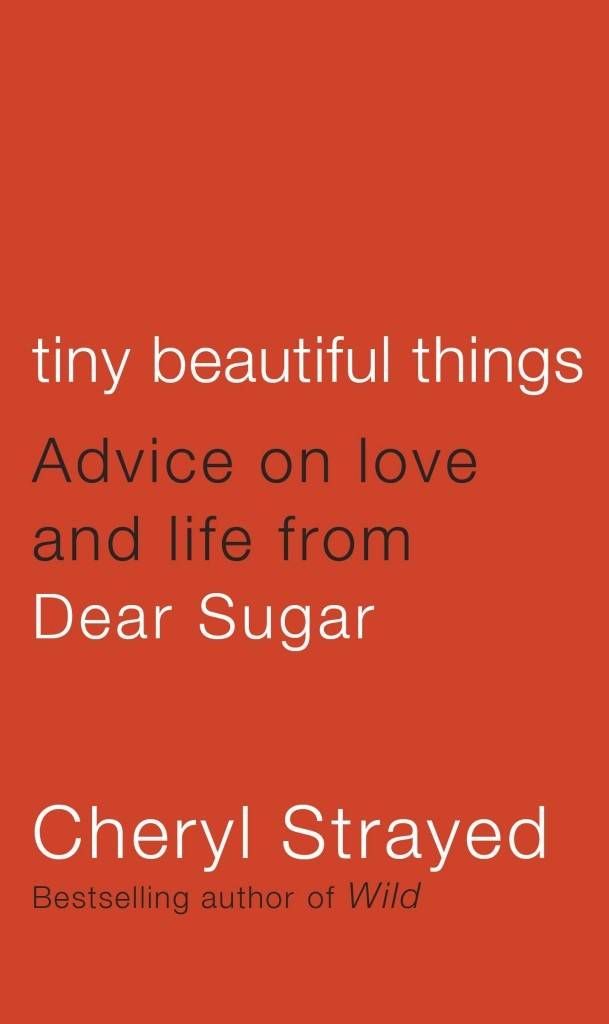 Jenn Northington: Tiny Beautiful Things by Cheryl Strayed
It's not technically a self-help book, but it's the most emotionally resonant book I've ever had the pleasure to read. Tiny Beautiful Things collects both published columns from Strayed's time as Dear Sugar on The Rumpus, as well as some that never made it to the website. Whether or not the problems she's discussing are your own, Strayed is so good at getting to the core of a problem — whether it's an abusive relationship, a plague of self-doubt, general ennui, whatever — that each essay will find its way into your brain and heart. I've given at least a dozen copies out as gifts, and my own is dogeared and tear-stained. (I highly recommend reading in private; ugly crying is entirely possible.)
Rita Meade: I Don't Care About Your Band: Lessons Learned from Indie Rockers, Trust Funders, Pornographers, Felons, Faux-Sensitive Hipsters, and Other Guys I've Dated by Julie Klausner
The title really says it all, I think. If you're going through a bad breakup or if you're just sick of all the bad dates you've been on lately, grab this book. Trust me, it helps (and even if it doesn't, you'll laugh through it).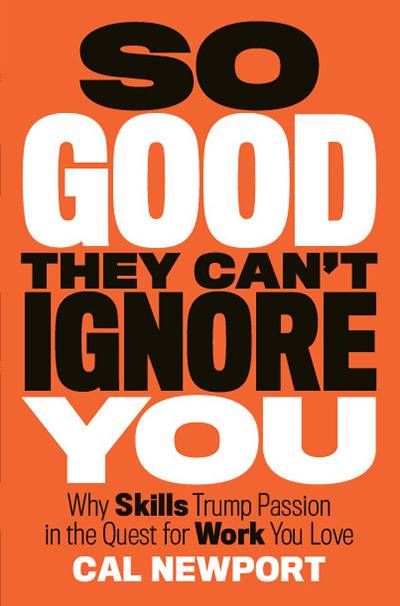 Josh Corman: So Good They Can't Ignore You by Cal Newport
Cal Newport, who's got a really good blog called Study Hacks, delves into some of the myths surrounding happiness and its relationship to careers, while also examining the ways in which success is tied less to passion than it is to other things like, say, the autonomy your work allows you. What I loved about Newport's book was its decidedly un-Tony Robbins, rah-rah, unleash your potential self-help tone. In the manner of something more like a Malcolm Gladwell book, Newport examines several cases of career success and failure and attempts to apply the lessons of those cases to the often challenging search for career satisfaction. Personally, the book gave me some helpful perspective on the patience often required in the search (often longer than we would like) for work-related peace of mind, all wrapped up in a thorough (and enjoyably counterintuitive) package.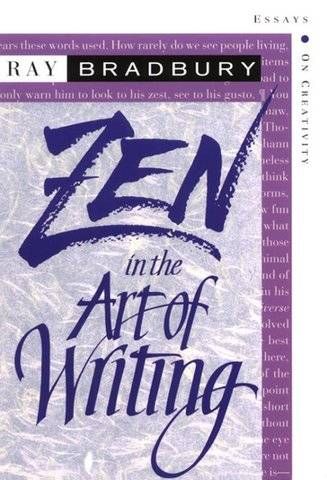 Peter Damien: Zen In The Art of Writing by Ray Bradbury
Initially, one might think this was a how-to book of some sort. A writing advice book. But really, it isn't. You won't learn very much about the mechanics of writing short stories or having a long and celebrated career, like the legendary Ray Bradbury, not from this tiny book comprised of various essays. Instead, what you'll get is a powerful sense of living life joyfully, of being aware and engaged with the world around you…and of blending both of these things with your sense of writing and storytelling. I come away a little happier with each reread, and I've read it hundreds of times over the years (my copy is on its last legs, sun-darkened, glue-crackling) and each time it bolsters me as a writer and a human. I come away feeling that life and stories are one vast toybox that I'm rummaging in, and Bradbury's joy is so infectious, I can't help but rush off and write a bunch of short stories just for the sheer pleasure of doing them. A tiny book of sheer bounding joy cannot be anything but a self-help or , dare I say, a Medicine for Melancholy.
Josh Hanagarne: This is How by Augusten Burroughs
I'm not a fan of Augusten Burroughs, and I loathe the self-improvement industry. But if there is one self-help book I could recommend, it's this one. It is the antidote to affirmation culture. It is tough talk that is actually useful and applicable. It is actually useful. Finding a good self-help book is as simple as finding the author who resonates with you the most, at least for that book. This was it for me. It gave me things to try and didn't pretend that it would all be okay if I could only just believe.
It takes a village of readers, so please share. What's your favorite self-help book, and what has it helped you with?