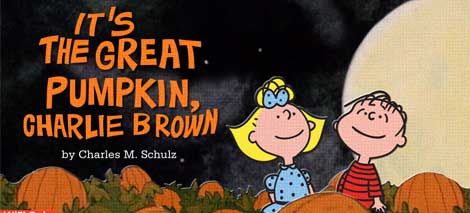 I have happy memories of watching Charlie Brown with the family. My dad had recorded one of the specials on video cassette, and my siblings introduced me to the rest of them. When we occasionally managed to catch them on TV, we enjoyed them greatly.
It's the Great Pumpkin, Charlie Brown is probably one of the most depressing holiday specials. At least in A Charlie Brown Christmas, the kids come together to give love and decorations to the little tree, and in Thanksgiving and the Easter Beagle there are happier endings for our unfortunate hero. But here, Charlie Brown returns to his house with an angry younger sister and a bag of rocks instead of candy; Linus never sees the Great Pumpkin appear, and he decides to stay outside and sleep through the cold rather than accept failure, promising next year to do the same, despite the evidence against his belief system.
The special explores the positive and negative side of imagination and belief. Charles Schulz, like other cartoonists Bill Watterson and Winsor McCay, believed that imagination could provide hope, and occasionally despair. Too much reality can bog a person down until they sink into routine.
For the positive side, we get Snoopy spending Halloween dressed as a World War I Flying Ace. We'd see this alter ego in the comics, along with Snoopy's many other egos like Joe Cool. In the cartoon proper, Charlie Brown narrates, showing that he is participating in his dog's story. Snoopy meanwhile mounts his cockpit—actually the doghouse where he rests—and fights the Red Baron midair. The Red Baron shoots down the Ace, who has to flee into the French countryside. Snoopy thoroughly enjoys himself on Halloween, despite his character suffering.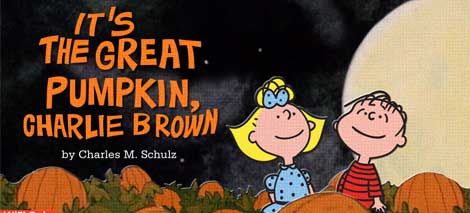 Linus displays the negative side of belief. Every year he writes a letter to the Great Pumpkin, expecting to get presents and praise for believing in such a being. As Lucy puts it, every year he waits in the pumpkin patch, misses trick or treating, and wastes his night hoping to see the Great Pumpkin. It makes him a laughingstock, and also look like a fool despite the evidence. What's more, he misses out on the Halloween traditions that promise joy to kids his age. Lucy's brutal honesty and Charlie Brown's comments about his doing stupid things only set Linus in his stubborn ways.
Then we see the effects of living too much in reality, through Lucy. Lucy, despite looking out for her brother Linus, is a crabby fussbudget. She leads the group by force of will, not by kindness. Linus's obsession with the Great Pumpkin messes with her, witnessing him failing to see the Great Pumpkin every year. As a result, despite getting a lot of candy on Halloween and bobbing for apples, Lucy is still a grump by the end of the night.
Belief and reality can exist side by side; belief has to allow for failure, however, while reality has to allow for hope and possibility. Granted, I don't mean beliefs like, "Your father died because he didn't pray enough," even though your father got up at five AM to pray every day before going to work. I mean beliefs like "I can accomplish this task. I can defeat the Red Baron." Just because you fail doesn't mean that your belief is impossible.
This year we failed at trick-or-treating; it was the one year our neighborhood didn't plan for the event, due to Hurricane Irma, I presume. Things happen; some years you get rain, some years the rain cancels trick or treating. But we believe next year can be better, if we remind the neighbors how much fun getting candy is. It's what Linus and Snoopy would do, with Lucy providing a reality check. I wish you fulfilling beliefs this Halloween.
Also In This Story Stream