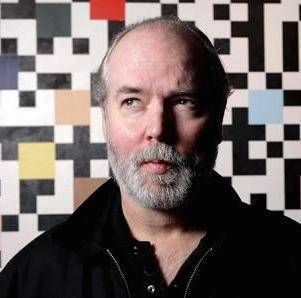 Nonfiction
The Gloriously Weird Non-Fiction of Douglas Coupland
Douglas Coupland is so weird.
Like, in a really great way, obviously. But I've just been reading his latest non-fiction title, Kitten Clone: Inside Alcatel-Lucent. It's published by Visual Editions, and it's part of a very cool project called Writers-in-Residence which is, well, something the website explains better than I do:
Writers in Residence is a not-for-profit organisation devoted to recording and describing key institutions of the modern world – through the talent of some of the greatest writers on the planet.
In Kitten Clone, Coupland takes us inside the world of the heart of the internet, telling us about the architecture that holds it together and, more interestingly, the people — in the US, in Canada, in France, and in China — who do the building. It's an intensely interesting read, but with some great moments of humour (my favourite is that as part of a reference to the cultural impact of the concept Generation X, he includes a footnote that just says, "Sorry about that"). And the fact that the whole book is predicated on the thesis that the whole internet may have been created just to share cat pictures gives it one more layer of awesome.
It's not the first time Coupland has turned his skewed eye to a non-fiction project. His biography of Marshall McLuhan, published in the US as Marshall McLuhan: You Know Nothing of My Work!, is interwoven with stories of his own life and the ways in which McLuhan's views have shaped the world. It's very personal, more like Coupland's experience of McLuhan-ness than a typical biography, but the result is a compelling read that stuck with me far longer than the zillion times I've perused McLuhan's encyclopedia biographies.
This is the guy who co-wrote a book about Lara Croft (yes! Tomb Raider!) called Lara's Book: Lara Croft and the Tomb Raider Phenomenon, the guy whose Shopping in Jail: Ideas, Essays, and Stories for the Increasingly Real 21st Century is sort of like a non-fiction The Circle by Dave Eggers without the po-faced pessimism, and the guy whose Financial Times column is consistently strange and wonderful. I know to expect weird when I read Coupland non-fiction, but the scale of the weird always shifts on me just enough to keep it interesting.
Kitten Clone is definitely worth your time (as is all of Coupland's non-fiction oeuvre), but you don't even have to take my word for it: Wired recently ran an excerpt, and you can read a few pages yourself to decide. Enjoy the brain melt: it's always kind of yummy.