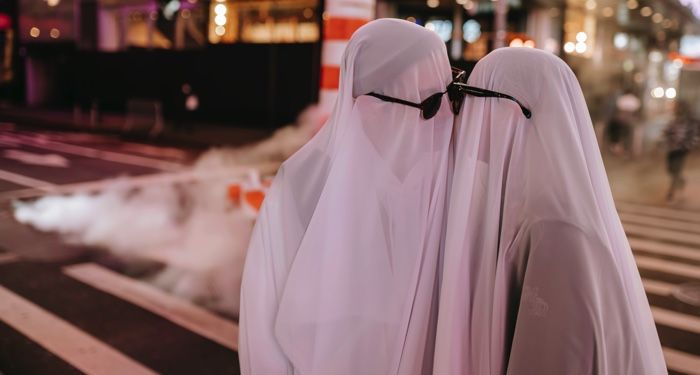 Lists
12 Ghost Romances to Tingle Your Spine
This content contains affiliate links. When you buy through these links, we may earn an affiliate commission.
In the past, I've talked about horror romances, and I've even talked about ghost romances specifically. But it's been a few years, and there have been more romances featuring ghosts — and while some of them are being annoying voices in the background, so many more of them are actual love interests! The interesting thing about the concept of "ghost romance" is that it can be broken into two different categories: romances featuring ghosts and romances about ghosts. Something like The Ghost and Mrs. Muir, for example, is a story that features a ghost, might even have that ghost as a central, friendly character, but the concluding romantic plot is not about the loquacious gentleman ghost. Ghost, on the other hand, is a romantic story featuring the ghost as a central romantic character. (Of course, spoiler alert, that one isn't a romance because homeboy walks into the light at the end.) While my preference is basically for an adult version of Casper in which our ghost friend and the person they're haunting just…do whatever the phantasmic version of dating is for the rest of the living person's life, there are also some great romances in which the Ghosts As Supporting Characters range in scariness from the talking gargoyles in Hunchback to Samara in The Ring. (I'm sorry for all of the very specific and dated reference, I'm a child of the '90s.)
There are some great new romances with ghost love interests out this year, and there are some of both kinds that I didn't get the chance to cover in my previous post. Some take the hauntings a little more seriously while others are just…I don't even know, dude. The ones I've read have all been a delight, and there are plenty more that I haven't gotten to…but I am very excited to check them out!
---
So as you see, there are lots of ways ghosts can exist in romance, and I'm looking forward to seeing how this particular…trope? Sub-sub-genre? Whatever…plays out in the future! (In the meantime, maybe I'll look for that aged up Casper fic I dreamed up in the intro…)