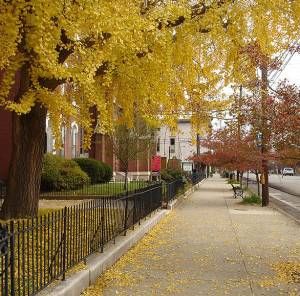 Fiction
Getting Married with The Great Gatsby
When you worship in the house of literature, it's not ancient scrolls, but books, that are your sacred texts. I don't mean to speak for anyone else; it's books that are my sacred texts. The cornerstones of my identity, books are my roots, my north star, my lens for making the world make sense. To me, a library is as holy as a church–indeed, my wedding was in a library–and I find it just as magical to be surrounded by the artists, poets, and dreamers as by the saints, apostles, and angels.
So when the time came, about five years ago, to select passages to be shared at my wedding, I looked not to religious works but to my reading. I picked a quote from Marilynne Robinson's Gilead to adorn the bookmarks we placed at each seat (come on, it's a library wedding, you knew there were going to be bookmarks): "Love is holy because it is like grace–the worthiness of its object is never really what matters." I've read and recited and held this in my heart for so long that it's a part of me, a fundamental piece of how I think about and experience love.
The first reading was a selection from Rilke, which includes the as-perfect-as-it-gets "a good marriage is one in which each partner appoints the other to be the guardian of his solitude" (can I get an "amen" from the introverts in the crowd?) and reminds us that "even between the closest people infinite distances exist." It's not about becoming one, but being two, together. Yes. This.
And then there was Gatsby, a passage chosen for us by a dear friend who understood not only the romance and magic of love but the challenges and sacrifices as well.
One autumn night, five years before, they had been walking down the street when the leaves were falling, and they came to a place where there were no trees and the sidewalk was white with moonlight. They stopped here and turned toward each other. Now it was a cool night with that mysterious excitement in it which comes at the two changes of the year. The quiet lights in the houses were humming out into the darkness and there was a stir and bustle among the stars. Out of the corner of his eye Gatsby saw that the blocks of the sidewalk really formed a ladder and mounted to a secret place above the trees–he could climb to it, if he climbed alone, and once there he could suck on the pap of life, gulp down the incomparable milk of wonder.

His heart beat faster and faster as Daisy's white face came up to his own. He knew that when he kissed this girl, and forever wed his unutterable visions to her perishable breath, his mind would never romp again like the mind of God. So he waited, listening for a moment longer to the tuning fork that had been struck upon a star. Then he kissed her. At his lips' touch she blossomed for him like a flower and the incarnation was complete.
All of these selections mean more than I can express, and I revisit them often. But there's just something about the Gatsby that really sticks. And sometimes when we walk together on crisp fall evenings or scurry through a city hand-in-hand, remembering the years we spent in Chicago when we first met, I think of this passage, and if I squint my eyes just right, I can almost see the sidewalk turning into a ladder. And this one's built for two.