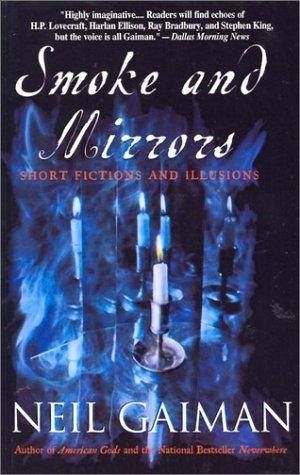 Fiction
GENRE KRYPTONITE: Short Story Collections
This is a guest post by Johann Thorsson. Johann is a writer of fiction with a supernatural slant, mainly short stories and mainly in English. He blogs about books and writing at jthorsson.com. Follow him on Twitter: @johannthors
____________________________
I'm currently reading Kelly Link's short story/novella collection, Pretty Monsters, and am really liking it, especially the amount of detail she gives each of the stories. And as I looked over my book shelves today, I saw that I have a number of short story collections, probably much more than the average reader (especially in the Fantasy/Sci-Fi department). After spending about an hour in nostalgia-land, I took together five of my all-time favorite short-story collections, all recommended reading.
____________________________
Smoke and Mirrors by Neil Gaiman
I am a Neil Gaiman fan, as are so many people. But for me it wasn't American Gods that did it, it was Smoke and Mirrors (and Sandman. Oh how I love Sandman). The very first story got my attention, and the few short minutes I spent reading the beginning turned into many long minutes and then into the people behind the counter at the bookstore eyeing me suspiciously. So I bought the book and went home and finished reading the story in the privacy of my own home, without being looked at suspiciously by anyone. And then I read the next story. And the next one. I'd love to put in a passage from the book, but this is one of those that I tend to loan to friends and then not get back (along with Flowers for Algernon and Catch-22), so I just don't have it around. It has funny stories, fantasies, poetry (which Neil claims are "free with the book") and the excellent "Snow, Glass, Apples," a story that puts the Snow White fairy tale into a sinister costume that stays with you. If you've read anything by Mr. Gaiman but not his short stories… well, I guarantee you will like this.
The Things They Carried by Tim O'Brien
The Things They Carried is one of my all-time favorite books. It is just an amazing piece of storytelling. The book centers around the Vietnam war as the author remembers it; thoughts of draft-dodging to Canada, thoughts about the death of comrades, and thoughts about what is going on back home. There is little in the way of shooting and bombing but more of people experiencing war, their fears and hopes. One of the stories, "The Sweetheart of the Song Tra Bong," is so good that I giggled out loud while reading. Not because it's funny… it's just that good.
It also gets a little metaphysical; a story in the book is about how to write a war story (of which the book is full) and claims they are never true, which puts the other stories in the collection into an odd light. But the stories are good, all of them. Very good.
A Treasury of Great Science Fiction
This is one of those books I own that I can't believe actually exists. I bought the second of two volumes for a one dollar in a thrift store in Vermont. If they were charging by value I would still be working off the debt. Upon realizing that there was a whole other volume, I scoured the internet and found one in a used bookstore and was thrilled. Both volumes now reside in the "display" shelf in my living room.
It has stories by (are you sitting down?) John Wyndham, Ray Bradbury, Robert Heinlein, Phillip K. Dick, Theodore Sturgeon, Poul Anderson, Arthur C. Clarke and even has the complete text of The Stars My Destination by Alfred Bester. The stories are from the "Golden Age" of sci fi, where rockets went into space, Mars had aliens, and everything in the future was clean. It also has that wonderful used-book smell. A true treasure, and the jewel of my book collection.
Deathbird Stories by Harlan Ellison
Oh, Harlan, how difficult you make it for me to like you. Harlan Ellison writes the most wonderful stories. He is not necessarily as nice a person as, say, Neil Gaiman though. Deathbird Stories was originally published in 1976 but still has the power to knock your socks off. "Basilisk" tells of the homecoming of Vernon Lestig after being captured and tortured in the Vietnam war, where he is also infected by poison from the god of war. Ellison's prose is straightforward, though not necessarily simple. He would never be accused of poetry, but his stories are good, and deserve a bigger audience. The first edition cover of Deathbird Stories is possibly one of the prettiest covers of all time.
The Ladies of Grace Adieu by Susanna Clarke
This is a little gem. Susanna Clarke wrote the wonderful Jonathan Strange and Mr. Norrell, the 700-plus page fantasy epic, and this is a collection of stories in a similar vein; magic and fairies. These fairies, however, are not small sprites but human-sized beings that inhabit a world alongside ours where life revolves around magic and nature and being happy. The stories here are about the times the two worlds overlap in unfortunate or amusing ways. There are images between chapters drawn beautifully by Charles Vess, and the book itself is beautiful, and should be displayed in a glass case in the middle of the bedroom.