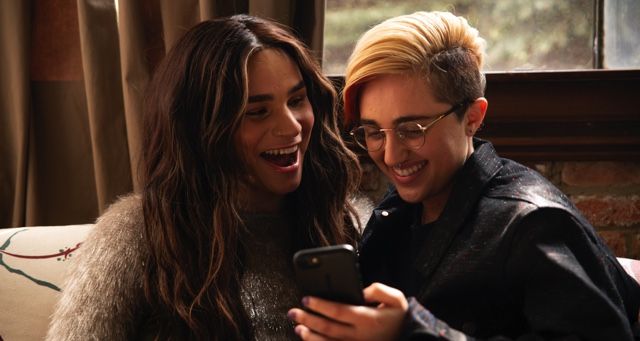 This content contains affiliate links. When you buy through these links, we may earn an affiliate commission.
"I dearly love a laugh."
Like Elizabeth Bennet, I too dearly love a laugh. My novel reading can be rather bleak and heavy. I'm attracted to doom and gloom, but sometimes the slog of melancholy can feel a bit harrowing, and can lead to reading slumps. When I'm feeling this way, I tend to need a jolt of humor to counteract the doldrums.
Comics and graphic novels are the perfect antidote. They're short, have pictures, and can be really funny. You can also read a whole bunch in a short amount of time, which is a huge boon to your yearly reading goals.
So if you're feeling depressed or sad or just need something fun to read:
Here are 19 of the Funniest Comics and Graphic Novels
I Hate Fairyland by Skottie Young and Jean- Francois Beaulieu
This is one of my favorite comics. It's hilarious. I laugh obnoxiously while reading it. You must have an immature sense of humor to enjoy it.
Gertrude, or Gert, gets sucked through a hole in her bedroom floor that transports her into Fairyland. Think: Alice falling into Wonderland, only this Alice has a really bad attitude and a penchant for murder. Gert gets dumped into Fairyland against her will, and then gets stuck there for 40 years. Despite the years that pass, Gert stays in the same child body, and never grows to like Fairyland. Actually, Gert HATES Fairyland. Like, she carries around a battle axe and murders anything that gets in her way. Oh, and she has a dirty mouth, but instead of the actual profanities, Fairyland morphs her curses to words like "fluff" and "gob-ding'd." It's so hilarious.
When a kid comes into the library and doesn't know what to read, or doesn't want to read, I put Dana Simpson's Phoebe and Her Unicorn into their hands. Other than Raina Telgemeier's graphic adaptation of The Babysitter's Club, these are, without a doubt, our most popular books! These comics are like Calvin and Hobbes if Bill Watterson had had a proclivity for pink and glitter.
Prince Sebastian has a secret. He's been moonlighting as Lady Crystallia by night, while his family works to find him a bride by day. Frances is Sebastian's dressmaker, and although Lady Crystallia's clothes are taking Paris by storm, Frances has to stay in the shadows so she doesn't give away Sebastian's secret. This all sounds kind of serious, but I assure you: this is one the cutest, most delightful books I've ever read. And it's really funny.
Sarah Andersen's comics are an almost daily pleasure on Instagram.
Her humor speaks to my anxious, millennial brain. You can follow Sarah's Scribbles on Instagram, but you can also buy her books: Adulthood is a Myth, Big Mushy Happy Lump, and Herding Cats. And I do encourage you to read all three of these books!
Sex Criminals by Matt Fraction and Chip Zdarsky
Suzie discovers she can stop time when she has an orgasm. She thinks she's alone until she meets Jon. Suzie and Jon can stop time when they have sex, so they decide to use their abilities to rob a bank to save a library. This story contains actual sex police, a sex store called Cumworld, and a gun-shaped vibrator. If you think sex humor is funny, you'll think this is a riot!
Princeless by Jeremy Whitley, Mia Goodwin, Jung-Ha Kim, Dave Dwonch
All princesses have to wait in towers until a prince can slay the dragon that guards them. The problem: Princess Adrienne is tired of waiting. So Adrienne and her dragon Sparky set out on their own quest to save all the other princesses who are being held captive in towers.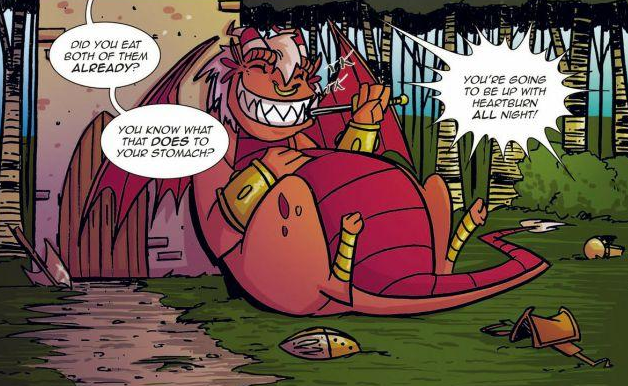 Transmetropolitan by Warren Ellis, Darick Robertson, Rodney Ramos, Nathan Eyring, Patrick Stewart
If Gotham City had an evil cousin, it would be The City. It's rife with corruption, degradation, drugs, money, and technology gone wrong. Except unlike Gotham, there's no Batman to fight the villains. Just Spider Jerusalem. Spider's been hiding on a mountain for five years. He's cut himself off from technology, let his hair and beard grow into a mane, and is hiding from the publisher who he's promised two more books. When the publisher finds him and threatens to sue, Spider decides he better get back to the city. Spider is a journalist. A really good one or a really bad one, depending on how you look at it. "The point is, the only real tools we have are our eyes and our heads. It's not the act of seeing with our own eyes alone; it's correctly comprehending what we see…Laying open the guts of the world and sniffing the entrails, that's what we do." "Entrails" should be metaphorical, but for Spider, it's hard to discern metaphor from candor. He uses weapons and assault on sources: ebola bombs, smartguns, his Air Jesus tennis shoes.. He's not Batman, but he's a tiny little powerhouse of indignation. And he's hilarious.
This started as a webcomic, gathered a huge fan following, was on Kickstarter, and then became a book. Bitty is a champion figure skater and vlogger. When he arrives at college he joins the hockey team, and quickly develops a crush on Jack, the team captain. You don't have to know anything about hockey to really love this story! It's super cute.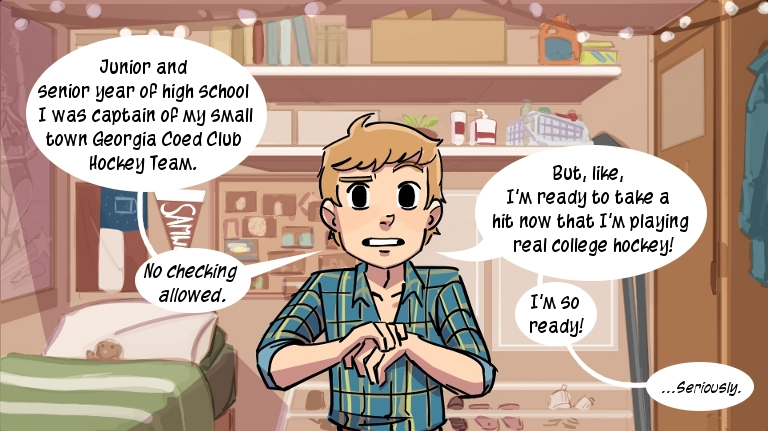 I could've included Matt Fraction's Hawkeye. I could have. But Matt Fraction already made the list with Sex Criminals, and I think Kate Bishop might be funnier than Clint Barton. Plus, Kate Bishop meets up with Jessica Jones in this volume, and it's a lot of fun.
I read this at a very difficult time in my life, and this book made me feel better. There are stories about dogs, relationships, and depression. Also, simple dog and helper dog, which will make you laugh out loud! If you own a dog you will love this book. If you want to read a book about depression but you don't want it to be depressing, you will love this book. If you love weird internet art, you will love this book.
The Hark! A Vagrant comics are funny, but you have to know something about the subject to appreciate the humor. Basically, Beaton breaks down history and literature with a bunch of one-liners and inside jokes. I will admit some of the humor goes straight over my head, but I love the jokes about the Brontës and Jane Austen.
Chew by John Layman, Rob Guillory
Tony Chu is Cibopathic, which means he gets psychic feelings from eating dead flesh. Like, dead human flesh. He's a detective, but when he's discovered feasting on the flesh of a dead murderer, he's fired. Soon the Special Crimes Division of the FDA asks Chu to join their team, where he will use his special psychic insight to solve food related crimes.
Bone by Jeff Smith
Maybe I don't need to include Bone on this list because it's a classic and it's been around for years, but I feel like any list about funny comics that doesn't include Bone is an incomplete list. It's all about Fone Bone, Phoney Bone, and Smiley Bone and their exile from Boneville. They're quickly separated in a dangerous, forested valley, where they get up to all kinds of shenanigans.
Giant Days by John Allison, Lissa Treiman, Whitney Cogar
Giant Days is about school and friendship and sexuality and just trying to be people while everything around you is nuts. It's so funny, and every consecutive volume is as high quality as the last. Giant Days is one of my favorite ongoing comics series.
Saitmama can defeat any enemy with one punch, which is cool, but after a while, tedious. Can anyone challenge Saitmama? Or is he doomed to the monotony of unvanquished success. Saitmama is drawn simply, which is part of the charm of One-Punch Man.
Nancy by Ernie Bushmiller
So far I haven't included any so-called "comic strips" on this list, which might be an oversight since comic strips are meant to be funny. I think Peanuts and Calvin and Hobbes are both obvious classics, and I own every collection of Calvin and Hobbes that's ever been released. So I do love that strip, but there's something really special about Bushmiller's Nancy, and I couldn't create a list of funny comics without including her on the list.
Ms. Marvel by G. Willow Wilson, Adrian Alphona
When Kamala Khan acquires the powers of Captain Marvel, she's not sure what to do with them. She's a teenager living in Jersey City, and that was hard enough, but now she's bestowed with these powerful gifts, and they don't come with an instruction manual. I love these Marvel characters—Kamala Khan, Kate Bishop, She Hulk—I hope they get their own movies in the MCU!
Lumberjanes by Noelle Stevenson, Shannon Watters, Grace Ellis, and Brooke A. Allen
This is a comic for anyone who loves the summer camp part of Parent Trap, or anyone who ever thought it would be so great to go to a camp all summer, but just ended up at all-day Bible camp instead.
Things are getting weird at Miss Qiunzilla Thiskwin Penniquiqul Thistle Crumpet's camp for hard-core lady-types; but Jo, April, Mal, Molly, and Ripley are not going to let some supernatural happenings stand in their way of having a great summer.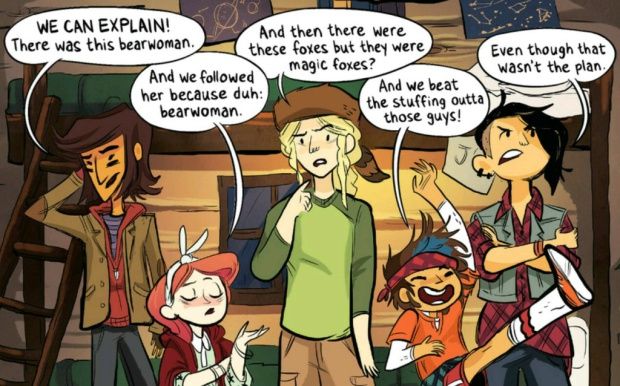 Ranma 1/2 by Rumiko Takahashi
Ranma Saotome goes to China for a martial arts training school. He gets cursed when he accidentally falls into a cursed spring. Now, every time he gets doused with cold water he turns into a girl. Hot water reverses the effect. It's really a pickle of a situation.
---
Need more? Try Book Riot's 8 Feel-Good Queer Comics and Graphic Novels; Light-Hearted Comics to Make You Smile; or, in case you think reading comics is cheating, try: Reading Comics Is Not Cheating.