Lists
Forthcoming Anthologies To Add To Your TBR List
This content contains affiliate links. When you buy through these links, we may earn an affiliate commission.
I love anthologies—any kind, really: travel anthologies, essay anthologies, comics anthologies, you name it. I think it's because they give me a variety of different voices to read, all wrapped up in one book. With so many great writers out there, when an anthology combines an all-star lineup, it's especially wonderful to read—although nothing beats reading an anthology and suddenly discovering a writer whom you've never read before or even heard of before who just knocks your socks off. I've had the good fortune to read several awesome anthologies lately that should be on your radar and added to your TBR list.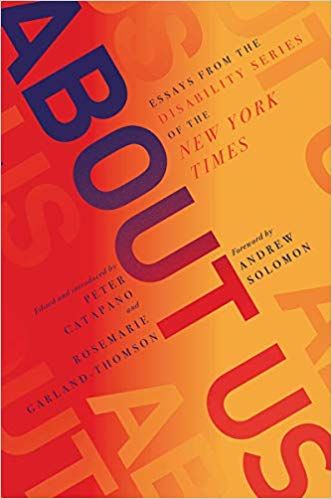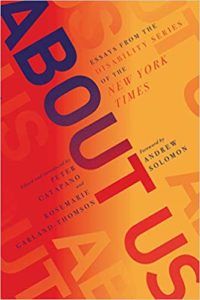 About Us: Essays from the Disability Series of The New York Times, edited by Peter Catapano and Rosemarie Garland-Thomson (September 3, 2019 from Liveright Publishing)
The title of this collection comes from the phrase "Nothing about us without us," which is a motto that has been adopted by many disability rights groups. It is comprised of essays published in the NYT from writers like Rivers Solomon, Emily Rapp Black, and Andrew Solomon, to name a few, about a wide variety of disabilities, issues related to disability rights, and more generally about living with a disability—falling in love, relationships, family, accessibility, and work. I would often come to the end of an essay and want to read more: while these are informative and captivating, they're often way too short, which for me was the only drawback to this collection. I wanted to hear more from so many of these contributors.
I love Amanpour, so when fellow Rioter Liberty mentioned this collection, I looked this one up immediately. This is a collection of 19 Arab women journalists, telling their stories about not only what their jobs are like, but also what it's like to live in their communities and cultures as a woman and as a working journalist. This area of the world is often misunderstood and full of stereotypes, and these voices and stories are much needed. I'm really looking forward to reading this book.
I am a horrible cook. I'd like to be a good cook—I even bought some cookbooks when my son started preschool, thinking I'd make some homemade lunches for him and family dinners…all of which have ended in disaster so far. The thing is, though, I love reading about food. After my son was born, a hot meal became an expression of love. It fed my soul—and I love reading about how others have found that, too. This collection of illustrated essays (including contributions from writers like Carmen Maria Machado, Edwidge Danticat, Nick Flynn, and Mira Jacob) not only contains mouth-watering recipes of all kinds, but also stories about how food helped people survive, in more ways than just bodily sustenance. The stories show how food can connect us to others and provide comfort, even after death or separation, years or distance. It took me a long time to read this one because I simply didn't want it to end.
In this anthology, women write about, you guessed it, anger—but not about the things that make them angry. That would be too easy and simple. This collection is about so much more. Anger and womanhood are often seen as being at odds, and those who dare express that anger are "nasty women," mocked, vilified, or brushed off. But with the attacks on bodily autonomy, disability rights, and the #MeToo movement, to name a few, there's a ton of anger in the air—and rightly so. But who gets to actually be angry? Who gets to express and share that anger? They take on the intersection of anger and other emotions, how anger fuels them in various ways, and how anger is limited by or altered by other aspects of their identity. Writers like Keah Brown (also check out her forthcoming memoir The Pretty One, which is superb), Rios de la Luz, Meredith Talusan, Shaheen Pasha, Megan Stielstra, and Reema Zaman are among the contributors, and every word was like water as I read—and I didn't realize how parched I'd become.
Are you looking for a YA anthology with a fabulous roster of contributors that will transport you out of your life for a little bit and also give you hope? Look no further. This is a collection of stories about love, and as editor Mandanna states, it is also "about race, and about how being different from the person you love can matter but how it can also not matter…[the book] is a collection of stories about young, fierce, brilliantly hopeful people in love." And couldn't we all use some more love in our lives?
The Best American Essays 2019, edited by Rebecca Solnit and Robert Atwan (October 1, Mariner/Houghton Mifflin Harcourt)
While I love nearly all of the Best American series, the Essays collection is always a favorite. Admittedly, much has to do with the guest editor a lot of the time, and I was happy to see Solnit. It's also worth mentioning that I was happy to see that she included a substantial number of non–cis male contributors, which was refreshing, since at times these series have been lacking in representation. It is hard to find the words to describe the pieces in this book—it's Solnit, so there is a political flavor—but I would be remiss if I described these essays as merely political writing. These essays are about our lives, our identities, our families, our environment…they are about the micro within the macro, and all of this does not exist in a vacuum, more so now than ever. I'm only a few essays in to this collection and from Solnit's introduction alone, I can tell this one is a keeper—the energy, the thoughtfulness put into the selections, and the idea that writing is a damn powerful tool for change and transformation. I'm excited to see what the other Best American titles have in store this year, given this one.