This giveaway is sponsored by Spill Zone, a stunning graphic novel from bestselling author Scott Westerfeld.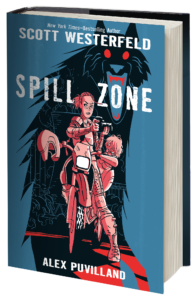 Three years ago an event destroyed the small city of Poughkeepsie, forever changing reality within its borders. Uncanny manifestations and lethal dangers now await anyone who enters the Spill Zone. The Spill claimed Addison's parents and scarred her little sister, Lexa, who hasn't spoken since. Addison provides for her sister by photographing the Zone's twisted attractions on illicit midnight rides. Art collectors pay top dollar for these bizarre images, but getting close enough for the perfect shot can mean death—or worse.
When an eccentric collector makes a million-dollar offer, Addison breaks her own hard-learned rules of survival and ventures farther than she has ever dared. Within the Spill Zone, Hell awaits—and it seems to be calling Addison's name.
---
Science fiction in comic form is such a treat: excellent story-telling with imaginative art! We asked you to share your favorite Sci-Fi comics and graphic novels, and you responded. Here are 25 of your favorites!
Paper Girls by Brian K. Vaughan, Cliff Chiang, and Matthew Wilson
Saga by Brian K. Vaughan and Fiona Staples
Decender by Jeff Lemire, Dustin Nguyen, and Steve Wands
Star Wars: Clone Wars Adventures by W. Haden Blackman, Matt Fillbach
Alex + Ada by Jonathan Luna, Sarah Vaughn
Y: The Last Man by Brian K. Vaughan, Pia Guerra, and José Marzán Jr.
ApocalyptiGirl: An Aria for the End Times by Andrew MacLean
Bitch Planet by Kelly Sue DeConnick, Valentine De Landro, Robert Wilson IV
Red Rocket 7 by Mike Allred
Kindred: A Graphic Novel Adaptation by Octavia E. Butler, Damian Duffy, and John Jennings
Starstruck: The Luckless, the Abandoned and Forsaked by Elaine Lee and Michael Wm. Kaluta
Wires and Nerve by Marissa Meyer and Douglas Holgate
Global Frequency, Vol. 1: Planet Ablaze by Warren Ellis, Steve Dillon, Glenn Fabry, Garry Leach, David Lloyd, Jon J. Muth, Liam Sharp, and Roy A. Martinez
The Ballad of Halo Jones by Alan Moore and Ian Gibson
Monstress by Marjorie M. Liu, Sana Takeda, and Rus Wooton
Tank Girl by Alan C. Martin and Jamie Hewlett
Judge Dredd by Duane Swierczynski
Transmetropolitan, Vol. 1: Back on the Street by Warren Ellis, Darick Robertston, and Garth Ennis
Those Left Behind (Serenity #1) by Joss Whedon, Brett Matthews, and Will Conrad
The League of Extraordinary Gentlemen by Alan Moore and Kevin O'Neill
Zita the Spacegirl by Ben Hatke
The Life and Times of Martha Washington in the Twenty-First Century by Frank Miller and Dave Gibbons
Wool by Hugh Howey, Jimmy Palmiotti, Justin Gray, and Jimmy Broxton
Black Hole by Charles Burns
Trillium by Jeff Lemire