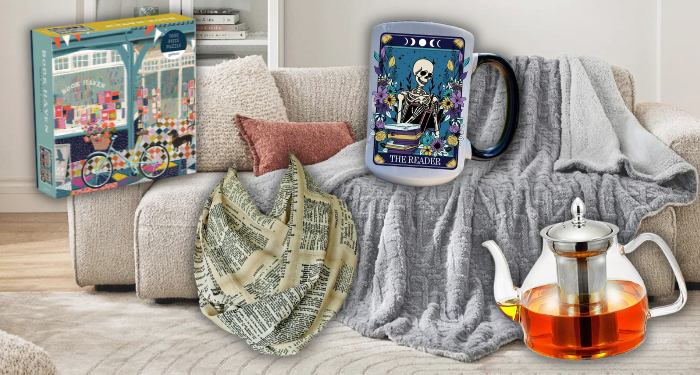 Book Fetish
Book Riot Editors' 25 Fall Reading Essentials Under $25
This content contains affiliate links. When you buy through these links, we may earn an affiliate commission.
It's officially fall, which means — if you're in the northern hemisphere — it's time to put away the beach reading supplies and start working on your reading nook. It's never a bad time to be a reader, of course, but there's something about the fall season that feels like the quintessential reading time of year. It's when we can start cozying up under a blanket and sipping a mug of tea while flipping through the pages.
Of course, if you're like many of us, fall can also be a time where the dip in natural light means you start feeling crummy. One solution to that is to try to lean into the season by creating the perfect autumnal reading space — as well as picking out the ideal TBR, of course.
The Book Riot editors — Erica Ezeifedi, Kelly Jensen, Danika Ellis, and Vanessa Diaz — are here to help by highlighting our fall reading essentials. We're all professional book people, so we take our reading supplies very seriously. But we're also extremely aware of inflation and everything else conspiring to take away our extra spending money, so our 25 picks are all under $25 — with a few bonus luxury items at the end, if you're in the mood to splurge on reading this season.
---
Now that you've got your reading nook assembled, don't forget to check out 30 of the Best and Buzziest Fall Books 2022 Has To Offer. You can keep your place with these fall bookmarks!