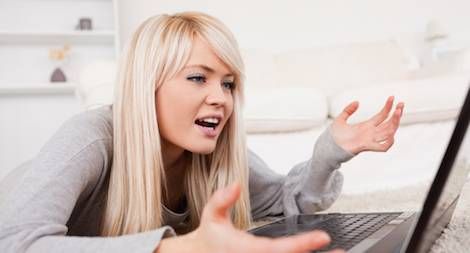 How To
How To Deal With Negative Reviews Of Your Favorite Books
This content contains affiliate links. When you buy through these links, we may earn an affiliate commission.
This is a guest post from Dana Rosette Pangan. Dana works at an online tutorial company in the Philippines and lives on books, coffee, fandoms, and cuteness.
---
You've just finished a spectacular book that you are pretty sure has changed your life in some way. You immediately visit your favorite blogs or online book community to see what these people thought of Your Book—because you think of it now as Your Book—and, with increasing sorrow, you find that these reviewers did not like Your Book. In fact, they hated it.
This happens to me a lot, and it was particularly painful when I read my online friends' reviews about The Perks of Being a Wallflower. I really loved that book and connected with Charlie, the main character, so much. It became My Book, and reading it made me feel less alone because, finally, someone has put in writing how I think and feel sometimes. I did not experience the same things Charlie did, but it felt like we understood each other regardless. So when I read less-than-stellar reviews about it—from my online friends, no less—let's just say I felt like a kid who asked for a dog but got a hog instead because her parents had poor eyesight and frankly should not be trusted with kids.
When faced with this kind of situation, what should you do? Should you stick your fingers in your ears and pretend that you never read the reviews? Should you physically fight the reviewers? Let's examine the options.
Curl up in a ball and cry.
Pro: This technique is not limited to this particular situation. It's actually what I usually do to deal with life in general, so it has earned a special place in my heart.
Con: You are now a ball. You won't accomplish anything.
Yell at your computer.
Pro: It allows you to vent and let your anger out of your system.
Con: Computers don't really like being yelled at. Also, the neighbors might hear and call the police. Then you'd have to explain to them why you were yelling at your computer like a maniac.
Leave snarky/hateful comments on the reviews, telling them that they're wrong, wrong, WRONG.
Pro: Congratulations on your new douchebag status.
Con: You will gain literally nothing from this, except a lot of deserved hate. Also, you're a douchebag.
Unfriend/unfollow/block the reviewers.
Pro: You won't see those reviews anymore.
Con: You won't have friends anymore.
Ask Will Smith and/or Tommy Lee Jones to use the neuralyzer on you to make you forget the reviews.
Pro: You will see Will Smith and Tommy Lee Jones.
Con: They will probably file a restraining order against you.
Accept the fact that books affect us differently and just revel in the feelings Your Book has given you.
Pro: You will hurt no one, least of all yourself.
Con: Probably none. You're too busy being an awesome person to care anyway.
I'm willing to bet you've read a friend's negative review of Your Book before. How did you react?