Crossover Appeal is a weekly feature that challenges the idea that you have to choose a side between YA and adult fiction. Each week we'll feature a book that has been marketed as YA and a book that has been marketed as adult and tell you why everyone should be reading them, no matter what happens to be your comfort zone.
__________________________
YA Books for Adult Lit Readers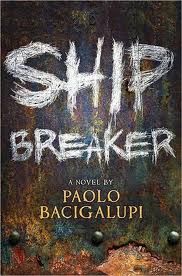 Ship Breaker by Paolo Bacigalupi
Nailer is a ship breaker. He works day in and day out dismantling old oil tankers, now unusable and decaying on the beaches of the US Gulf Coast, in the hopes of finding his Lucky Strike, a rarely discovered pocket of oil that can be sold on the black market, giving Nailer enough money to buy his freedom. Nailer does get his Lucky Strike, but it's not exactly how he imagined it would be.
Why You'll Love It
The best thing to come out of the post-apocalyptic/dystopian trend is the world building. Novels like Ship Breaker create a world so complete, richly detailed, and most of all, plausible. In Ship Breaker, Paolo Bacigalupi never stops building this world and there's ample room for a sequel or a companion, though there's not one in the works right now. If you like exciting adventure novels that are also smart, then Ship Breaker is perfect for you.
Adult Lit for YA Fans
Kindred by Octavia Butler
This science fiction classic follows the trials of Dana, a black woman who lives in the twentieth century, who is suddenly transported back to the South to save a plantation owner's son, Rufus, from drowning. But Dana is forced into the slavery at the plantation until she can find a way to get home, and stay home, before it's too late.
Why You'll Love It
Octavia Butler was one of the most interesting and innovative writers of the past 50 years and Kindred is her masterpiece. Kindred demonstrates the horrors of slavery unlike any book I've read, by having a modern woman encounter them and placing her relationships in the antebellum South in direct contrast with her relationships in the present, especially with her husband, who happens to be white. While I think fans of YA literature, especially teens, could learn a lot from Kindred (I know I did), I also think it's a brilliant, horrific story that needs to be read.
____________________________
Leslie Fannon is a blogger, crocheter, graduate student and, most recently, an assistant at a publishing company. She writes about poetry, graphic novels, and Spanish literature at Regular Rumination. Follow her on Twitter: @lulu_bella