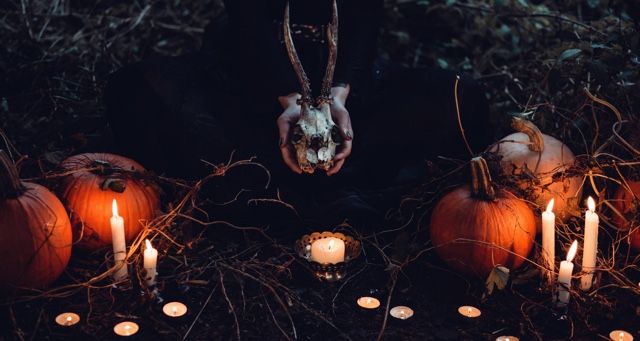 Sponsored
Have a Happy Halloween With These Creepy YA Books
This list of creepy YA books is sponsored by What Makes Us by Rafi Mittlefehldt.
Eran Sharon knows nothing of his father. Now a senior in high school and living with his protective but tight-lipped mother, Eran is a passionate young man deeply interested in social justice . He organizes a peaceful protest but when heated moment at the protest goes viral, a reporter connects the Sharon family to a tragedy fifteen years earlier — and asks if Eran is anything like his father, a supposed terrorist. Soon enough, Eran is wondering the same thing. Timely and powerful, this novel confronts the prejudices, fears, and strengths of family and community, striking right to the heart of what makes us who we are.
---
Halloween is nearly upon us! Whether you're into dressing up or spending a lowkey night in, I hope that you can grab a stash of your favorite mini candy bars and make time to curl up with a spooky book. From the bogeyman to witches to the occult, we've got creepy YA books for your TBR that will have you checking your locks and sleeping with the lights on!
Five Midnights by Ann Davilá Cardinal
For a spine-tingling tale of El Cuco, pick up this suspenseful book! Lupe is visiting family in Puerto Rico right as a string of murders puts everyone on edge. Lupe is convinced that her missing cousin is somehow connected to these murders, and so she teams up with Javier, a friend of the victims, to try and find answers. What they find instead is a monster…and the monster may be after them next.
The Babysitter's Coven by Kate Williams
Esme is a babysitter, and pretty good at it, too. But lately it seems like she's run into a strong of bad luck and weird, borderline creepy incidents have put her on edge. When new girl Cassandra approaches her with a strange message from her mother—"Find the babysitters"—the two will team up to uncover evil and fight it off, all the while keeping their little charges safe. This book has a deadpan sense of humor and a fantastically creepy opening chapter, so prepare to be hooked!
Minor Prophets by Jimmy Cajoleas
Lee has always had strange visions, but luckily his mom and sister Murphy have always had his back. When their mom dies, leaving Lee and Murphy at the mercy of their creepy stepdad, the siblings flee to a place they've only heard spoken about in stories: their grandmother's ranch. Once there, they'll discover the true meaning behind Lee's visions—and the reason their mom kept them from their grandmother in the first place. This is a book that has a creepy setting, and explores the strength in family bonds.
---
Want more creepy books? Check out this list of graphic novels perfect for October reading!
Want more "3 On A YA Theme" posts? Gotcha covered.