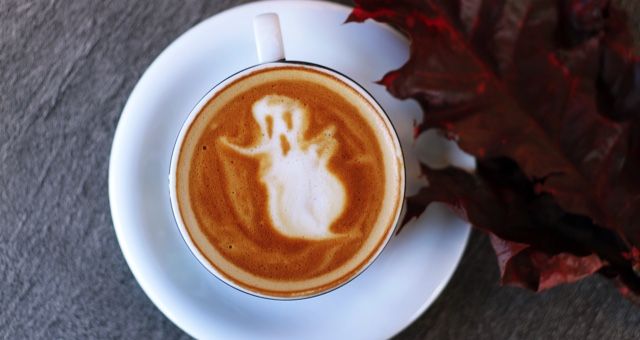 This list of graphic novels for October is sponsored by Roar, the YA imprint of Lion Forge.
Teen witch Nova Huang spends her days working in her grandmothers' spell book shop and her nights hunting down the supernatural. Genderqueer werewolf Tam Lang was Nova's childhood crush. One fateful night they wander back into their old hometown and wind up battling a giant horse demon in the woods. When Tam turns to Nova for help, their latent feelings are rekindled against the backdrop of witchcraft, untested magic, occult rituals, and family ties in an enchanting tale of self-discovery. Mooncakes by Wendy Xu and Suzanne Walker is in stores this October from Lion Forge!
---
I love October because it's simultaneously cozy and creepy. I love the bright, sunny days colored with fiery leaves that into darker nights, and I enjoy nothing more pulling on my wool socks, grabbing a hot beverage, and curling up with a good book—even better if it's a little creepy or unsettling. That's why I'm obsessed with these three graphic novels that are perfect for creepy reading weather!
Archival Quality by Ivy Noelle Weir and Steenz
When Cel gets a new job working as an archivist in a haunting library, she finds herself plagued with dreams and visions of a ghostly young woman. Pretty soon, she finds herself struggling with her relationships and mental health, completely obsessed with this strange woman. She can't be real, right? But when she asks Cel for help, Cel finds out just how real the supernatural can be.
Baba Yaga's Assistant by Marika McCoola and Emily Carroll
Everyone knows Baba Yaga as the witch in the woods, and very few want to cross her. But Masha is determined to go on an adventure and become Baba Yaga's assistant. Entering her house on chicken legs takes guts—but passing all of Baba Yaga's trials will take even more bravery, resourcefulness, and maybe even just a smidge of trickery! This fun graphic novel is a little dark, very funny, and gorgeously illustrated by Emily Carroll with rich and unexpected color.
Through the Woods by Emily Carroll
Emily Carroll's graphic collection of short, spooky stories has been a favorite of mine for a few years now, and I can never resist shouting about it. These original stories feel like dark fairy tales that should only be whispered after the sun goes down. In this collection, a trip to the neighbor's house through the woods turns dangerous, a new bride discovers a terrible secret about her husband, and a girl learns that her brother's new fiancée is hiding something awful. Illustrated in a color palette of black, white, red, and blue, these stories are striking and chilling.
---
What are some of your favorite seasonal graphic novels?
Want more "3 On A YA Theme" posts? Gotcha covered.