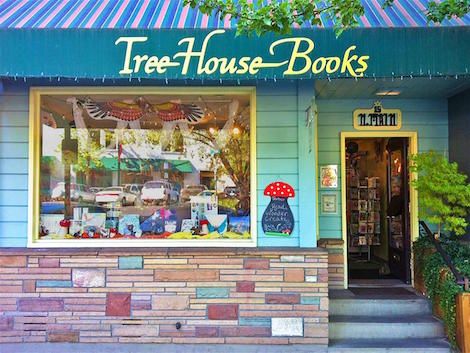 9 Children's Bookstores Worth Traveling For: Critical Linking, May 20, 2018
Sponsored by Chuck Palahniuk's Adjustment Day, on sale now from W. W. Norton.
---
We are in a golden age of children's literature, and this love is felt most intensely in children's bookstores, many of which are so special and imaginative that you could plan a whole family vacation around them. If anyone can keep your kids busy for a few hours, it's a passionate (and patient) children's bookseller.
I have a need to visit all of these children's bookstores, stat.
____________________
"Walden: The Game," will be released for PlayStation 4 on May 15. It gives players the chance to live like the Transcendentalist and be inspired by the pixelated version of his 19th-century surroundings.
Side quest includes Thoreau's mom showing up to take your laundry.
____________________
10. THE DISCOVERIE OF WITCHCRAFT
In 1584, a British justice of the peace named Reginald Scot published The discoverie of witchcraft, which argued that much of what appeared to be magic could be explained by sociological or psychological reasoning—or by simple sleight of hand. "It's not secular; he's not saying he doesn't believe it exists," Kalush says. "It's just that a lot of things that were being attributed to witchcraft are not." For example, Scot said that the guilt produced by those who denied funds to impoverished women may have led them to accuse those same women of dark, magical works. It's also the first important book of sleight of hand, according to Kalush, with substantial sections on coin magic, card magic, and other techniques that were popular at the time.
Cool things you can see at the Conjuring Arts Library.
____________________
But you don't have to be a literary scholar to stay in this apartment upstairs from the F. Scott and Zelda Fitzgerald Museum in Montgomery, Alabama. The Fitzgeralds lived in the house in 1931 and 1932, and for $150 a night, anyone can rent the apartment on Airbnb. There's nothing else quite like it in the rental website's inventory, according to Airbnb spokeswoman Alyssa McEwan.