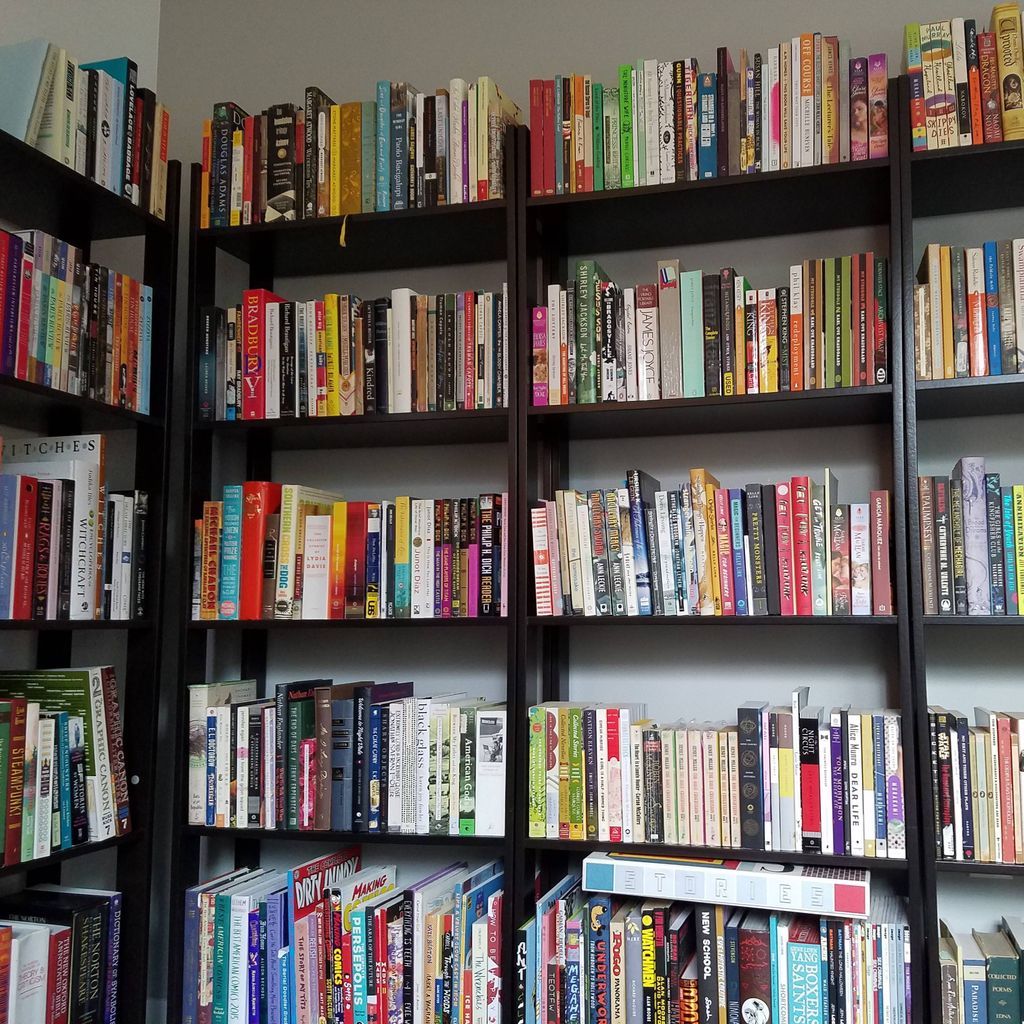 How To
A Librarian's Top 5 Tips to Help You Build a Home Library
When you're getting ready to build a home library, you might want to do a little planning before you jump in. Although it's never a bad thing to have an extra bookcase lying around, a little organization ahead of time can help you save money and thoughtfully think about how to decorate your space with book storage. As a librarian, I have a particular soft spot for geeking out about building a DIY home library, so get ready: this is some next level bookshelf and bookcase nerd. So before you dive in and get going with your DIY home library, ask yourself a couple of questions first to get organized. Go through these prompts and create a wishlist to help you formulate a plan to build a home library of your dreams.
(1) How much can I afford?
First, you'll want to get an idea of how much you can afford or want to spend. Building a home library on a budget is definitely doable, but you'll want to figure out what you want the most. Write down a list of your priorities. For instance, do you want or need three new bookcases? Or can you get away with two? I have both bought too many cases at once and bought not enough, leading to some awkward situations with overstuffed or skimpy shelves. Also ask yourself, what can you afford to pay more for: as much shelving as possible, or a nice "showcase" unit to enhance your room's aesthetic?
get thrifty
Some of my best bookshelves I got secondhand, and it's a great way to go about building a home library on a budget. When a friend alerts me that there's a bookcase at the Goodwill near my house, you better believe I dash over there to scoop it up. There are many ways to find free or low-cost secondhand bookcases near you. Try Facebook Marketplace, Craigslist, Nextdoor, or even a quick "SOS: I Need Shelves!" message on social media. If there are local colleges near you, keep an eye out for curb alerts from students discarding cases they can't take back with them. Look at thrift stores, on Etsy, and at flea markets and church or synagogue rummage sales.
Not only is this a great way to save money, but you also don't have to put these shelves together since they're already assembled (you might need a car or a truck to transport them, though). Unless they are falling apart, you know they've already stood the test of time holding another reader's books.
alternate shelving ideas
There are also some creative ways to find shelving to store your books using unconventional, cheaper storage options. Multimedia shelves, which are designed to hold DVDs and Blu-rays, can actually pack a lot of mass market paperbacks or shorter books that you don't know what to do with, so they don't to take up space on precious bigger cases you need to store big, heavy hardcovers. That's where I keep my romance novels, and grouped together like that they form a nice little genre-specific bookcase. These shelves are usually much less expensive than a bookcase. Draft a cheap bathroom shelving unit like this one from Target into service and you've got a nice looking unit to showcase one of your niche or special collections, or just fit in a skinny space.
Those ubiquitous cube storage units can also be pressed into action as bookshelves and are usually priced affordably. Additionally, installing floating shelves or wall shelves is a budget-friendly way to store your books, spruce up your space, and add some volume to your home library.
(2) Functional or Fancy?
Second, you should consider what kind of shelving you're looking for to house your book collection. Are you looking for a few sturdy, gorgeous shelves that are showcased just as much as your books? Or do you just need to store books ASAP and want something affordable and functional? Of course, it doesn't have to be one or the other. I have many shelves that meet both of those descriptions. Think also about the durability of your shelving, too.
Do you just need a fix and need it now so get something quick that will do the job, or can you splurge on a bookcase that's just as much of a show piece as the books they hold? Sometimes the best bookshelves are the ones that disappear, showcasing the real star here: your books!
(3) Can you build and carry them on your own?
Third, think about what you can realistically put together and move around on your own. I've become a lot handier with putting together bookshelves in a jiffy, but I have limited tools available to me, so anything that requires a screwdriver is beyond me. Look for descriptions that specify how much assembly is required and if tools are provided.
Also, I'm not strong enough to carry something very heavy around my house, much less in a car if I were trying to move solo. One workaround here is the blessed invention of foldable bookshelves. These bookcases fold up neatly, making them easy to take apart, carry, transport to a new place in a small car, and put together again in less than two minutes. There are a variety of options here for foldable bookcases. One of my favorites is this four-shelf folding bookcase from Stony-Edge, a reliably good brand from personal experience.
You can see it in action on my shelves here:
I can also vouch that the vertical version of these wooden folding bookshelves by Stony-Edge were essential when I was building my home library on a budget.
You can see how the weight these easy-to-assemble vertical bookcases can hold in this picture of a library haul that included several heavy books:
Both of these shelves fit your needs, whether you want something horizontal or instead a nice little vertical shelf to fill a corner. Plus, the wood looks nice and is quite sturdy, and there are different options for the finish you want. We've got loads more ideas for shelves for creating your own personal home library with style and some money leftover for books.
(4) How many books do you want to shelve?
Fourth, how many books are you looking to shelve? If it's complete chaos and you're tripping over stacks of books like I am all the time, you're going to want to buy bookshelves that can hold a lot. As a general rule, paperbacks generally take up less space and weight than hardcovers. Try to get an idea from pictures how many books can fit across the width of a single shelf, then multiply by how many shelves there are to get an idea of how many books a case can hold.
Check out any pictures that users have provided, or do a Google image search for the specific model of shelves you're thinking about purchasing. Often people will supply pictures of how the shelves look put together in their home, and you can get a better idea of the storage capacity. (This is also a good time to remind you to always read customer reviews before you buy bookshelves, as people are quite generous with sharing the product's shortcomings or successes, and you can avoid a lot of hassle and stress that way—and, for example, shelves toppling over on you because they are poorly made!)
(5) Where will you put them?
This is an obvious question, certainly, but also a crucial one. You'll need to know where to store your bookshelves. It's a good idea to move things around ahead of time and prepare. Read up our favorite tips for decorating your home library spaces for inspiration.
It's every book lover's dream to have wall-to-wall, floor-to-ceiling bookshelves. I'm still waiting to find a Beast to marry for his library, but in the meantime there are strategies to achieve something close to that. One of the best tactics here is to buy two or more of the same model and line them up next to each other. This uniformity can give you the illusion of floor-to-ceiling bookcases. You can also group your cases by genre, publication date, or any category you wish. It's your home library, after all!
Here you can see how I achieved this effect with two of the same bookcase model (already pictured above in question #2)
I lined them up next to each other and fit most of my literary fiction collection within it. What was really cool was being able to spread the books by author's last name across the width of the two bookcases rather than right up and down the width of one bookcase. These ORE International R597-5 Tier Metal Book Racks are my go-to for building a home library on a budget and are so easy to set up solo.
What are your tips that have helped you build a home library? What are some of your favorite ways to organize your home library? Leave a comment below!