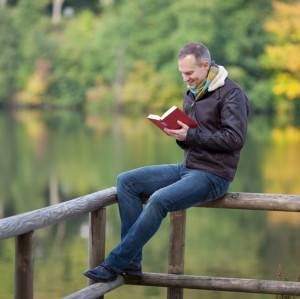 Lists
Books by Women to Gift Your Dad for Father's Day
This content contains affiliate links. When you buy through these links, we may earn an affiliate commission.
With Father's Day quickly approaching this weekend, there are an abundance of book lists for dads. These lists have one thing in common: they're populated almost entirely by male authors. I'm not sure why there's a presumption that dads are somehow are only capable of reading books by guys, but that seems to be the general consensus based on these suggested lists.
Having kids doesn't automatically narrow a guy's perspective. There are a ton of wonderful books by women in the stereotypical "dad" genres that make great gifts for Father's Day.
So, if you're looking for some last minute gifts for a dad (yours or someone else's), here's a quick guide for some books by women for all kinds of dads.
For the James Bond-loving Dad:
Too Bad to Die by Francine Mathews. A tense WWII historical thriller that centers on British Naval Officer Ian Fleming, foiling a Nazi plot to assasinate FDR, written by a former CIA agent.
Innocence; or, Murder on Steep Street by Heda Margolius Kovaly. Set in the early years of Communist Czechoslovakia, Kovaly weaves a terrifying tale where the citizens of Prague have no idea if their neighbor is a spy or their friends are feeding information to State Security.
For the Dad Who Loves Thrillers:
Dark Places by Gillian Flynn. One of Flynn's pre-Gone Girl novels, this story about a woman who survives the brutal massacre of her family as a child has been made into a movie starring Charlize Theron that will be in theaters in August.
The Fever by Megan Abbott. Even though this novel centers on teenage girls who are overcome with a mysterious illness, the narration rotates among a father and his two teenage kids, a son and a daughter. There's a lot of good dad stuff here.
Out by Natsuo Kirino. This might be a stretch for dads, because Kirino's thriller is about a group of women, working the night shift at a factory, who help their coworker dispose of her husband's body in Tokyo. But the riveting story is a fantastic one for every audience.
The Three and Day Four by Sarah Lotz. These two novels are just about as terrifying as you can get. Both novels explore a fantasy world where things just go wrong – planes drop out of the sky, cruise ships are stranded – and no one has an explanation as to why.
For the Sci Fi Dad
Ancillary Justice by Ann Leckie. For dads who like their sci fi hardcore, Leckie's trilogy starts with this first outing, for fans of Ready Player One, The Martian and Lock In.
The Gracekeepers by Kirsty Logan. Inspired by Scottish fairytales and myths, this dystopian novel paints a stark but beautiful future and is reminiscent of Margaret Atwood, Station Eleven and The Night Circus.
The Inheritance Trilogy by N.K. Jemison. The ominibus edition of Jemison's three fantasy novels is the only way to consume this fantastic series. A young woman becomes the center of a vicious power struggle in a land of gods and mortals.
For the Dad Who Loves Law and Order
Pleasantville by Attica Locke. Jay Porter is a former lawyer who has gotten out of the game, but when a volunteer for the local mayoral election goes missing, he's pulled back into the politics of the town.
The Secret Place by Tana French. The fifth (and most recent) in French's Dublin Murder Squad series, this crime novel focuses on two detectives trying to solve a cold case at a private high school. If Dad hasn't read the previous books in French's series, he doesn't need to, in order to enjoy this one. But they're all worth reading if you want to get him the whole lot.
The Distance by Helen Giltrow. In public, Charlotte Alton is an elegant socialite, but in private, as Karla, she specializes in making information disappear, particularly for criminals who want to cover their tracks. But when an old client resurfaces with another job, Karla is drawn deeper into a trap she can see but can't escape.
Visitation Street by Ivy Pochoda. A gritty, New York City mystery that explores the disappearance of three girls – and the one girl that survives – into the waters off Red Hook in Brooklyn that harkens back to Richard Price and Dennis Lehane.
For the Dad Who Likes His Fiction Historical
Wolf Hall and Bring Up the Bodies by Hilary Mantel. A fictional account of Henry the VIII's Tudor court, these two books center on the wheeling and dealing of Henry's closest confidant, Thomas Cromwell. Great to give Dad before the release of book three, The Mirror and The Light.
The Fair Fight by Anna Freeman. This story of female bare knuckle boxers in 18th century England takes the readers from the brothels and bar rooms to the most elite of society. It's a raucous tale of redemption and courage for any Dad.
The Fatal Flame by Lyndsey Faye. Against the backdrop of mid-1800s New York, Timothy Wilde must figure out who is setting fires in the close quarters of Five Points before the whole city goes up in flames.
For the Dad Who Likes His History to be True
The Warmth of Other Suns: The Epic Story of America's Great Migration by Isabel Wilkerson. Telling the story of the epic decades-long migration of Blacks from the South to northern and western cities, Wilkerson examines the harrowing and bold exodus with exacting detail and a compelling narrative voice.
Cleopatra by Stacy Shiff. The Queen of Egypt undergoes never-before-seen examination by a Pulitzer Prize-winning biographer. Shiff's Cleopatra sheds her larger-than-life persona, and reveals her to be the shrewd politician and skillful strategist that shaped the ancient world like none other.
Liar, Temptress, Soldier, Spy: Four Women Undercover in the Civil War by Karen Abbott. Digging into the little known history of women's secret involvement in the Civil War, Abbott reveals how significant an impact these undercover women had on the outcome of the War.
For Dads Who Like to Laugh
Self-Inflicted Wounds: Heartwarming Tales of Epic Humiliation by Aisha Tyler. Maybe your dad knows Tyler from her stint hosting Whose Line is it, Anyway? or from her podcast Girl on Guy or even from her voice work on Archer. Tyler is totally a guy's girl, and her hilarious memoir is a must-read.
We Killed: The Rise of Women in American Comedy by Yael Kohen. A fascinating oral history with over a hundred of the biggest female names in comedy. There will be no denying the power of funny women after reading this.
For Sports Nut Dads
In My Skin: My Life On and Off the Basketball Court by Brittney Griner. Hailed as one of the world's most famous female basketball players, Griner shares her coming-of-age stories and how she became the WNBA's #1 draft pick in 2013.
My Fight / Your Fight by Ronda Rousey. In her first book, Rousey – the Olympic medalist in judo, reigning UFC women's bantamweight champion, and Hollywood star – charts her difficult path to glory.
For Techy Scientist Dads
Packing for Mars: The Curious Science of Life in the Void by Mary Roach. Doing science like no one else can, Mary Roach examines all the aspects – good, bad and dirty – of what a mission to Mars would entail, from the surreal to the mundane.
The Sixth Extinction: An Unnatural History by Elizabeth Kolbert. Interweaving multiple disciplines to look at the past five extinctions, Kolbert explains why humans will be the cause of and victims of the next extinction, forcing the reader to rethink their own place on the planet.
For Literary Dads
White Teeth by Zadie Smith. The story of two North London families – the Joneses and the Iqbals – whose histories are fundamentally intertwined, for better or for worse. Tackling big themes of faith, family, culture, race and gender, Smith's debut novel is dazzling in every respect.
Dear Life: Stories by Alice Munro. An extraordinary collection by one of Canada's most talented writers, Dear Life is unparalleled in its vision and clarity. Not a single word is out of place.
Long Man by Amy Green. A little girl goes missing in the days just before a town is emptied and flooded by a new dam, and her mother is the last remaining holdout in the town that soon will no longer exist, third generation in the Tennessee Valley and frantic with worry for her three-year old. A suspenseful and beautifully rendered story from the first word to the last.
For Memoir-Loving Dads
Just Kids by Patti Smith. Even if he wasn't a fan of her music, dads will be totally captivated by Smith's moving story of her relationship with photographer Robert Maplethorpe in the sixties and seventies in New York.
H is for Hawk by Helen Macdonald. Though it begins with the death of Macdonald's father, this lyrical and heart-breaking memoir is an unflinching account of grief and healing, against the unlikely backdrop of falconry.
For the Dad Slash Comics Nerd
The Secret History of Wonder Woman by Jill Lepore. One of the most popular superheroes of all time, Wonder Woman hides a secret family history, one which Lepore reveals with astonishing clarity. Lepore also argues that her cultural status and social history makes her a powerful feminist icon.
Pretty Deadly, Vol. #1 by Kelly Sue DeConnick and Emma Rios. This might be a comic that your dad has missed, but it's absolutely one to introduce to him now. Marrying magical realism and the Western, it's a gorgeous addition to any comics library.
Ms. Marvel, Vol. 1: No Normal by G. Willow Wilson. For the capes-and-tights Dad, this modern version of Ms. Marvel will surprise and delight a dad who's anxious for a new kind of superhero.
____________________
We run a pretty sweet little bookish Instagram account, if we do say so ourselves (and we do). Come check it out.