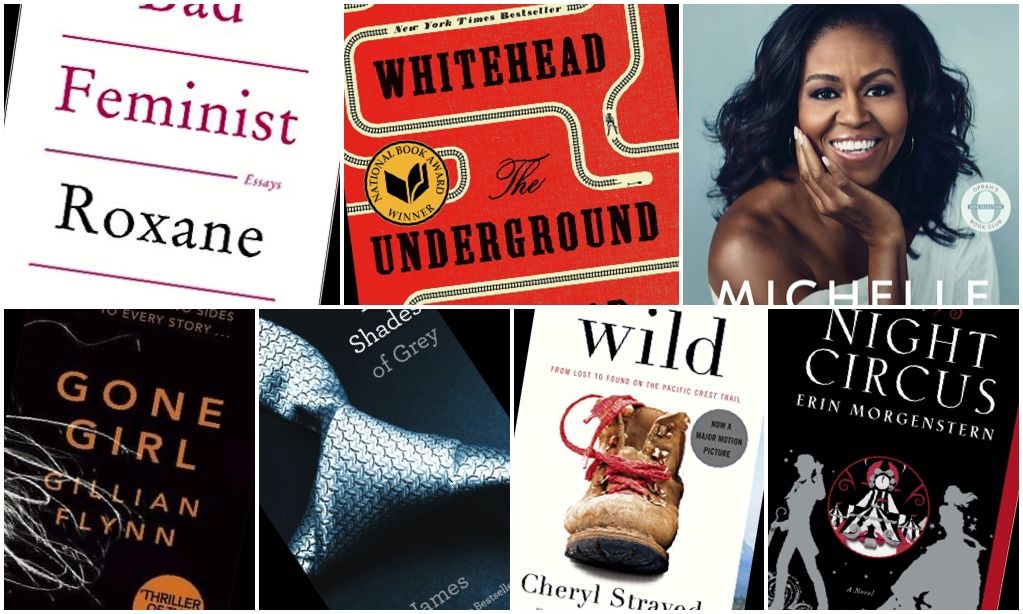 Lists
The Books of the Decade
This content contains affiliate links. When you buy through these links, we may earn an affiliate commission.
On the most recent episode of the Book Riot Podcast, Rebecca Schinsky, Amanda Nelson, and I discussed our picks for the books of the decade. These aren't the best or most important books of the decade (though maybe some of them are one or both of those things); these are the books we think best encapsulate what happened in books and reading over the last 10 years.
We each came up with a list of ten picks, then discussed them. A few were mentioned by more than one of us (these are indicated in parentheses).
Here is a short rationale for each of the picks; for the full discussion, check out the episode here (or wherever you get your podcasts).
In no particular order:
The first book in the trilogy was the best selling book of the decade. It got millions and millions of people to read a trilogy about BDSM. A genuine cultural phenomenon that gave the entire publishing industry a shot in the arm in 2011 when it desperately needed it.
The book that shifted what a literary psychological thriller could be by placing a woman at the center of the story and messing with our understood notions about women's roles in psychological thrillers. Plus, Amy's "cool girl" speech might be the most iconic prose monologue of the decade as well.
We have two selections from Gay. For this one, Gay's deployment of a usable cultural feminism across a spectrum of topics was liberating even as it made a case for a lived, usable feminism that still feels urgent. In Hunger, her self-analysis telescopes between her own story, our ideas about bodies, and the reality of being a person with a body in the world is both excruciating and palliative.
Becoming by Michelle Obama (3 lists)
The best selling memoir of the decade harnessed our charged political environment in the form of an affirmative, welcoming story about being a person in the world. And what a person! For many readers, Michelle Obama represents an ideal way of being: confident and casual, intelligent and approachable. This book is also, I think, one of the great beneficiaries of audio's rise: it is simply a wonderful narration by Obama, and hearing her voice is a joy.
Fear by Bob Woodward
Eventually, one of these Trump books is going to be THE Trump book, much like All The President's Men was for Watergate. We are not sure that Fear is going to be it, but it is probably the best and most popular of the Trump-era books to come out yet, so it is included here both for Woodward's reporting and also as a representation of how much counter-Trump books took center stage in the latter part of the decade.
A sequel to an iconic and still relevant masterpiece (and successful TV show). The book sold, and people like it. It might not take on the life of its predecessor, but it is a book of the times.
Much like with 50 Shades of Grey, The Wedding Date brought people who typically don't read romance to the genre. Like in all other genres, diversity was one of, if not the most important stories in romance over the last ten years as well. The Wedding Date feels like an evolution of the romance, even down to the different format and cover design.
Lean In by Sheryl Sandberg
Though it already feels somewhat dated, Lean In presaged a wave of professional development books for, by, and about women. It's a wave that continues to break, even as Lean In is increasingly left in the surf.
Wild by Cheryl Strayed
Wild's influence is probably best summed up by the thousands of people that hike the Pacific Coast Trail in search of what Strayed found there—or even just what readers found in Wild. We didn't know it at the time, but Wild would lead a long list of titles that are, for lack of a better term, about living during late-stage capitalism and turning to the natural world for solace, repair, and recentering.
An anonymous author. A breakout literary sensation from a small press. In translation. My Brilliant Friend's focus on a female friendship that was complicated, enduring, and fascinating had readers rapt from the get-go. We would never have predicted it, but Ferrante became the art-house hit of the decade.
A big commercial romantic hit with Asian Americans at the center that got a big-time Hollywood adaptation, with more to come. Different stories about people we don't usually see in the middle of genre franchises. One of the feel-good stories of the last 10 years.
YA became a part of mainstream culture in the form of fantasy during the 2000s, and in the 2010s, one of the most important trends was overt politicization. The Hate U Give launched Angie Thomas's career and burst like a comet onto the publishing scene. I am not sure there was a more important book published since 2010.
I am going to group The Martian and The Night Circus together not because they are really about anything similar, but because I think they go together to the same place, perhaps literally. And that place is the "paperback favorites" table at Barnes & Noble. These are books that people love and keep reading and recommending, and they will for awhile to come.
This was a big deal, even if it feels like less so now. Go Set a Watchman will probably be more important as a source of academic discussion and publishing history than as a readerly text, but it was a complicated and chaotic coda to the life and work of Harper Lee. And we won't soon forget it.
This positive, I did and you can too–style memoir from a hugely successful TV executive might not scream out as one of the books of the decade, but Shonda Rhimes's Year of Yes makes it because it isn't tied to any particular cultural moment, but an enduring, if intensifying, sense that life could be a little more. It is a simple idea, saying yes to things, but as a cultural idea it is both sticky and transformative.
Betting on which novels will endure to become part of the literary canon is a sucker's game, but I am a sucker. I think Whitehead enters the 2020s as the greatest living American novelist, and The Underground Railroad is now his signature work. A blend of historical fiction with a slight but evocative overlaying of speculative fiction, it also signifies the influence of genre on literary writing. Is genre encroaching on literary fiction? Or is capital L literature co-opting it? Either way, The Underground Railroad feels like a classic in that it is both of a moment but also for all time.
Ng is now a bankable writer of fiction that straddles commercial and literary fiction—in fact, she might be the most bankable. I think this is a crown that is interesting to trace through time. Ten or 15 years ago, it was worn by Jonathan Franzen. With two big-time hits under her belt and adaptations on the way, Ng seems poised to wear it for a good bit longer.
Go to Target and you will not only see Milk and Honey but a cluster of other books of poetry that look an awful lot like it sitting there. Spawning a bunch of titles influenced by your work is one thing, but Kaur's Instagram-friendly brand of poetry is now a genre of its own.
Dog Man Volume 1 by Dav Pilkey
Do you know how many books Dog Man and its middle grade comic brethren like Diary of a Wimpy Kid sell? Millions and millions of copies a year. Grade schoolers are going to talk about Kinney and Pilkey like my generation talked about Calvin & Hobbes. And maybe more. Middle grade became the locus of activity in children's publishing over the last ten years, and every installment of these series just sells more. Eventually this will ebb, but not before tens of millions of kids make this part of the their adolescent canon.
Mocked. Misunderstood. And minting money. "Does it bring you joy?" is now as quotable as "we're not in Kansas anymore." How many slight works of home organization do that? Exactly one.