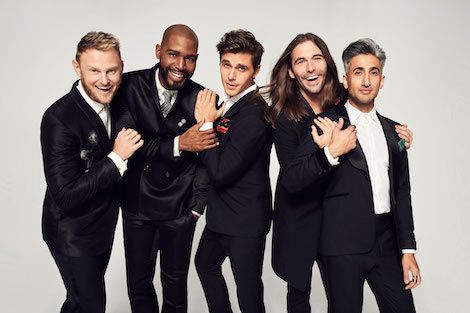 LGBTQ
Queer Eye: 5 Books by the Fab Five
This content contains affiliate links. When you buy through these links, we may earn an affiliate commission.
With season three of Queer Eye out, I wanted to put together a round-up of the books written by our beloved Fab Five. 2019 promises to be a prolific year for our favorite chef, fashion expert, stylist, design expert, and cultural guru. Some of these books are already available for sale, but some (where noted) are only available for pre-order.
You'd be a liar if you can say that you've never ruined a perfectly good face of makeup while watching an episode of the new Queer Eye series. These men are funny, smart, talented, and, most importantly… caring. Allow yourself to be one of their "Heroes" (I love that they call their contestants that) by treating yourself to their expertise and advice in this new book. Available now.
The sweet-natured Canadian, Antoni's love of avocado and use of peas has been a source of controversy across the Internet. However, in his cookbook, Antoni has gifted us recipes with which to entertain or to enjoy a low-key night home. Most of the recipes call for fewer than five ingredients. If I cooked, this would be the type of cookbook I'd have in my library. Available for pre-order now (pub date: September 9, 2019)
That hair, that skin, that ability to French tuck. Tan France was the first of the Fab Five I fell for. And as one of the few openly gay South Asian men on television, he tells the touching origin story of his childhood in England and how he made his way to be our fashion inspiration. Available now.
JVN is considered, by many, the beating heart and gorgeous soul of Queer Eye. His zest for life, adorable sayings, and love for his fellow human being makes him adored by millions. This book tells of his childhood as a young gay man in in a small Midwestern town, the bullying he received, and his journey to become the self-assured, loving man we all now know. Available for pre-order now (pub date: September 24, 2019).
Karamo Brown's recounting of his journey will be a fascinating read. The obstacles he's overcome and the risks he's taken will show fans of the show just how this man's big heart and unending empathy came to be. Available now.
And now… we just wait for Bobby Berk to announce his own book. I could personally use some interior design advice. Get on it, Bobby!
Be sure to have a pack of tissues ready for the new season, but in the meantime, enhance your library with the sage wisdom of Queer Eye!