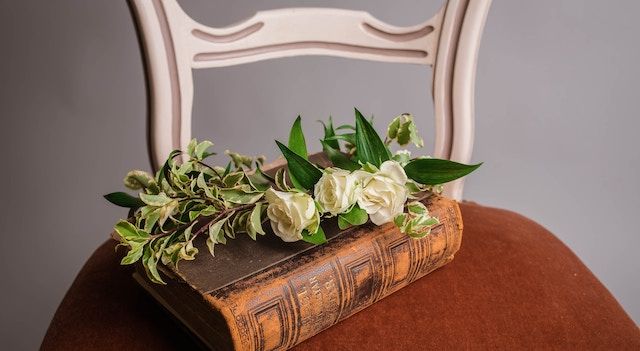 Lists
3 Books I've Given as Wedding Gifts
This content contains affiliate links. When you buy through these links, we may earn an affiliate commission.
Wedding gifts are hard. The registries are right there, and they represent what the couple actually needs in their life, but I always find myself drawn to the personal. So for the last few weddings I've attended, which included ceremonies for some of my best friends, I've given something from the registry but also given a book or two with the card—something well thought-out and personal, with a ton of meaning behind its pages. Here, I shared those recommendations with you: finding good, romantic bookish wedding gifts is hard, but I hope this list can help.
"[The Buried Giant] really is a love story," said Kazuo Ishiguro when I saw him speak in 2015. "Most people think of love stories as meeting stories, courtship stories, of how they met…A real love story is about what happens after they declare their love for each other, the long slog of trying to keep that love, that flame, alive." That stuck with me.
This beautiful book is a fantasy that asks intriguing questions about memory: about what you need to selectively remember and forget to keep a relationship going into old age. His quote made this novel a truly epic love story for me, and I gave it to a friend who was married last November. It's a reminder that love is not something that happens in a moment: it's work, vulnerability, and commitment.
A more fun and light-hearted take on love: this book sums up so much about my relationship with my boyfriend. I follow the artist on Instagram, and her comics get to the absurd of relationships. So often when people are getting married, people treat the subject of love and romance as something very weighty and serious, which it can be, sure, but the day-to-day experience of love is something funny, absurd, and full of laughter.
https://www.instagram.com/p/BzQmrcig-io/
Catana Comics captures those moments: her boyfriend pulls her back into the snuggles when she tries to get out of bed, she can't stop laughing because she's too tired, they pretend to be sad about canceling plans and staying in instead, his beard stubble scratches her face. I love seeing these updates each week, and I loved giving this volume to one of my friends for her wedding. Their second volume, Snug, comes out in 2020.
This gift choice has everything: it's a practical source of recipes for a couple who loves to bake, with varying degrees of difficulty; "love" is in the title; and you can pair it with baking supplies off their registry or cute cookie cutters in the shape of hearts. The book is a truly gorgeous tome, and has a lot of background information on the basics of cookies as well for people who are starting from scratch. Segal is a James Beard Award–winning chef and owns Chicago restaurant HotChocolate, and I love the way she shares these creative recipes in a way that's enticing but really still accessible to the amateur chef who's hoping to impress.
---
There have been honorable mentions, which perhaps will go to other couples in my wedding-attendance future: from Adulthood is a Myth: A Sarah Scribbles Collection to the classic Anna Karenina (which was clearly too long); from Persuasion by Jane Austen to the a special edition of The Princess Bride.
I hope that you draw inspiration from this list for all of your wedding gift needs! And if you're still searching, check out this list of perfect bookish wedding gifts for any budget.