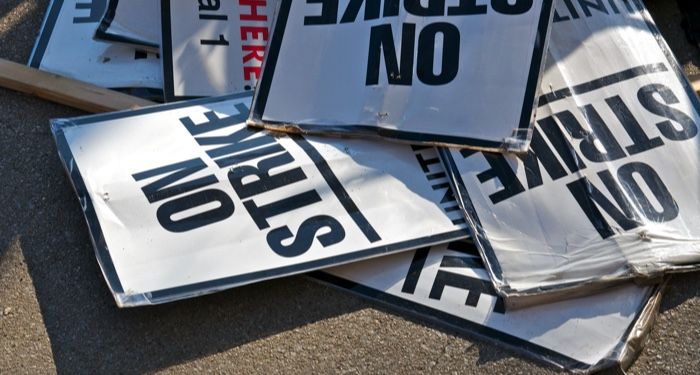 Lists
14 of the Best Books About Unions, Organizing, and American Labor
This content contains affiliate links. When you buy through these links, we may earn an affiliate commission.
"Too often we identify with our bosses and our companies instead of with our fellow workers. Your boss is not your friend. Without a union, your boss can fire you at will. And while you might be the best worker the company has ever seen, you have no power to control your own destiny without a union." —A History of America in Ten Strikes by Erik Loomis
Currently, our country is suffering from a crisis of unemployment and inequality. Wages have been stagnant for years. Freelance, gig, and contract work is a growing sector in the economy, but these workers remain mostly unprotected. The Federal minimum wage is $7.25/hour, but Jeff Bezos is worth $182 billion. During a pandemic that has killed nearly 300,000 Americans, supervisors at a Tyson Foods meatpacking plant were taking bets on how many employees would get COVID-19. Hazard pay for essential workers has mostly run out, and as essential workers in groceries and factories continue to put themselves in harm's way, the extra money has not been reinstated. This year, while companies have made record-breaking profits from the pandemic, employers refuse to raise wages.
The pandemic has just highlighted the inequality that plagues this country. It was a growing inevitability that capitalism would create a system so unbalanced that while some Americans are worth billions of dollars, others do not have adequate food, housing, or healthcare.
This is why we need unions, and why we need to educate ourselves about the labor movements from the past, so we can once again learn to fight for the equality we're being denied today.
14 Must-Read Books About Unions, Organizing, and American Labor