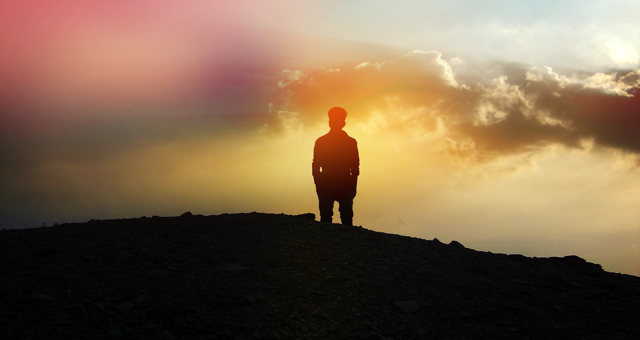 Lists
9 Great Books For Self-Development
This list of books about self-development is sponsored by Everything is Figureoutable by Marie Forleo.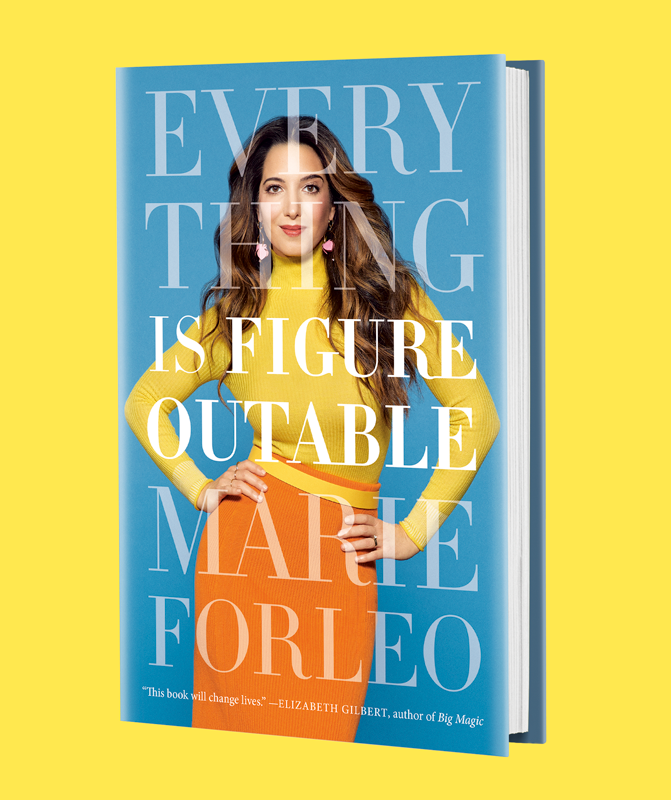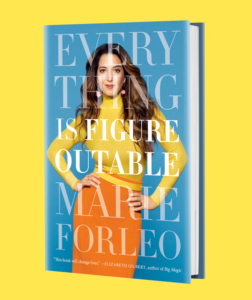 #1 New York Times bestselling author Marie Forleo has helped thousands achieve their dreams through her award-winning show MarieTV. Now, whether you want to leave a dead end job, break an addiction, learn to dance, heal a relationship, grow a business, master your money, or solve world hunger, Marie's highly anticipated new book, Everything Is Figureoutable, will train your brain to think more creatively and positively–especially in the face of setbacks. Everything Is Figureoutable is a philosophy of relentless optimism. A mindset. A mantra. A conviction.
---
Self-help books get a bit of a bad rep. They're the ones that everyone avoids at the Office Holiday Party (no one wants to self-reflect and talk about personal growth when Literary Fiction over there is pounding martinis and hitting on Courtroom Thriller). Terrible metaphor aside, they really can force us to examine our lives in a way that's really just uncomfortable. I recently found myself in a headspace where I needed guidance and while I did turn to some books that fit neatly into the category, I also read memoirs and cookbooks and used guided journals along the way. I compiled a list of some of those and others that I believe encourage some form of growth and learning, even if you wouldn't find them most of them in the self-development section of your local bookstore.
Scandinavian Comfort Food: Embracing the Art of Hygee by Trina Hahnemann
Including a cookbook on a self-development list might seem like it's a bit out of place at first, but the more you think about it, doesn't it just make sense? Cooking has offered me the opportunity to develop new skills, to immerse myself in an activity, focusing in on the motions, the scents, and textures. It's become a form of learning and therapy.
This particular book embraces the idea of hygge, the Danish attitude towards life that emphasizes finding comfort and joy in everyday moments. While not as instructional as a typical self-development book, each recipe is meant to bring you closer to finding a bit of joy in the kitchen, with the comfort of food and friends nearby.
Braided: A Journey of a Thousand Challah by Beth Ricanati MD
Ok, you caught me, I put two food-related books on the list. While both this and the Scandinavian cookbook focus on the joy found in foods, author Dr. Beth Ricanati focuses on the healing power of baking challah. She believes that the act of mixing and kneading can heal and soothe. This was something she learned when she started baking challah years ago and something that she wants to encourage women to embrace. If you're looking for some one-on-one guidance, she hosts challah baking events and talks across the country!
Designing Your Life: Build a Life that Works for You by Bill Burnett, Dave Evans, and David John Evans
I have a confession, I'm a bit of a process nerd. Charts and tables and mind maps just get me going. In this NY Times bestseller two Silicon Valley design thinkers use design methodology (like prototyping, mind-mapping, reframing, and other design tools) to help you answer that all-important question: "What do you want to be when you grow up?" They believe that you're never too old to get the life that you want, whether you're fresh out of school or on your third grandchild.
I Am Here Now by The Mindulness Project
I'm a big fan of journals and guides like this one. Whenever I reach a certain stress level I experience a sort of mental paralysis. It's like a neverending spin cycle, where thoughts of the past and future tumble all over each other endlessly. The exercises in this journal encourage you to pause, meditate, and to be present – something I think most of us can use more of in our day to day.
Too Much and Not the Mood by Durga Chew-Bose
Writer Durga Chew-Bose has a unique and engaging writing style, part essay part prose poetry. A quintessential read for the frustrated writer (me!), she examines this inner restlessness and anxiety that she experiences. By reading through her thoughts, letters, and experiences, I found that I didn't feel so alone in my search for creative expression.
All About Love by bell hooks
bell hooks is a renowned scholar, cultural critic, and writer, and in this book, she strives to explore the question, "What is love?" She looks to throw out the idea of "love" that we've been fed by society – challenging the way that we understand what love means and how we process it, in relationship to ourselves and to others around us. A must-read for pretty much everyone who struggles with loving themselves and understanding what it means to love others.
My Little Ikigai Journal: A Journey into the Japanese Secret to Living a Long, Happy, Purpose-Filled Life by Amanda Kudo
Whenever I'm feeling stuck creatively or just overwhelmed, I turn to my little Ikigai journal to help center me. The exercises are meant to help you understand your passions, your gifts, your values and the possibilities that are open to you. Spending just a few minutes a day on one of the many exercises is meant to help center you. "Your Day, Your Way" was a particularly interesting one for me to explore, a day to myself with no obligations – what would you do?
The Body Is Not An Apology: The Power of Radical Self-Love by Sonya Renee Taylor
Sonya Renee Taylor calls for "radical self-love" in her beautiful and moving book. Both a poet and an activist, she encourages celebrating our strengths and our bodies and actively fighting against the oppressive cycle of body shame that has become a societal norm. It's more than just about body positivity, it's about breaking the indoctrination process that starts when you're young that frames your ideas of beauty and love.
Gmorning, Gnight! Little Pep Talks for Me & You, by Lin-Manuel Miranda
If you follow me on Twitter, you'll quickly learn that I'm a huge fan of the talented and inspirational Lin-Manuel Miranda. In fact, I wish I had a little pocket version of him to carry around, offering thoughts and quotes at a moment's notice. While that sadly isn't possible, for science reasons, this book is the next best thing. These little pep talks and daily affirmations are just what I need to remind myself that things aren't so bad after all.