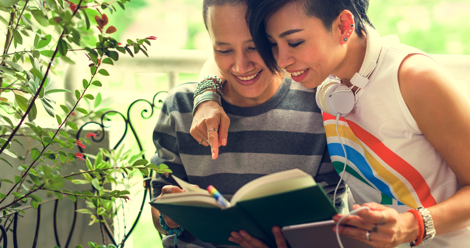 LGBTQ
50 Must-Reads Books About LGBTQ History for Pride Month
This content contains affiliate links. When you buy through these links, we may earn an affiliate commission.
Back in February, a story broke from popular UK magazine Attitude entitled, "Young Queer People Shouldn't Be Obliged to Care About LGBT History". The article, by Dylan Jones, argues that queer kids are now "treated in much the same way as other kids", they have out and proud queer role models, and are entering into a much more accepting world than those that came before them. Therefore, they should be allowed to be "carefree" and not hold the burden that older generations do—the burden of friends and lovers lost to the AIDS crisis, the struggle of fighting for equal rights, the staggering numbers of LGBTQ+ suicides and substance abuse, the shame and abuse suffered as a result of what remains a predominantly heteronormative society.
And while it's true that things have gotten better—if you go to a Pride parade, it is more of a celebration than a protest as it used to be—the fact remains that being queer comes with hardship. This is not to say that kids shouldn't be allowed to be carefree, because they absolutely should, and we should find joy in the safety of acceptance. But the LGBTQ+ history is as essential to understanding society and ourselves as any other history, and it continues to be erased and silenced.
Even now, the current American president has declined to recognize June as Pride Month, as it has been in the past. Queer people still face a unique threat of violence, with the massacre at Pulse nightclub still looming in recent history, and hate-related homocides increasing by 82% from 2016 to 2017. These numbers only increase when we talk about queer people of color and transgender people. When we know this to be true, how can we ignore the significance of queer history? How can we appreciate what we have without knowing where we came from?
The truth is, we're still celebrating Pride in June, whether 45 likes it or not. And part of Pride is carrying the weight of the queer past, knowing that LGBTQ+ folks have fought to find joy and love over the years and how special and exciting it is that we can find joy and love today.
If you're interested in learning more about queer history, here's a good place to start. This is by no means a comprehensive list of books, as the history of LGBTQ+ people is intrinsically interwoven with, well, everything—but feeling connected to our past helps us connect to each other now. We celebrate not only the freedom we have found, but the work it took to get there.
GENERAL
"A Queer History of the United States is more than a 'who's who' of queer history: it is a book that radically challenges how we understand American history. Drawing upon primary-source documents, literature, and cultural histories, scholar and activist Michael Bronski charts the breadth of lesbian, gay, bisexual, and transgender history, from 1492 to the 1990s."
"With this book, Leila J. Rupp accomplishes what few scholars have even attempted: she combines a vast array of scholarship on supposedly discrete episodes in American history into an entertaining and entirely readable story of same-sex desire across the country and the centuries."
"This richly revealing anthology brings together for the first time the vital new scholarly studies now lifting the veil from the gay and lesbian past. Such notable researchers as John Boswell, Shari Benstock, Carroll Smith-Rosenberg, Jeffrey Weeks and John D'Emilio illuminate gay and lesbian life as it evolved in places as diverse as the Athens of Plato, Renaissance Italy, Victorian London, jazz Age Harlem, Revolutionary Russia, Nazi Germany, Castro's Cuba, post-World War II San Francisco—and peoples as varied as South African black miners, American Indians, Chinese courtiers, Japanese samurai, English schoolboys and girls, and urban working women. Gender and sexuality, repression and resistance, deviance and acceptance, identity and community—all are given a context in this fascinating work."
"Writing about events within living memory is one of the hardest tasks for a historian—there is too much information, too many perspectives. The authors of Out for Good, both writers for the New York Times, not only drew on extensive archival records but conducted nearly 700 interviews with the founders and opponents of the early gay rights movement. That they have been able to shape this unruly material into a convincing narrative is impressive enough—yet they have also managed to write one of the most dramatic and beautifully structured histories in recent years. Starting with the almost accidental Stonewall riots in 1969 and shifting between key cities and events, they track what they describe as 'the last great struggle for equal rights in American history.' For homophile activists of the 1950s and early 1960s, that struggle had been about being left alone by police and politicians, but for those gathering to protest Stonewall, it was about "defining themselves to society as gay men and lesbians." While there are many memoirs and smaller studies of the era, no other book so graciously spans the 30-year period covered here."
"A groundbreaking work that turns a 'queer eye' on the criminal legal system, Queer (In)Justice is a searing examination of queer experiences—as 'suspects,' defendants, prisoners, and survivors of crime. The authors unpack queer criminal archetypes—like 'gleeful gay killers,' 'lethal lesbians,' 'disease spreaders,' and ;deceptive gender benders'—to illustrate the punishment of queer expression, regardless of whether a crime was ever committed. Tracing stories from the streets to the bench to behind prison bars, they prove that the policing of sex and gender both bolsters and reinforces racial and gender inequalities."
"Queer America, provides a decade-by-decade overview of major issues and events in GLBT history including the Harlem Renaissance, changes in military policy, the Stonewall riots, organizations and alliances, AIDS, same-sex marriage, representation in the media, and legal battles. Eaklor brings the steady hand and perspective of an historian to the task of writing a sweeping work of narrative nonfiction that is both meaningful and relevant to all Americans. Queer America includes a rich array of visual materials, including sidebars highlighting major debates and vignettes focusing on key individuals. A timeline and further reading sections conclude each chapter; a full bibliography and black-and-white images enhance the text. Queer America is destined to become an indispensable resource for students, teachers, and general readers alike."
"Activist-academic Meg-John Barker and cartoonist Julia Scheele illuminate the histories of queer thought and LGBTQ+ action in this groundbreaking non-fiction graphic novel. A kaleidoscope of characters from the diverse worlds of pop-culture, film, activism and academia guide us on a journey through the ideas, people and events that have shaped 'queer theory'. From identity politics and gender roles to privilege and exclusion, Queer explores how we came to view sex, gender and sexuality in the ways that we do; how these ideas get tangled up with our culture and our understanding of biology, psychology and sexology; and how these views have been disputed and challenged."
"The political representation and involvement of sexual minorities in the United States has been highly contested and fiercely debated. As recent legislative and judicial victories create inroads towards equality for this growing population, members and advocates of these minorities navigate evolving political and legal systems while continuing to fight against societal and institutional resistance. Sexual Minorities and Politics is the first textbook to provide students with an up-to-date, thorough, and comprehensive overview of the historical, political, and legal status of sexual and gender minorities."
"The Gay Revolution begins in the 1950s, when gays and lesbians were criminals, psychiatrists saw them as mentally ill, churches saw them as sinners, and society victimized them with hatred. Against this dark backdrop, a few brave people began to fight back, paving the way for the revolutionary changes of the 1960s and beyond. Faderman discusses the protests in the 1960s; the counter reaction of the 1970s and early eighties; the decimated but united community during the AIDS epidemic; and the current hurdles for the right to marriage equality."
"Unspeakable documents the major phases in the evolution of the gay and lesbian press while providing a window into the history of the movement, from the era of McCarthyism to the militancy of the '60s and the Stonewall Riots, from the liberality of the '70s to the issue of AIDS in the '80s and the 'outing' of the '90s"
GAY
"This groundbreaking study explores the Harlem Renaissance as a literary phenomenon fundamentally shaped by same-sex-interested men. Christa Schwarz focuses on Countée Cullen, Langston Hughes, Claude McKay, and Richard Bruce Nugent and explores these writers' sexually dissident or gay literary voices. The portrayals of men-loving men in these writers' works vary significantly. Schwarz locates in the poetry of Cullen, Hughes, and McKay the employment of contemporary gay code words, deriving from the Greek discourse of homosexuality and from Walt Whitman. By contrast, Nugent—the only "out" gay Harlem Renaissance artist—portrayed men-loving men without reference to racial concepts or Whitmanesque codes. Schwarz argues for contemporary readings attuned to the complex relation between race, gender, and sexual orientation in Harlem Renaissance writing."
"The nineteenth century was a golden age for those people known variously as sodomites, Uranians, monosexuals, and homosexuals. Long before Stonewall and Gay Pride, there was such a thing as gay culture, and it was recognized throughout Europe and America. Graham Robb, brilliant biographer of Balzac, Hugo, and Rimbaud, examines how homosexuals were treated by society and finds a tale of surprising tolerance. He describes the lives of gay men and women: how they discovered their sexuality and accepted or disguised it; how they came out; how they made contact with like-minded people. "
"New York Times Notable Book of the Year and winner of a Lambda Literary Award, The Gay Metropolis is a landmark saga of struggle and triumph that was instantly recognized as the most authoritative and substantial work of its kind. Filled with astounding anecdotes and searing tales of heartbreak and transformation, it provides a decade-by-decade account of the rise and acceptance of gay life and identity since the 1940s. From the making of West Side Story, the modern Romeo and Juliet tale written and staged by four gay men, to the catastrophic era of AIDS, Charles Kaiser recounts the true history of the gay movement with many never-before-told stories. Filled with dazzling characters—including Leonard Bernstein, Montgomery Clift, Alfred Hitchcock, and John F. Kennedy, among many others—this is a vital telling of American history, exciting and uplifting."
LESBIAN
"Forty essays arranged in six parts explore the history of lesbian studies as well as its current impact on conceptions of identity and community, teaching, academic disciplines, university practices, and the development of feminist and queer theories. The collection offers stirring personal testimony; multicultural and international perspectives and established and new voices; strategies for integrating lesbian studies into the curriculum; and contributions from lesbians working in libraries, athletic departments, and students services. Throughout, the contributors address the ways in which lesbian studies has transformed and will continue to transform traditional disciplines, practices, and thought. With its multicultural, multidisciplinary breadth and its unique emphasis on theory, practice, and activism, The New Lesbian Studies speaks to a broad audience of students, activists, and scholars."
"As Lillian Faderman writes, there are 'no constants with regard to lesbianism,' except that lesbians prefer women. In this groundbreaking book, she reclaims the history of lesbian life in twentieth-century America, tracing the evolution of lesbian identity and subcultures from early networks to more recent diverse lifestyles. She draws from journals, unpublished manuscripts, songs, media accounts, novels, medical literature, pop culture artifacts, and oral histories by lesbians of all ages and backgrounds, uncovering a narrative of uncommon depth and originality."
"From the ancient poet Sappho to tombois in contemporary Indonesia, women throughout history and around the globe have desired, loved, and had sex with other women. In beautiful prose, Sapphistries tells their stories, capturing the multitude of ways that diverse societies have shaped female same-sex sexuality across time and place. Leila J. Rupp reveals how, from the time of the very earliest societies, the possibility of love between women has been known, even when it is feared, ignored, or denied. We hear women in the sex-segregated spaces of convents and harems whispering words of love. We see women beginning to find each other on the streets of London and Amsterdam, in the aristocratic circles of Paris, in the factories of Shanghai. We find women's desire and love for women meeting the light of day as Japanese schoolgirls fall in love, and lesbian bars and clubs spread from 1920s Berlin to 1950s Buffalo. And we encounter a world of difference in the twenty-first century, as transnational concepts and lesbian identities meet local understandings of how two women might love each other."
BISEXUAL
"Why is bisexuality the object of such skepticism? Why do sexologists steer clear of it in their research? Why has bisexuality, in stark contrast to homosexuality, only recently emerged as a nascent political and cultural identity? Bisexuality has been rendered as mostly irrelevant to the history, theory, and politics of sexuality. With A History of Bisexuality, Steven Angelides explores the reasons why, and invites us to rethink our preconceptions about sexual identity. Retracing the evolution of sexology, and revisiting modern epistemological categories of sexuality in psychoanalysis, gay liberation, social constructionism, queer theory, biology, and human genetics, Angelides argues that bisexuality has historically functioned as the structural other to sexual identity itself, undermining assumptions about heterosexuality and homosexuality. In a book that will become the center of debate about the nature of sexuality for years to come, A History of Bisexuality compels us to rethink contemporary discourses of sexual theory and politics."
"In this witty, learned, and scrupulously researched book, the author examines bisexuality and its many modes through a variety of critical lenses: cultural, literary, and psychological. Bisexuality is a monumental inquiry into what 'normal' might mean, and just how difficult it is to make claims about sexuality, someone else's or one's own."
"In this readable and thought-provoking history of bisexuality in the classical age, Eva Cantarella draws on the full range of sources―from legal texts, inscriptions, and medical documents to poetry and philosophical literature―to reconstruct and compare the bisexual cultures of Athens and Rome."
TRANS
"Do we need bodies for sex? Is gender in the head or in the body? In Second Skins Jay Prosser reveals the powerful drive that leads men and women literally to shed their skins and—in flesh and head—to cross the boundary of sex. Telling their story is not merely an act that comes after the fact, it's a force of its own that makes it impossible to forget that stories of identity inhabit autobiographical bodies. In this stunning first extensive study of transsexual autobiography, Jay Prosser examines the exchanges between body and narrative that constitute the phenomenon of transsexuality. Showing how transsexuality's somatic transitions are spurred and enabled by the formal transitions of narrative, Prosser uncovers a narrative tradition for transsexual bodies. Sex change is a plot—and thus appropriately transsexuals make for adept and absorbing authors. In reading the transssexual plot through transsexuals' own recounting, Prosser not only gives us a new and more accurate rendition of transsexuality. His book suggests transsexuality, with its extraordinary conjunctions of body and narrative, as an identity story that transitions across the body/language divide that currently stalls post-structuralist thought."
"Covering American transgender history from the mid-twentieth century to today, Transgender History takes a chronological approach to the subject of transgender history, with each chapter covering major movements, writings, and events. Chapters cover the transsexual and transvestite communities in the years following World War II; trans radicalism and social change, which spanned from 1966 with the publication of The Transsexual Phenomenon, and lasted through the early 1970s; the mid-'70s to 1990—the era of identity politics and the changes witnessed in trans circles through these years; and the gender issues witnessed through the '90s and '00s."
"In this fascinating, personal journey through history, Leslie Feinberg uncovers persuasive evidence that there have always been people who crossed the cultural boundaries of gender. Transgender Warriors is an eye-opening jaunt through the history of gender expression and a powerful testament to the rebellious spirit."
INTERSECTIONAL
"As the first full-length work of scholarship to develop a tribally specific Indigenous Queer or Two-Spirit critique, Asegi Stories examines gender and sexuality in Cherokee cultural memory, how they shape the present, and how they can influence the future. The theoretical and methodological underpinnings of Asegi Stories derive from activist, artistic, and intellectual genealogies, referred to as 'dissent lines' by Maori scholar Linda Tuhiwai Smith. Driskill intertwines Cherokee and other Indigenous traditions, women of color feminisms, grassroots activisms, queer and Trans studies and politics, rhetoric, Native studies, and decolonial politics. Drawing from oral histories and archival documents in order to articulate Cherokee-centered Two-Spirit critiques, Driskill contributes to the larger intertribal movements for social justice."
Centered on the sexuality of racialized queer female subjects, the book's varied archive—which includes burlesque border crossings, daddy play, pornography, sodomy laws, and sovereignty claims—seeks to bring to the fore alternative sexual practices and machinations that exist outside the sightlines of mainstream cosmopolitan gay male culture. Situating articulations of sexual subjectivity between the interpretive poles of law and performance, Rodríguez argues that forms of agency continually mediate among these various structures of legibility—the rigid confines of the law and the imaginative possibilities of the performative. She reads the strategies of Puerto Rican activists working toward self-determination alongside sexual performances on stage, in commercial pornography, in multi-media installations, on the dance floor, and in the bedroom. Rodríguez examines not only how projections of racialized sex erupt onto various discursive mediums but also how the confluence of racial and gendered anxieties seeps into the gestures and utterances of sexual acts, kinship structures, and activist practices. Ultimately, Sexual Futures, Queer Gestures, and Other Latina Longings reveals ­—in lyrical style and explicit detail­—how sex has been deployed in contemporary queer communities in order to radically reconceptualize sexual politics."
"Drawing on a deep and varied archive of materials—early sexological texts, fugitive slave narratives, Afro-modernist literature, sensationalist journalism, Hollywood films—Snorton attends to how slavery and the production of racialized gender provided the foundations for an understanding of gender as mutable. In tracing the twinned genealogies of blackness and transness, Snorton follows multiple trajectories, from the medical experiments conducted on enslaved black women by J. Marion Sims, the "father of American gynecology," to the negation of blackness that makes transnormativity possible."
"Bringing together essays by established and emergent scholars, this collection assesses the strengths and weaknesses of prior work on race and sexuality and highlights the theoretical and political issues at stake in the nascent field of black queer studies. Including work by scholars based in English, film studies, black studies, sociology, history, political science, legal studies, cultural studies, and performance studies, the volume showcases the broadly interdisciplinary nature of the black queer studies project. The contributors consider representations of the black queer body, black queer literature, the pedagogical implications of black queer studies, and the ways that gender and sexuality have been glossed over in black studies and race and class marginalized in queer studies. Whether exploring the closet as a racially loaded metaphor, arguing for the inclusion of diaspora studies in black queer studies, considering how the black lesbian voice that was so expressive in the 1970s and 1980s is all but inaudible today, or investigating how the social sciences have solidified racial and sexual exclusionary practices, these insightful essays signal an important and necessary expansion of queer studies."
"Rooted in Gloria Anzaldúa's experience as a Chicana, a lesbian, an activist, and a writer, the essays and poems in this volume profoundly challenged, and continue to challenge, how we think about identity. Borderlands / La Frontera remaps our understanding of what a 'border' is, presenting it not as a simple divide between here and there, us and them, but as a psychic, social, and cultural terrain that we inhabit, and that inhabits all of us."
"Crip Theory attends to the contemporary cultures of disability and queerness that are coming out all over. Both disability studies and queer theory are centrally concerned with how bodies, pleasures, and identities are represented as 'normal' or as abject, but Crip Theory is the first book to analyze thoroughly the ways in which these interdisciplinary fields inform each other. Drawing on feminist theory, African American and Latino/a cultural theories, composition studies, film and television studies, and theories of globalization and counter-globalization, Robert McRuer articulates the central concerns of crip theory and considers how such a critical perspective might impact cultural and historical inquiry in the humanities."
"José Esteban Muñoz looks at how those outside the racial and sexual mainstream negotiate majority culture—not by aligning themselves with or against exclusionary works but rather by transforming these works for their own cultural purposes. Muñoz calls this process "disidentification," and through a study of its workings, he develops a new perspective on minority performance, survival, and activism. By examining the process of identification in the work of filmmakers, performance artists, ethnographers, Cuban choteo, forms of gay male mass culture (such as pornography), museums, art photography, camp and drag, and television, Muñoz persistently points to the intersecting and short-circuiting of identities and desires that result from misalignments with the cultural and ideological mainstream in contemporary urban America."
"The collection notably engages Indigenous GLBTQ2 movements as alliances that also call for allies beyond their bounds, which the co-editors and contributors model by crossing their varied identities, including Native trans, straight non-Native feminist, Two-Spirit mixed blood, and queer. Rooted in the Indigenous Americas and the Pacific and drawing on disciplines ranging from literature to anthropology, contributors to Queer Indigenous Studies call Indigenous GLBTQ2 movements and allies to center an analysis that critiques the relationship between colonialism and heteropatriarchy. By answering critical turns in Indigenous scholarship that center Indigenous epistemologies and methodologies, contributors join in reshaping Native studies, queer studies, transgender studies, and Indigenous feminisms. Based on the reality that queer Indigenous people experience multilayered oppression that profoundly impacts our safety, health, and survival, this book is at once an imagining and an invitation to the reader to join in the discussion of decolonizing queer Indigenous research and theory, and by doing so, to partake in allied resistance working toward positive change."
"Queering the Color Line transforms previous understandings of how homosexuality was 'invented' as a category of identity in the United States beginning in the late nineteenth century. Analyzing a range of sources, including sexology texts, early cinema, and African American literature, Siobhan B. Somerville argues that the emerging understanding of homosexuality depended on the context of the black/white "color line," the dominant system of racial distinction during this period. This book thus critiques and revises tendencies to treat race and sexuality as unrelated categories of analysis, showing instead that race has historically been central to the cultural production of homosexuality."
QUEER THEORY TEXTS
"José Esteban Muñoz recalls the queer past for guidance in presaging its future. He considers the work of seminal artists and writers such as Andy Warhol, LeRoi Jones, Frank O'Hara, Ray Johnson, Fred Herko, Samuel Delany, and Elizabeth Bishop, alongside contemporary performance and visual artists like Dynasty Handbag, My Barbarian, Luke Dowd, Tony Just, and Kevin McCarty in order to decipher the anticipatory illumination of art and its uncanny ability to open windows to the future. In a startling repudiation of what the LGBT movement has held dear, Muñoz contends that queerness is instead a futurity bound phenomenon, a "not yet here" that critically engages pragmatic presentism. Part manifesto, part love-letter to the past and the future, Cruising Utopia argues that the here and now are not enough and issues an urgent call for the revivification of the queer political imagination."
"Since the late 1980s, queer studies and theory have become vital to the intellectual and political life of the United States. This has been due, in no small degree, to the influence of Eve Kosofsky Sedgwick's critically acclaimed Epistemology of the Closet. Working from classic texts of European and American writers—including Melville, James, Nietzsche, Proust, and Wilde—Sedgwick analyzes a turn-of-the-century historical moment in which sexual orientation became as important a demarcation of personhood as gender had been for centuries."
Foucault's text is one of the cornerstones of modern sexuality theory. While this doesn't focus entirely on queerness, understanding Foucault will inform many further queer theory texts. "Michel Foucault offers an iconoclastic exploration of why we feel compelled to continually analyze and discuss sex, and of the social and mental mechanisms of power that cause us to direct the questions of what we are to what our sexuality is."
"Warner presents a piercing and cogent analysis of the politics of shame and the stigma of sexual identity. He offers an alternative ethical vision that proclaims sex is as varied as the people who have it, and honesty and morality are not limited to those with a marriage license. His powerful indictment of all that's wrong with the trend to 'normalize' will spark heated debate among all readers; gay and straight, liberal and conservative."
PERIOD SPECIFIC, STONEWALL & THE AIDS EPIDEMIC
"Shilts' expose revealed why AIDS was allowed to spread unchecked during the early 80's while the most trusted institutions ignored or denied the threat. One of the few true modern classics, it changed and framed how AIDS was discussed in the following years. "
"During World War II, as the United States called on its citizens to serve in unprecedented numbers, the presence of gay Americans in the armed forces increasingly conflicted with the expanding antihomosexual policies and procedures of the military. In Coming Out Under Fire, Allan Berube examines in depth and detail these social and political confrontation—not as a story of how the military victimized homosexuals, but as a story of how a dynamic power relationship developed between gay citizens and their government, transforming them both. Drawing on GIs' wartime letters, extensive interviews with gay veterans, and declassified military documents, Berube thoughtfully constructs a startling history of the two wars gay military men and women fought—one for America and another as homosexuals within the military."
"The Lavender Scare masterfully traces the origins of contemporary sexual politics to Cold War hysteria over national security. Drawing on newly declassified documents and interviews with former government officials, historian David Johnson chronicles how the myth that homosexuals threatened national security determined government policy for decades, ruined thousands of lives, and pushed many to suicide. As Johnson shows, this myth not only outlived McCarthy but, by the 1960s, helped launch a new civil rights struggle."
"Early in the 1980s AIDS epidemic, six gay activists created one of the most iconic and lasting images that would come to symbolize a movement: a protest poster of a pink triangle with the words 'Silence = Death.' The graphic and the slogan still resonate today, often used—and misused—to brand the entire movement. Cofounder of the collective Silence = Death and member of the art collective Gran Fury, Avram Finkelstein tells the story of how his work and other protest artwork associated with the early years of the pandemic were created."
"In 1969 being gay in the United States was a criminal offense. People went to jail, lost jobs, and were disowned by their families for being gay. There were few safe havens. The Stonewall Inn, a Mafia-run, filthy, overpriced bar in New York City's Greenwich Village, was one of them. Police raids on gay bars happened regularly in this era. But one hot June night, when cops pounded on the door of the Stonewall, almost nothing went as planned. Tensions were high. The crowd refused to go away. Anger and frustration boiled over. The raid became a riot. The riot became a catalyst. The catalyst triggered an explosive demand for gay rights. A riveting exploration of the Stonewall Riots and the national Gay Rights movement that followed is eye-opening, unflinching, and inspiring."
"In 1969, a series of riots over police action against The Stonewall Inn, a gay bar in New York City's Greenwich Village, changed the longtime landscape of the homosexual in society literally overnight. Since then the event itself has become the stuff of legend, with relatively little hard information available on the riots themselves. Now, based on hundreds of interviews, an exhaustive search of public and previously sealed files, and over a decade of intensive research into the history and the topic, Stonewall: The Riots That Sparked the Gay Revolution brings this singular event to vivid life in this, the definitive story of one of history's most singular events"
QUEER MEDIA
"With the advent of recording technology, LGBT messages were for the first time brought to the forefront of popular music. David Bowie Made Me Gay uncovers the lives of the people who made these records, and offers a lively canter through the scarcely documented history of LGBT music-makers. Darryl W. Bullock discusses how gay, lesbian, and bisexual performers influenced Jazz and Blues; examines the almost forgotten Pansy Craze in the years between the two World Wars (when many LGBT performers were feted by royalty and Hollywood alike); chronicles the dark years after the depression when gay life was driven deep underground; celebrates the re-emergence of LGBT performers in the post-Stonewall years; and highlights today's most legendary out-gay pop stars: Elton John, Boy George, Freddie Mercury, and George Michael."
"Queer Images surveys a wide variety of films, individuals, and subcultures, including the work of discreetly homosexual filmmakers during Hollywood's Golden Age; classical Hollywood's (failed) attempt to purge 'sex perversion' from films; the development of gay male camp in Hollywood cinema; queer exploitation films and gay physique films; the queerness of 1960s Underground Film practice; independent lesbian documentaries and experimental films; cinematic responses to the AIDS crisis; the rise and impact of New Queer Cinema; the growth of LGBT film festivals; and how contemporary Hollywood deals with queer issues."
"By examining the images of homosexuality and gender variance in Hollywood films from the 1920s to the present, Russo traced a history not only of how gay men and lesbians had been erased or demonized in movies but in all of American culture as well. Chronicling the depictions of gay people such as the 'sissy' roles of Edward Everett Horton and Franklin Pangborn in 1930s comedies or predatory lesbians in 1950s dramas (see Lauren Bacall in Young Man with a Horn and Barbara Stanwyck in Walk on the Wild Side), Russo details how homophobic stereotypes have both reflected and perpetrated the oppression of gay people."
QUEER ICONS & MEMOIRS
"A child of the 1950s from a small New England town, "perfect Paul" earns straight A's and shines in social and literary pursuits, all the while keeping a secret—from himself and the rest of the world. Struggling to be, or at least to imitate, a straight man, through Ivy League halls of privilege and bohemian travels abroad, loveless intimacy and unrequited passion, Paul Monette was haunted, and finally saved, by a dream of 'the thing I'd never even seen: two men in love and laughing.'"
"The son of a Baptist pastor and deeply embedded in church life in small town Arkansas, as a young man Garrard Conley was terrified and conflicted about his sexuality. When Garrard was a nineteen-year-old college student, he was outed to his parents, and was forced to make a life-changing decision: either agree to attend a church-supported conversion therapy program that promised to 'cure' him of homosexuality; or risk losing family, friends, and the God he had prayed to every day of his life. Through an institutionalized Twelve-Step Program heavy on Bible study, he was supposed to emerge heterosexual, ex-gay, cleansed of impure urges and stronger in his faith in God for his brush with sin. Instead, even when faced with a harrowing and brutal journey, Garrard found the strength and understanding to break out in search of his true self and forgiveness." Boy Erased is Conley's memoir of his time in a gay conversion program, and the way it impacted his life.
"Originally published in 1976, Christopher and His Kind covers the most memorable ten years in the writer's life—from 1928, when Christopher Isherwood left England to spend a week in Berlin and decided to stay there indefinitely, to 1939, when he arrived in America. What most impressed the first readers of this memoir, however, was the candor with which he describes his life in gay Berlin of the 1930s and his struggles to save his companion, a German man named Heinz, from the Nazis."
"How to Write an Autobiographical Novel is the author's manifesto on the entangling of life, literature, and politics, and how the lessons learned from a life spent reading and writing fiction have changed him. In these essays, he grows from student to teacher, reader to writer, and reckons with his identities as a son, a gay man, a Korean American, an artist, an activist, a lover, and a friend. He examines some of the most formative experiences of his life and the nation's history, including his father's death, the AIDS crisis, 9/11, the jobs that supported his writing—Tarot-reading, bookselling, cater-waiting for William F. Buckley—the writing of his first novel, Edinburgh, and the election of Donald Trump."
"With unflinching honesty and moving prose, Janet Mock relays her experiences of growing up young, multiracial, poor, and trans in America, offering readers accessible language while imparting vital insight about the unique challenges and vulnerabilities of a marginalized and misunderstood population"
"Known as 'The Mayor of Castro Street' even before he was elected to the San Francisco Board of Supervisors, Harvey Milk's personal and political life is a story full of personal tragedies and political intrigues, assassinations at City Hall, massive riots in the streets, the miscarriage of justice, and the consolidation of gay power and gay hope."
"Before she became the first transgender person to speak at a national political convention in 2016 at the age of twenty-six, Sarah McBride struggled with the decision to come out—not just to her family but to the students of American University, where she was serving as student body president. She'd known she was a girl from her earliest memories, but it wasn't until the Facebook post announcing her truth went viral that she realized just how much impact her story could have on the country." McBride's memoir chronicles her coming out and her life as an activist.