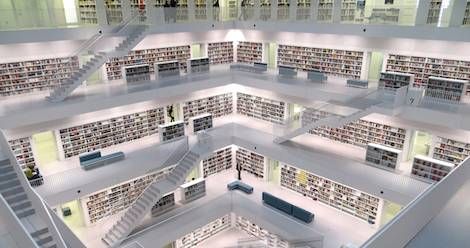 Lists
8 Engrossing Books About Bookstores
This content contains affiliate links. When you buy through these links, we may earn an affiliate commission.
If a book is set in a bookstore, there is a 90% chance that I'm going to end up loving it. There is something enchanting and oh-so-relatable about stories featuring bookstores. So I have rounded up some of these books, including fiction, nonfiction and picture books. So indulge your bookstore fetish with this list.
This deliciously twisty page turner begins with a death. Lydia Smith is a clerk at the Bright Ideas Bookstore whose job consists of hovering around bookshelves and engaging with her Bookfrogs—the lost and lonely regulars who spend their time marauding the crammed shelves of the store. However, when her favourite Bookfrog hangs himself in the bookstore, she must unravel the mystery he left behind and come to terms with her own dark past. Featuring eccentric character and a fiendishly clever puzzle plot, this book is an absolute treat for readers and book lovers.
This is one of my personal favourite book of recent years and a must-read for bibliophiles. Mr. Penumbra's 24-Hour Bookstore is an establishment you have to enter and will never want to leave, a modern-day cabinet of wonders ready to give a jolt of energy to every curious reader, no matter the time of day. Clay Jannon is an ex-San Francisco web designer who is forced to work the night shift at Mr. Penumbra's 24-Hour Bookstore after The Great Recession. Sloan effortlessly combines the increasingly antiquated realm of book stores with the lightning-fast,snazzy world of Google and Silicon Valley. I can't recommend this book highly enough—it's a very contemporary take on digitization and embracing technology but at the same time a poignant ode to bookstores.
Monsieur Perdu calls himself a literary apothecary. From his floating bookstore in a barge on the Seine, he prescribes novels for the hardships of life. Using his intuitive feel for the exact book a reader needs, Perdu mends broken hearts and souls. The only person he can't seem to heal through literature is himself; he's still haunted by heartbreak after his great love disappeared. She left him with only a letter, which he has never opened. This heartbreaking love story unfolds at a leisurely pace, taking its readers on a journey through Provence. This gentle, wonderful story is about the redemptive power of books, friendship and love.
Nina is a literary matchmaker. Pairing a reader with that perfect book is her passion…and also her job. Or at least it was. Until yesterday, she was a librarian in the hectic city. But now the job she loved is no more. Determined to make a new life for herself, Nina moves to a sleepy village many miles away. There she buys a van and transforms it into a bookmobile—a mobile bookshop that she drives from neighborhood to neighborhood, changing one life after another with the power of storytelling. This is a refreshing romantic comedy and is perfect for light holiday reading.
A. J. Fikry's life is not at all what he expected it to be. His wife has died; his bookstore is experiencing the worst sales in its history; and now his prized possession, a rare collection of Poe poems, has been stolen. But when a mysterious package appears at the bookstore, its unexpected arrival gives Fikry the chance to make his life over—and see everything anew. Fans of Nicholas Sparks and Rachel Joyce will relish this compassionate and humorous literary story.
Years ago, Rachel had a crush on Henry Jones. The day before she moved away, she tucked a love letter into his favorite book in his family's bookshop. She waited. But Henry never came. Now Rachel has returned to the city—and to the bookshop—to work alongside the boy she'd rather not see, if at all possible, for the rest of her life. But Rachel needs the distraction. Her brother drowned months ago, and she can't feel anything anymore. This tender love story is about finding hope in books and life and will appeal to YA fans.
This charming book is written by the owner of Scotland's largest second-hand bookshop. In these wry and hilarious diaries, Shaun provides an inside look at the trials and tribulations of life in the book trade, from struggles with eccentric customers to wrangles with his own staff, who include the ski-suit-wearing, bin-foraging Nicky. From people rudely comparing book prices against those listed on Amazon to weird demands, the weird customer encounters make for entertaining read. He introduces us to the thrill of the unexpected find, and evokes the rhythms and charms of small-town life, always with a sharp and sympathetic eye. This is a highly informative and amusing book from a book lover.
"In the 1930s, Lewis's dad, Lewis Michaux Sr., had an itch he needed to scratch a book itch. How to scratch it? He started a bookstore in Harlem and named it the National Memorial African Bookstore. And as far as Lewis Michaux Jr. could tell, his father's bookstore was one of a kind. People from all over came to visit the store, even famous people Muhammad Ali and Malcolm X, to name a few. In his father's bookstore people bought and read books, and they also learned from each other. People swapped and traded ideas and talked about how things could change. They came together here all because of his father's book itch. This treat for picture book readers aims to educate and inspire young readers about the legacy of a great man.