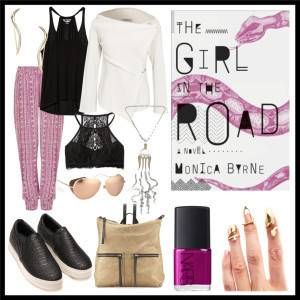 I'm a little bit in love with Monica Byrne's debut novel, The Girl in the Road. The mildly dystopic (depending on how you feel about rising water levels) science-fiction story felt fresh for its unreliable narrators, brazen use of symbolism, and Indian/African setting. The novel covers the stories of two different women – one in India and one in Africa – who are traveling in an attempt to find themselves, their home, their purpose, and their futures. The theme of family runs deep in the bones of The Girl in the Road and I'm recommending this read to everyone and I'm going to be eternally grateful to fellow Rioter Jeanette for recommending it to me!
For the outfit, I had plenty of symbols and imagery to play with. While I didn't exactly replicate Meena's traveling outfit whilst she is on the titular road, an energy bridge spanning the Arabian sea (after all, an all white outfit only really works at Diddy's annual Hamptons party), I was aiming for the same loosely layered feel. This lovely "Moonlight and Starshine" bra/bralet was my ode to the forced nighttime march any travelers on the road must make, nocturnal being the only survivable mode. The shoes are snakeskin, as well as the blinders on the sunglasses, because the snake imagery in the novel is potent and beautiful. The rose gold aviators and metallic backpack are meant to reflect (puns *snort*) the harsh sun and the controversial metallic hydrogen discussed in the book. I loved this clever "A Fork in the Road" necklace and the stylistic "Wave" earrings. I'm still swooning over these so-perfect-for-the-novel-if-I-explain-at-all-it's-a-major-plot-spoiler-situation snake nail rings. A splash of "Fearless" nail lacquer – what is it that we have to fear? – completes the ensemble.
____________________
Follow us on Pinterest for drool-worthy covers, Book Fetish-y lit swag, bookish inspiration, and more!