Audiobooks
25 Of The Best Sci-Fi Audiobooks to Listen to in 2019
This content contains affiliate links. When you buy through these links, we may earn an affiliate commission.
Okay, I lied a little. This isn't just 25 best sci fi-audiobooks. It's not so much a bug as a feature that a lot of good audiobooks that have come out recently have been not-the-first-book of a series. So I've given you not only the best sci-fi audiobooks I could find from the last couple of years, but also the rest of the series so you know where to start. Think about is as the 35 best sci-fi audio books for the price of 25!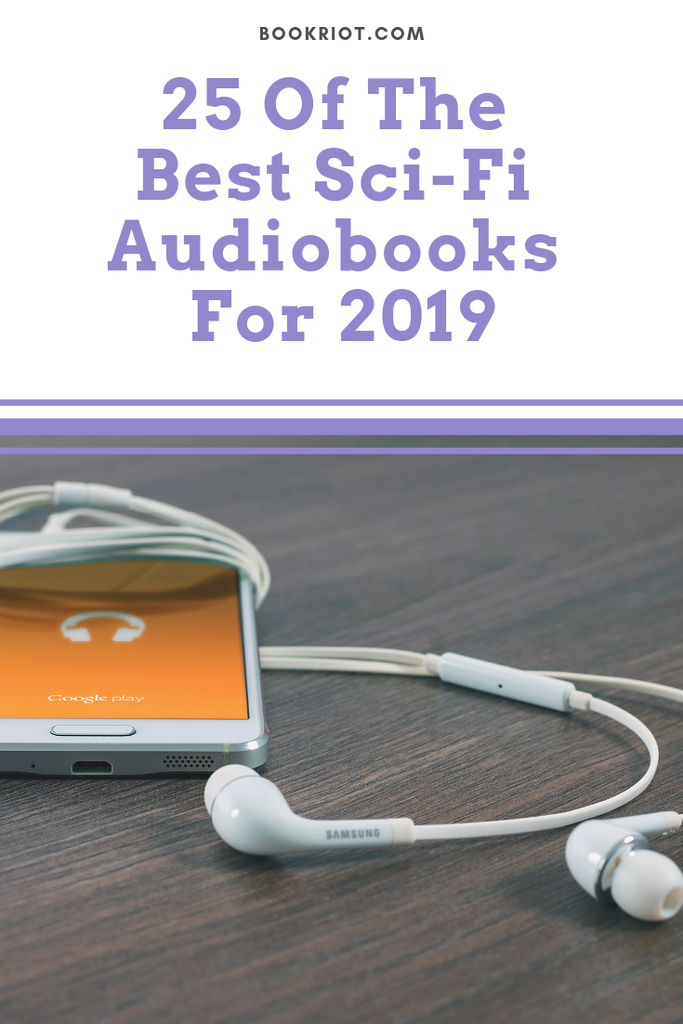 (I also did a list of best fantasy audio books last year, if you're looking for something with a little more actual magic.)
This list will take you from the alternate past to the far future, from hard science fiction to bananapants space opera to science fantasy. The great thing about this genre is that it can go in so many different directions!
Technically part of a series, but this book is pretty stand alone in my opinion. Becky Chambers brought us "cozy science fiction," where it's more about the characters and their interactions and the questions they're trying to answer than anything else, and this is a good book to just curl up with and listen to while you have some hot chocolate.
We Cast a Shadow by Maurice Carlos Ruffin, narrated by Dion Graham
In a dark and all-too-plausible near future American South dominated by for-profit prisons, an experimental medical procedure offers escape from the inescapable oppression of racism…by turning black people white.
Humanity struggles along on a planet locked with its star so that there is only endless day or eternal night as a sci-fi background for Charlie Jane Anders's characteristic deep dive into character and relationship.
A security droid with anxiety that thinks of itself as "Murderbot" goes on the lam, makes friends, and tries to discover the truth of its past while passing as human—and narrating it all with snarky internal monolog.
Ball Lightning by Cixin Liu, translated by Joel Martinsen, narrated by Feodor Chin
After witnessing the phenomenon known as ball lightning turn his parents into a smoking pile of ash, Chen grows up to become an atmospheric scientist still obsessed with trying to find an explanation. He's not the only one interested in the subject; there are those who want to weaponize it.
The Flowers of Vashnoi by Lois McMaster Bujold, narrated by Grover Gardner
Ekaterin works with scientist Enrique Borgos to try to recover the radioactive lands that are the legacy of the Cetagandan invasion. The latest of the Vorkosigan series, which is probably my favorite audiobook series of all times thanks to Grover Gardner bringing these books to life. The series has many entry points, but if you want a more chronologically sound entry point, consider The Warrior's Apprentice.
N.K. Jemisin is already a powerhouse of a novelist, but this short story collection proves that she's just as good at short form. It's a mix of sci-fi, fantasy, and everything in between, and well worth your time.
Set in the same universe as The Lives of Tao, we find out this time what happens when a human gets occupied by a less-than-competent alien—complicated by the fact that the person the alien screw-up is occupying is a thief, con-artist, and smuggler who really didn't want to be involved in this mess to begin with.
Space Opera by Catherynne M. Valente, narrated by Heath Miller
After a horrible intergalactic war, the species of the galaxy have decided the best way to keep that from happening again is to instead participate in a high-stakes talent show contest that's like Eurovision on steroids. Humanity has discovered this wider universe, already in progress, and it's our first chance to participate—and it could very well be our last if we don't do well.
Rosewater by Tade Thompson, narrated by Bayo Gbadamosi
In near-future Nigeria, humans have created the liminal settlement of Rosewater, which sits at the edge of an alien biodome. Once a year, the aliens open up the biodome, and the nearby humans may have their illnesses cured. The story follows a psychic named Kaaro through three timelines as he navigates this strange town and his life.
It's time to return to Hawkins, Indiana, though this time the year is 1969. A young woman named Terry signs up to participate in a test code-named MKULTRA. Bad move, Terry.
A People's Future of the United States edited by John Joseph Adams; authors include Daniel José Older, Malka Older, Maria Dahvana Headley, N.K. Jemisin, Justina Ireland, and more; narrated by various
The title says it all—this is wide-ranging set of stories from a very diverse group of authors, imagining what America could be in the near future. Nightmare or visionary dream, the choice is ours.
A time-traveling secret agent gets stranded in the '90s in San Francisco; of course he becomes an IT guy once he settles into his fate. Fate seems to have other ideas, however, when his rescue team shows up 18 years too late, and wants to return him to a family in the future he's forgotten.
Zero Sum Game by S.L. Huang, narrated by Lauren Fortgang
Cas Russell isn't your ordinary retrieval agent—she does everything with the power of math. We're talking the kind of math that lets you dodge bullets and, it turns out, in the hands of a very bad man, turn people's brains into moebius strips. Cas has a problem.
Lock In and Head On by John Scalzi, narrated by Amber Benson or Wil Wheaton
In the near future, a disease known as "Haden's syndrome" has swept through the world, leaving a small percentage of its victims "locked in"—they're aware and conscious and unable to move their bodies. Technology comes to the rescue, with those with Haden's connected to their own internet and able to mentally occupy and drive around robot bodies called "threeps." Shane has Haden's, and is an FBI agent, charged with investigating crimes committed by other people with the condition.
The HSS Matilda is a generation ship fleeing from a ruined Earth, its internal structure a horrific copy of the antebellum South. Dark-skinned Aster is one of the occupants of the lower decks, orphaned by her mother's suicide many years before. It's a mystery she tries to unravel as the sovereign of the Matilda dies and the ship seems to be on a slow spiral of deterioration that's hitting Aster's people first and worst.
The Book of M by Peng Shepherd, narrated by James Fouhey and Emily Woo Zeller
In a dystopian near-future, the most horrific plague yet begins to sweep across the world: people's shadows disappear. With it comes strange new powers, but at the price of total memory loss. Ory and Max, the couple at the center of the story, think they've escaped the plague, until one day Max's shadow disappears as well.
An alternate history where the world is forever changed by a meteorite destroying most of the east coat of the United States in 1952. With a climate cataclysm reminiscent of the end of the Cretaceous looming, humanity must struggle to colonize space…and is not longer in a position to ignore the contributions of the brilliant women the space program depends on.
A gorgeous space opera about Binti, the first Himba woman to leave Earth and attend the prestigious Oomza University to study mathematics. She finds herself squarely in the middle of an ancient war between the alien Meduse and the human Khoush, and is forever changed as she tries to find a path to peace and survival.
Vigilance by Robert Jackson Bennett, narrated by Mark Boyett
America's given up any pretense of fighting gun violence just 11 years in the future. Instead, there's a reality show where people are given guns and sent into a "game" environment. If you survive, you get a prize. That's the price of vigilance against foreign and domestic enemies, right?
This may be the only near-future series that treats the internet with the respect it deserves. When fact-checking runs rampant, and crossing a border is as easy as crossing the street, micro-democracy faces many challenges. A spy and a political operative cross paths and uncover a massive conspiracy that threatens to undercut democracy by subverting information.
The Black God's Drums by P. Djèlí Clark, narrated by Channie Waites
An alternate history with a steampunk flair, the story follows Creeper, a street kid who secures her passage on a smuggler's airship using a secret about a kidnapped scientist and his terrifying weapon.
Sci-Fi Audiobooks Coming Soon
The Light Brigade by Kameron Hurley, narrated by Cara Gee
The fastest way to get a soldier to the front is to break them down into light and beam them there. It seems like a good solution, but some come back…different. A new recruit named Dietz begins seeing a very different war than their fellow soldiers, and it's impossible to tell if it's creeping combat madness or lies coming from the highest echelons.
Ancestral Night by Elizabeth Bear, narrated by Nneka Okoye
Ancient aliens, mysterious technology left behind, sounds like a good thing to find on a salvage mission, right? Not so much for Haimey, when her discovery has her running afoul of pirates, and of people who would use this technology to bring down war and terror.
Bonus Only-Sci-Fi-Adjacent-But-You-Should-Read-It-Anyway:
Hidden Figures by Margot Lee Shetterly, narrated by Robin Miles
Hopefully you saw the movie—now you should definitely read the book as well. It's the true story of four African American women who worked as "human computers" for the space program and helped get us to the moon.
Did I miss something you think is one of the recent best sci-fi audiobooks? Let us know!