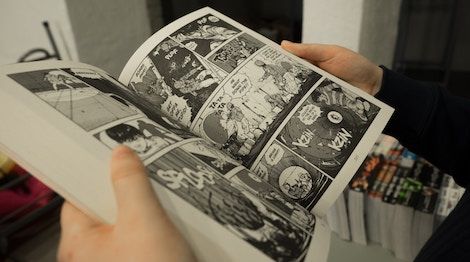 This content contains affiliate links. When you buy through these links, we may earn an affiliate commission.
Fantasy manga can be remarkable. It's a growing industry that leads to some companies rising, and others falling; Tokyopop's story serves as a cautionary tale. And it is a remarkable art form that inspires creators everywhere, in both Asia and the Western world. Below are my recommendations for the fantasy genre.
Best Classic Fantasy Manga
This anime was part of my childhood. Middle school student Usagi finds out she's a chosen warrior of justice, who rallies her friends to fight evil. Also she hates the death and dying, but matures so as to cope with it and accept her new responsibilities. While the original anime is fun and never lost sight of how Usagi was a kid, the manga takes a more somber approach to how Usagi has to mature, and become the warrior queen that will one day make evil tremble.
I wish Game of Thrones had taken this direction for coups, tragedy, and loss. Princess Yona loses her status and sense of security when her crush and cousin murders her father. Yona's bodyguard Hak escapes with her, and she decides to build a new life protecting him and the people she loves. There are dragon reincarnations involved, politics, and moral ambiguity.
What is life? Why can we not revive the dead or find immortality? Because we may lose our limbs, or our siblings. The Elric brothers find themselves without an arm, a leg, and a body when they try to resurrect their mother. To regain their original bodies, they join the military as alchemists, and get drawn into a centuries-long conspiracy.
Be prepared to cry for this one. Mitsuki has throat cancer, and a desire to sing on stage the way her parents did. For this reason, she refuses to have an operation that could save her life, because it may also take her voice away. Two death gods appear, and tell Mitsuki even with the operation she'll die in a year. As a last request, they change her into an older teenager so she can sing on stage before they need to reap her soul. While the gods try to figure out who will prevent Mitsuki's death, she navigates her personal and family tragedies.
I'm recommending three CLAMP stories for a reason: because these women creators are remarkable. This story is another magical girl adventure, where three girls end up in another world and have to save its priestess from a bad guy. Only…things don't go according to the usual story structure. There are two manga series, and you have to read both of them.
These are CLAMP works that exist in tandem and take the idea of parallel universes under their thumb. We see Sakura and Syaoran, who travel worlds to recover Sakura's memories, and a strangely gifted student named Watanuki who starts working at a magic shop to get rid of his powers. Watanuki spends his time cooking, cleaning, and running errands for the shop owner Yuko; despite himself, he becomes fond of her and his friends who join in on the ride. The two stories have a remarkable connection, if wonky time travel paradoxes, and have a bittersweet complement.
I have memories. The original manga series—not the spinoff with Duel Monsters—is an amazing read. A student named Yugi completes a puzzle that allows him to host the spirit of an avid gamer, called the Other Yugi. Because Yugi is tiny and easy pickings for many bullies, Other Yugi comes out and doles vengeance, via games of his choosing. You do not want to mess with him. Meanwhile, Yugi is concerned about how he becomes a trouble magnet.
You can't go wrong with a series of cautionary tales about human nature, and how it betrays us. In San Francisco, a pet shop owner named D gifts animals to people as tests of their character. If they're lucky, that animal will become their friend for life. If they're not so lucky, then pain and horror ensue. Meanwhile, a cop investigates because he rightly suspects that D is dangerous. Read this series and not the spinoff set in Tokyo, because its ending is more fitting.
This manga isn't perfect, and it's not kind to its women, but it has to go on the list for its sheer audacity. A high school ace student finds a notebook that can kill anyone. He decides to use the power to create a new utopia without crime. The police disagree because they rightly believe that one human can't play God. An American detective who goes by the moniker L decides to engage the killer in an international hunt.
Sometimes the girl wants to learn how to rescue herself from pain and sadness. Utena wants to find the mysterious prince who saved her when she was a child, and become a prince in turn. To do so, she transfers to a school with a mysterious dueling club and a student who seems to need protection, Anthy. The more Utena tries to solve the mystery and find her prince, the more she realizes that Anthy may need more than a typical rescue.
Best Recent Manga
This manga is a 2018 debut. It is super adorable when the main character Dale finds a demon girl abandoned and decides to take care of her. I fell in love immediately because of the Dale's sincerity. He wants the best for Latina, even with her mysterious past, and she in turn adores him. People become drawn to Dale's desire to raise Latina and keep her safe, showing a lighter side to humanity than what we'd normally see.
This story takes a darker look at rebuilding a life and making friends with your enemy. Liselotte is a lady in exile, who is startled when she sees a man who looks like her childhood friend but has none of his memories. She soon wants to befriend the witches in the local woods and make a new home. At first, the witches would rather curse Liselotte and her servants so that they will leave, only Liselotte has nowhere else to go.
A demon king has taken Princess Syalis hostage. Because of the hostage situation, he can't harm her, only annoy her. Syalis for her part just wants a good night's sleep, because her bedsheets are rough and her limbs are stiff. So she starts borrowing items to improve her nights. So relatable and written for our generation.
Western Manga and Manga-Inspired Comics
A webcomic that's indefinitely on hiatus, Van Von Hunter is a loving send-up of fantasy adventure stories. Here, the titular character reunites with his sidekick, an amnesiac woman who packs a punch and loves goblin brownies. Sidekick for her part would rather not get involved, but she proves she can fight. I love the villains, the Flaming Prince and his assistant, and how despite their comedic timing they prove to be formidable threats. Also, did I mention that the goblins make brownies? And they are very hospitable.
Identical twins end up at a boarding school that has a dark secret. Amber and Jeanie try to adjust after a tragedy, but they have a hard time with that. They realize the school has ghosts, literal and figurative ones, and even dead bodies. Queenie-Chan is one of the best modern manga artists. While Tokyopop screwed her and many other creators regarding her contract for the Manga Pilot program, this story is worth reading, especially since Tokypop released it in full.
If Scott Pilgrim weren't such a bold story that turns the narrative on its head, it wouldn't be on the list. I was very cynical when how the story starts with 23-year old Scott dating a 17-year old while he's on the rebound from a failed relationship. Then he starts eyeing a delivery girl named Ramona Flowers, and decides to fight her evil exes video game style to win her properly. Ramona isn't perfect, though, and her exes aren't necessarily rash in their anger. The narrative forces Scott to admit he's a terrible person for cheating on two girls while dating them, and to improve his character.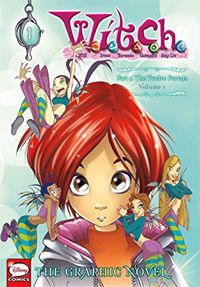 This is the show that proved that maybe we Westerners can do a proper magical girls story. Will Vandom moves to a new town, bitter from her parents' divorce and unsure of her future. Then the electrical appliances around her house start talking to her. She goes to a Halloween party where a monster nearly grabs her, and his friend manages to talk to another girl named Elyon. Her friend's grandmother gives Will a jewel which allows her to change into a magical being with wings. She and her new friends have to use their powers in this world and a magical one to save Elyon while fighting her.
Not the god-awful cartoon meant for a younger audience, but the spinoff comics from the 2003 Teen Titans show. The comics, which were based on the show's animesque style, start off rather silly but soon dive into their own storylines. We get some loose ends tied up, like what happened with Terra (we will not forgive you for that, show) and about the Titans' origins.
Webtoon and Webcomic Manga
Queenie-Chan is a remarkable Chinese American manga artist; in addition to The Dreaming, she has many comics online, including this short horror story and one fantasy adventure. These two are totally worth a read.
In this kingdom, the rulers have outlawed magic, so that sorcerers and sorceresses cannot perform magic. They hope it will stop a demon assassin called the Blackbird. In the meantime, a wealthy student becomes curious when a sorceress who's an exception to the rule saves his life.
Dragons and demons have caused an apocalypse, and hero Desir fights in the Shadow World to save humanity. He laments that he didn't do more magic in his youth, because he could have rescued more lives. Lo and behold, he ends up in the past, with more time to study and the opportunity to prevent the apocalypse and save his friends.
Mirlinth Loth has a quest after a devastating war. She is thrilled for the opportunity to prove herself worthy, but her other questing buddies have similar ambitions.
---
What are your favorite fantasy manga titles?
Also In This Story Stream