Southern Cross #2 by Becky Cloonan, Andy Belanger, and Lee Loughridge (Hélène)
The Southern Cross is on a five day journey to Titan with on its board Alex Braith, who is taking the trip to discover what happened to her sister who died while working there. The second issue covers day two, and things are getting more complicated as the woman who shares Braith's cabin has gone missing. The anxiety becomes almost tangible, the ghosts of the past and mysteries held in the darkness seem like they are closing in. It is the kind of book in which you want to fully immerse yourself, best read without any music or noise in the background. It is no secret that I love Andy Belanger's art and I believe this is some of his absolute best work (it doesn't hurt that the captain of the Southern Cross looks a bit like Corto Maltese). You can read the progression of the story just by looking at Alex's face. You can feel how cold and isolating being on the ship is. The main character is truly the ship itself, the Southern Cross: its corridors, its stairs and ladders, and its engine. You can almost hear the ship's crackling metal sounds coming out from the page. Each door seems to be hiding something menacing.
Last Man, Vols. 1 and 2 (The Stranger and The Royal Cup) by Bastièn Vives (Paul Montgomery)
It's like a Tekken manga! From France! In English now! All the pugnacious rivalries of a Shonen Jump fighting serial with the delicate line of a European album. Great for fans of time travel, friendship, and underdogs!
Howard the Duck #2 by Chip Zdarsky and Joe Quinones (Michael Chasin)
I am in romantic love with Chip Zdarsky. Or at least, in love with the affable-degenerate, idiot-sage creative persona that calls himself Chip Zdarsky. If his Sex Criminals art and Twitter lunacy weren't already enough (and they were more than we probably deserve) the two books he's just started putting out do nothing less than elevate him to one of the most exciting writer/artists working today. Howard the Duck was nothing more than a dumb joke to a lot of people, but Zdarsky and Joe Quinones have made him vital in just two issues, with the Marvel Universe as a bright and happy playground for all their subversive tendencies. So far it's an unobnoxiously fourth wall-shattering tale of an everyman mallard just trying to get by in a world of superheroes and cosmic weirdness, with just the right amount of heart under the many, many jokes. The kind of jokes I was audibly laughing at, which is not something most comics can make me do even once an issue, let alone more than a dozen. Humor is TOUGH, people. This second issue team-up with the Guardians of the Galaxy is the only time I've seen these characters captured on the page with as much humor as the film, and honestly makes me wish Howard was in the MCU as more than just a throwaway gag. Oh well, a duck can dream. Not that I'm like a duck, or whatever.
Jupiter's Circle #1 by Mark Millar, Wilfredo Torres and Ive Svorcina (Mart Gray)
Los Angeles in the 1950s. Blue Bolt is a member in good standing of superhero team the Union, clean-cut protectors of the United States. But would he be so popular with the public, so respected by his teammates, were they to know his secret? He's gay, and when not saving lives, Blue Bolt – aka medic Dr Richard Conrad – is having furtive sexual encounters in parks, or with "tricks" he's been set up with by such trusted pals as Hollywood legend Katharine Hepburn. Meanwhile, FBI chief J Edgar Hoover is pressuring the Union to become the US government's pet team – they'd have all the cool toys any heroes could want, but be at the beck and call of the President and the decidedly dodgy Hoover. Such is the set-up to writer Mark Millar's nicely measured prequel to his recent mini-series Jupiter's Legacy, and while that book's artist, Frank Quitely, is absent – he provides covers only – Wilfredo Torres is a huge asset. His super-clean linework is perfect for a supposedly simpler world, one in which square-jawed heroes hang out with matinee idols. Torres' knack for body language means Millar doesn't have to spell out the shame forced on Conrad by society, the sadness that descends when he's not battling bad guys. And Torres draws a mean green monster from outer space, as coloured by the excellent Ive Svorcina. I don't know what the general arc of this series will be, but this debut issue's portrait of a closeted hero certainly grabbed me.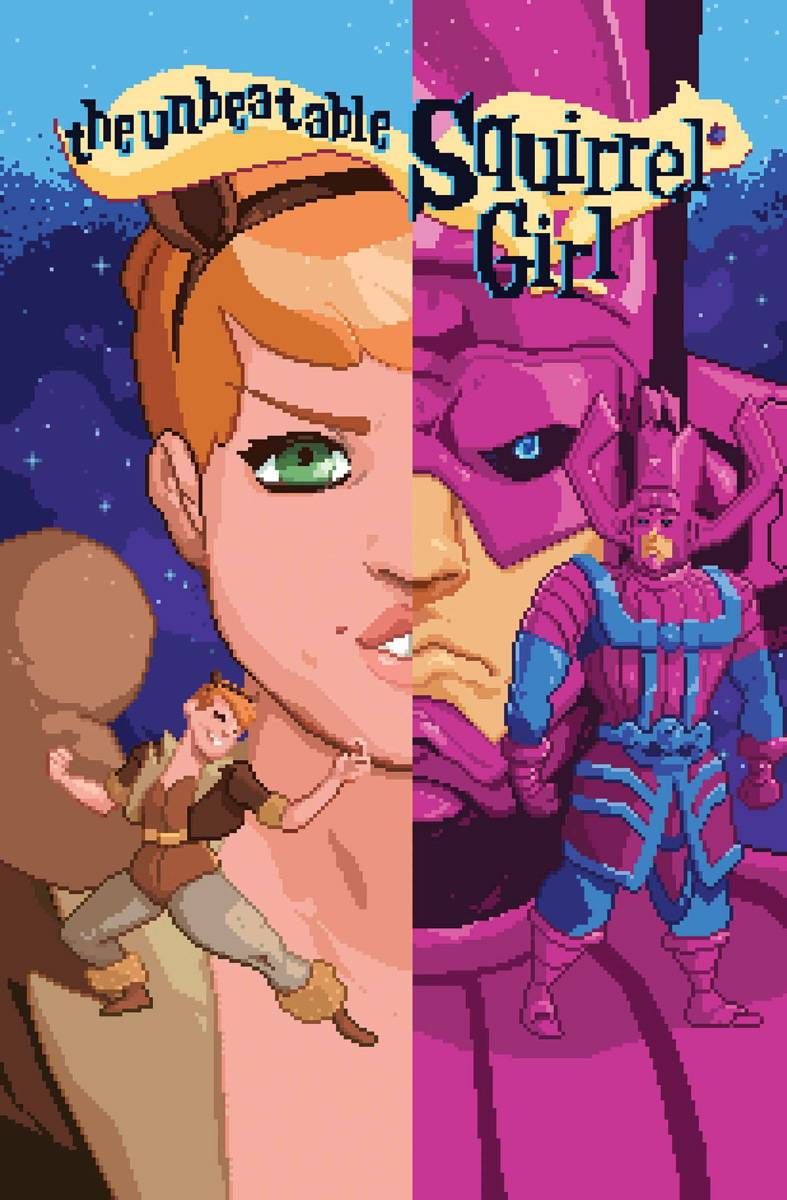 Squirrel Girl #4 by Ryan North, Erica Henderson, Rico Renzi, and Clayton Cowles (Katie Schenkel)
Writers, take note—this is how you do a humor comic. The jokes aren't just laugh out loud funny—it's put the book down and laugh out loud for a good minute before continuing reading funny. Squirrel Girl has been consistently a delight since its start earlier this year, but I think issue 4 (which acts as the end of the first storyline) is the best so far. From the great fake out at the beginning to Galactus and Doreen bonding over making fun of Thanos, from Doreen scolding Galactus' use of male standard pronouns to the progression of Nancy and Doreen's friendship, this issue just works. Best moment? Her describing Thanos: "You know him? Purple guy? Half goth because he's big into death, but half hipster because he makes his own gloves?"

Can't We Talk About Something More Pleasant by Roz Chast (Jenn Northington)
My book group picked Chast's memoir comic for April, and this is yet another case of a book finding me at just the right time. My family is mid-process in dealing with my grandmother's failing health and reluctance to leave her home, and Chast brilliantly portrays the experience. She's also incredibly brave, exploring the conflicted feelings and the unflattering responses we have as human beings—money worries, exhaustion, impatience. Those who told me to read it with tissues in hand were not wrong; it's an emotional rollercoaster, incredibly sad as well as incredibly wry and darkly funny. Her art is, of course, amazing—the bright colors and cartoonish figures lend some lightness to a dark, difficult story.
Locke and Key Vols. 1, 2 and 3 by Joe Hill and Gabriel Rodriguez (Kris Saldaña)
How had I not read these books until now? I love scary comics because they're so hard to do right, but when they are, they're incredible. Locke and Key is incredible. The book follows a family dealing with their father's murder and new life back at their old family estate. Stumbling on these special keys with supernatural powers, they come to find a much more sinister plot is at play. Not sure if my description does it justice… Gabriel Rodriguez's art is so delightful and creepy at the same time, matching Hill's story and brilliant dialogue, you'll get caught up binge reading like it's on Netflix, or Scribd.
Also, it's a story, basically, about people losing their keys. What's more relatable than that?
Uncle Scrooge #1 by Romano Scarpa, Jonathan Gray, Cavazzano, Rodolfo Cimino (Marcy Cook)
On my shelf is a battered copy of the 1981 Jumbo Book of Superduck Saves the Day! I'm not entirely sure why but in all my travels I've saved this book. It's 254 pages of Donald, his nephews, and Scrooge fighting off the machinations of the Beagle Boys. When I read the preview edition of Uncle Scrooge #1 it instantly brought back the memory of young-me reading this old Superduck, which in my memory at least is a classic comic book. Many similarities exist between the two even with over three decades separating them, the set up is the same as the Beagle Boys are yet again after the Money Bin and even the art style is consistent. It's the Disney world where the radios are giant and cars still look like they just rolled out of an affluent 1950s Detroit. Yet the modern world is in here too.
The story contains fun nods to modern culture, such as energy drinks that give you wings, and Donald's nephews can now cry out "Excelsior!" thanks to Disney owning Marvel. This is a book that can easily appeal to really young readers and still entertain older ones like myself; it's the very definition of an all-ages comic. The story might be simple, even at about 50 pages it's possible to go through the book fast, but if you do read through too quickly you'll be missing some of the layered humour. Uncle Scrooge #1 is worth savouring no matter how old you are – or you'll miss the joy. Even the smelling salts used to revive Uncle Scrooge are a gag that had me chuckling, "Essence of Tax Breaks."
Archie: The Classic Newspaper Comics (1946-1948) by Bob Montana (Jessica Plummer)
For the past few decades, Archie Comics have been pretty much known for bland, uninspired wholesomeness, despite the fascinating shakeups they've had in the past few years. But when you go back to the beginning – or very near the beginning – you can see why these characters have stuck around for three quarters of a century. Simply put: these comics are hilarious. Montana has a brilliant slapstick sensibility and a marvelous ability to create insanity that builds upon itself as Archie's misadventures spin increasingly out of control. He pairs it with crisp, sparkling banter, vibrant linework, and inks so fluid and gorgeous you could drink them. His cast is small, this early on, and some of the characters are not what they would become – Betty's kind of deranged and pathetic, pre-Women's Lib, and Dilton, hilariously, is an insufferable little poindexter in a Little Lord Fauntleroy suit – but he fully explores the humor that can be wrung out of each of them. I found myself crying with laughter at a plotline featuring Archie's dad, of all people. (P.S. Archie's mom, it turns out, is a boss.) If you're a history buff, it's also a fascinating peek into 1940s teen culture, or at least 1940s teen culture filtered through a grownup. (P.P.S. Archie, please explain why you described your job as an usher as "butthole," seriously, I did not expect that word in 1947!)
Convergence: Green Lantern Corps #1 by Dave Gallaher, Steve Ellis, Ande Parks, and Hi-Fi (Brian McNamara)
I love the Green Lanterns. They're among my favorite groups in comics and Hal ranks as my favorite superhero. So this book, which explores the pre-Crisis on Infinite Earths status quo of the Green Lantern books was right up my alley. We follow Guy Gardner as he awakens from a coma in this strange, domed world; walled off from the outside world and his one chance to become a hero. Like the best Convergence tie-ins, this one deals with the emotional trauma of the situation, focusing on Guy Gardner's rocky reintegration into a changed society following his torture at the hands of Sinestro and Zod. At times serious, at times comic, this one really makes the best use of the event mechanics to tell a story about the smug, quick to anger but ultimately well meaning Gardner. Gallaher humanizes Gardner in a way many books have struggled with over the years, exposing weaknesses amidst bravado. Ellis plays with the traditional look of the GL cast while creating a look and feel all his own. Also, the book ends with Guy Gardner astride a motorcycle with a baseball bat in one hand and a stun gun in another as he goes to fight for the survival of his new found home. If that doesn't tell you everything you need to know about Guy Gardner, you're never gonna like him.
Requiem for the Rose King, Vol. 1, Vol. 1 by Aya Kanno (Caroline Pruett)
Listen, I may be breaking the rules of this feature. I can't be sure this is the best thing I read this month. I can't be sure it is any good at all. That's because it's a shoujo manga about The Wars of the Roses — particularly, about Shakespeare's version of them as rendered in Henry VI, Parts 1 through 3, and Richard III — and this is a topic on which I have absolutely no objectivity. I have even less objectivity when this history is rendered with a twist in which the future Richard III is possibly a girl being raised as a boy. Because, I don't know, because reasons???
I have no idea if this was any good, but I would like to read another 137 volumes of it, immediately. Possibly, you would too.
The Infinite Loop #1 by Pierrick Colinet and Elsa Charretier (Becca Sexton)
Infinite Loop is a visually beautiful comic about a woman named Teddy who, it would seem, is from sometime in the future, though when we first meet her it's 1964. Teddy's job is to find and remove anachronisms, things that have lost their place in time and arrived somewhen else. One of these anachronisms is a T-Rex, which, frankly, all comics should have. Teddy's got a work buddy named Ulysses, with whom she's got good banter. I don't want to spoil it any further, but from the ending, my guess is that romance and intrigue and time travel adventures are in store and I'm here for it.
Miami Vice Remix #1 by Joe Casey and Jim Mahfood (Eric Margolis)
Sometimes you just gotta dive into a book without knowing anything about it. I knew I dug both creators. Joe Casey is a wildman and writes some wacky, over-the-top stories. Jim Mahfood has an incredible distinct art style that I can really get down with. Miami Vice though? Not really my thing. And comics based on licensed works…yikes, something I generally stay far away from. But for some reason, something was telling me that I needed to pick up this book. After getting halfway through it, I knew this was going to be my comic of the month. This thing is hyper violent and takes an absolutely INSANE turn that I don't want to spoil for anyone who hasn't read this thing yet. I'm completely on board now for this mini-series. This is a book that I never knew that I wanted, but now I can't get enough.
Low by Rick Remender and Greg Tocchini (Amy Diegelman)
I picked this up on a whim more than a month ago because of a gorgeous variant cover. I wasn't sure what to expect but man am I glad I read it. Set in a post-apocaplypse underwater world, the art is gorgeous and ethereal, perfect for the setting. The writing, likewise is masterful. It is so difficult to set up a story with so much exposition and world-building while still providing emotion and action but Remender absolutely nails it.
Superman: Birthright by Mark Waid, Leinil Francis Yu, and Gerry Alanguilan (Jessica Pryde)
I'm slowly making my way through all of the Superman Origins; this is the one I managed to finish this month. Fantastic art and a fresh story drew me in early on, but it was my own uncertainty that kept me moving with this one. Waid really dug into the nuances of Clark Kent as man and alien–the whole bit about the aura of living beings was definitely something you might not consider when thinking of Supes living on earth. I've got lots more to get through, but this one set a pretty high standard for the others.
Letter 44 by Charles Soule, Alberto Jimenez Albuquerque, and Dan Jackson (Ryan Haupt)
I took some time to catch up on Letter 44 this month and was so glad I did. I can't believe how much has been crammed into the series only 15 issues in and am desperate to know where its heading next. The book constantly surprises with twists and turns at a breakneck pace but gives enough meat to not feel like important point are left out. To take a page from Paul's love of combination comparisons, it's kind of like Interstellar meets the West Wing, which sounds like an impossible task but is deftly achieved each and every issue.
The Adventures of Superhero Girl by Faith Erin Hicks (Bri Rudd)
This was actually a reread for me, but I have so much love for this book. The book is funny, but also really relatable. If you've ever felt like you're being underestimated, or like you can't get out of someone's shadow, you'll relate to SHG. You'll also relate to her if you've been 20-something, broke, and bad at laundry. Hicks talks a lot about the importance of acting in comics and is comes through in her art. She doesn't just use facial expressions to communicate things about who the characters are – there are clues in how they carry themselves, how they move. It's a quick, comforting read but the story is fully realized.
Batman Beyond #27, 28, and 29 by Scott Peterson, Annie Wu, and Andrew Elder (Ardo Omer)
As part of research for a post I'm working on, I decided to read the three issue Batgirl Beyond arc that introduces the futuristic Batgirl for the first time. The story has her teaming up with the former Batgirl and current Commissioner of Gotham City Police Department, Barbara Gordon, as they kick butt and take names. I fell hard for Nissa's Batgirl who is a no-nonsense sass master as well as the second woman of colour to take on the Batgirl mantle. Annie Wu's costume design is on point and I finished reading it with the desire to campaign for a solo series with Barbara Gordon offering a similar yet different relationship with the vigilante that her father did with Batman. You can find the print version of this story arc in either Batman Beyond Unlimited #18 or in the Batman Beyond: Batgirl Beyond trade.
Daredevil #158–191 by Frank Miller and Klaus Jansen (Josh Christie)
Like seemingly everyone else in the world of comics, I've fallen pretty hard for Marvel's Daredevil on Netflix. The show inspired me to go back and read Miller and Jansen's legendary run on the character, much of which inspired the first season of the show (and the movie, but let's not talk about that). It's a run I haven't read since I was a teenager, and it holds up … mostly pretty well, you guys! Miller's work is wordy, especially in the earlier parts of the run, and there's more uber-dudely pathos than you can shake a billy club at. Still, it's fascinating storytelling that revived and defined this character; ninjas, Electra, Stick, the Kingpin, and the character's whole noir vibe entered the series during this run. Miller was also at the height of his work doing art and layout, better here than even in his Dark Knight Returns days. There's so much I love about the look of these books, from Matt's glasses and poofy read pompadour, to the size and threat of the Kingpin, to the fully realized environment of Hell's Kitchen. I read the run on Marvel Unlimited – the friend of binge-readers everywhere – but it's also collected in a few trade paperbacks or a single omnibus from Marvel.
Alex + Ada #14 by Jonathan Luna and Sarah Vaughn (Swapna Krishna)
I love this series, and am heartbroken it's ending, but this penultimate issue proves that Jonathan Luna and Sarah Vaughn are going out with as much of a bang as possible. It seems like such a simple premise: man and android come together, learn about each other, and change each other's lives. But the way these two have fleshed out this series and really made us come to care about both Alex and Ada, individually and together, is incredible. I know there won't be many dry eyes when the final issue in the series is released next month.
Rat Queens #10 by Kurtis Wiebe and Stjepan Sejic (Jon Erik Christianson)
____________________
Follow us on Twitter for more comics goodness!