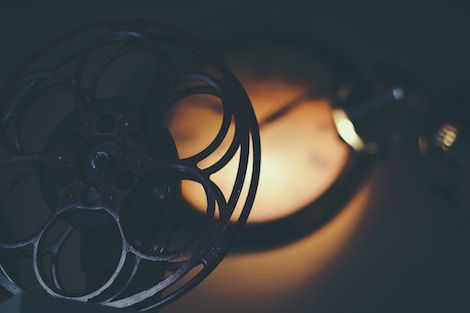 This content contains affiliate links. When you buy through these links, we may earn an affiliate commission.
Last weekend I watched Dumplin' with my whole family and then after the kids were in bed my husband and I started watching Killing Eve and basically I will never again have such a great weekend of bookish viewing. Probably. Maybe. Although…2018 was so full of great adaptations (and other bookish movies and TV shows) that lightning could strike twice, or every weekend.
If you're looking to catch up on bookish movies and TV from this year, I've got you covered (with a little help from fellow Rioters).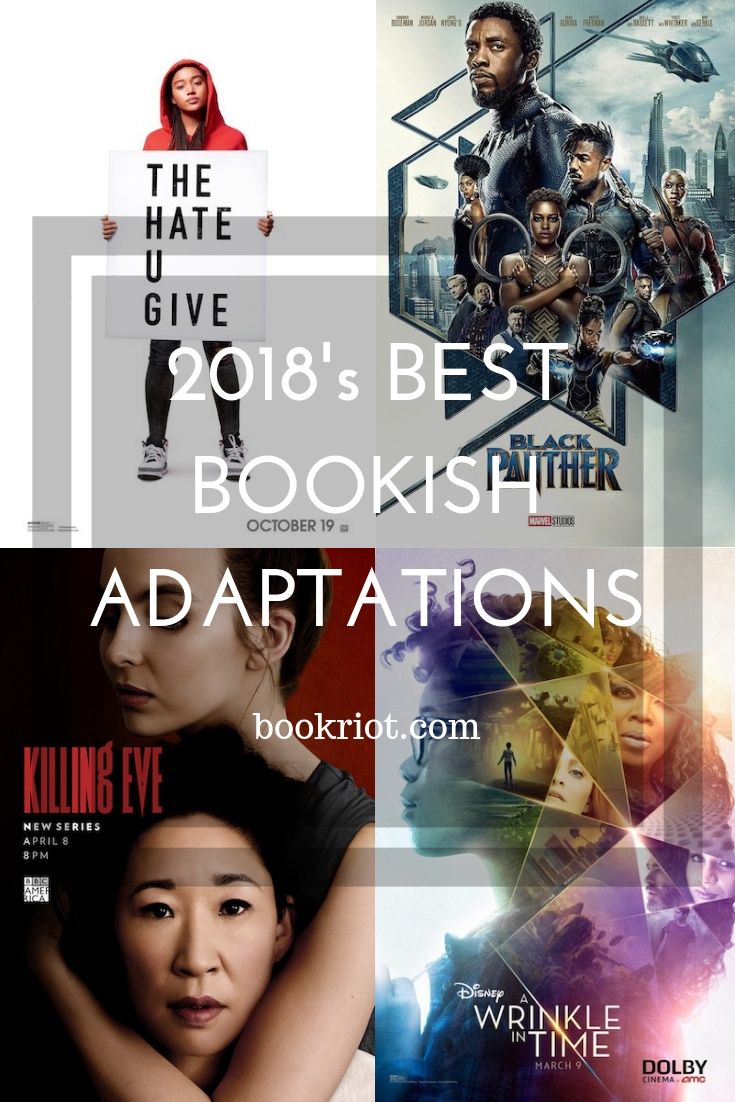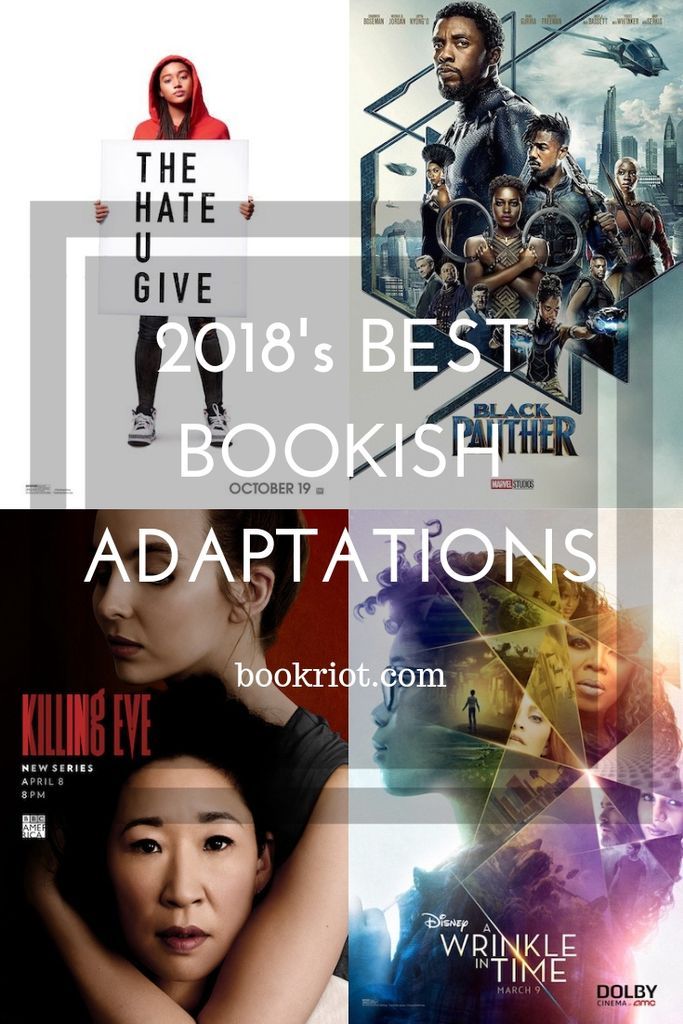 The Best Comics Adaptations of 2018
Black Panther
Black Panther is not only the best MCU movie (tied with Thor: Ragnarok imho), it's also a great movie, period, with great heroes, a complex villain, and tons of terrific side characters.
Hilda
This children's cartoon (on Netflix) has drawn my entire family in. It's about a little girl who discovers that trolls and other creatures are real, but it's so much more than that!
Spider-Man: Into the Spiderverse
This one is out today so I haven't seen it yet, but early buzz has been wildly positive. Miles Morales is the Spider-Man we need.
The Best Children's Adaptations of 2018
A Wrinkle in Time
This movie is just so darn beautiful. Madeleine L'Engle, but make it fashion. Meg, her little brother Charles Wallace, and her friend Calvin travel through a Tesseract with the help of Mesdames Which, Who, and Whatsit. Critical responses varied wildly, but I don't care.
Mary Poppins Returns
Another one that I haven't seen, because it's out next week—but it looks like it will be an absolute delight of a sequel to the original movie, if not so much the books (which are waaaaaay different from the first movie—not sure yet about this one).
The Best Young Adult Adaptations of 2018
Love, Simon
A lot of the discussion about Love, Simon was about the fact that it was one of the first major Hollywood studio movies to center on the life of a gay teenager. That's absolutely notable, but this YA adaptation is also a really lovely film about families and friends. Love of all kinds can be messy and hard, but Love, Simon is a wonderful illustration of why it's worth it. —Trisha Brown
To All The Boys I've Loved Before
Netflix says this is only the second most rewatched movie of 2018 on their service, and I call shenanigans. I personally have watched it…*counts on fingers*…*counts on toes*…*gives up*…one million times. It is the perfect teen romcom.
Dumplin'
Oh my WORD this is the sweetest movie, and a wonderful adaptation of a great book. Willowdean Dixon is a confident fat girl whose mother runs the local beauty pageant, which Will decides to enter, along with a group of misfit girls. While there is a romance plot line, it is not centered at all—this is a story about friendship and mother-daughter relationships.
The Hate U Give
Based on Angie Thomas's novel of the same name, this is the story of Starr, a black teenager whose carefully balanced life loses its balance when she is the sole witness to her best friend's murder by a police officer.
The Best 2018 Dramatic and Comedic Adaptations
My Brilliant Friend
The HBO series, like the first book, varies in pace, but the thing it always does is hold the stories of girls and young women as epic and large. And if you are at all familiar with the ways girls can adore each other, detest each other, and compete with each other…well, this is about as good as it gets. All the complexity is there on screen. —my friend Jess
Crazy Rich Asians
Crazy Rich Asians is the romcom your heart has been missing lately and very much needs in 2018. It's funny, romantic, full of family drama, and visually beautiful—the people, clothes, and places. —Jamie Canaves
The Guernsey Literary and Potato Peel Pie Society
Epistolary novels—particularly ones as beloved as The Guernsey Literary and Potato Peel Pie Society—can be tricky to adapt. But the Netflix version of Guernsey brings the story to the screen with a balance of humor and gravity that feels true to both the eccentricities and the World War II–era tragedies detailed in the book. —Trisha Brown
The Best 2018 Thriller and Crime Adaptations
Killing Eve
Based on Code Name Villanelle, this series is, well, killing me. It's so good. Eve is a British intelligence worker. Villanelle is an assassin. They are hunting each other. (Only it's one billion times better than I just made it sound.)
Burning
Based on a short story by Haruki Murakami, the South Korean film Burning very, very slowly twists from being a relatable relationship drama into something far more unsettling. The film will leave you with the inclination to re-watch it just so you can figure out at what point over the course of two and a half hours a character-focused story of mismatched lovers turns into a psychological thriller. —Trisha Brown
The Best 2018 Movies About Authors
Mary Shelley
Is this biopic of the author of Frankenstein entirely accurate? No. Do I care? Also no. I have five biographies of the woman; all I want from a movie is to be entertained.
Becoming Astrid
Astrid Lindgren, the Swedish author of the Pippi Longstocking books among several others, is one of the most influential children's book writers of all time. But even if you have no interest in Lindgren or Pippi, Becoming Astrid is a story about perseverance that will resonate with anyone who has ever felt alone and misunderstood. —Trisha Brown
The Best 2018 Movies Based on Nonfiction
Salt Fat Acid Heat
This four-part docu-series is the food content you want, need, and don't know how you ever lived without. Samin Nosrat visits Italy to learn about fat, Japan to learn about salt, Mexico to learn about acid, and her own kitchen to talk about heat and bring all the elements together.
Mary Queen of Scots
Out next week, and I expect nothing short of perfection in this story of the rivalry between Mary Queen of Scots and Elizabeth I of England.
The Best Movie Adapted from my Favorite Book in 2018
We Have Always Lived in the Castle
Technically this movie maybe doesn't count as a 2018 release, since it played one show at a film festival, but I was at that show so I am counting it. Merricat and Constance have lived alone with their dying uncle since the rest of the family was murdered. Then cousin Charles comes to visit and threatens Merricat's way of life.
---
ICYMI
The Best Book Adaptations You Probably Missed in 2017