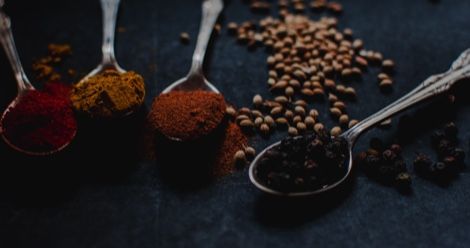 Nonfiction
Finding Balance Through Food: 5 Ayurvedic Cookbooks
This content contains affiliate links. When you buy through these links, we may earn an affiliate commission.
---
Earlier this week, I read about author Stephanie Danler's love for Kitchari: a staple meal from the Ayurvedic diet. If you're like me, you hear the word "diet" and instantly recoil. But something about it piqued my interest: turns out, the Ayurvedic diet is less of a diet and more of a philosophy. Based on traditional Hindu medicine, Ayurveda literally means "knowledge of life."
According to the 5,000-year-old tradition, every person is born with a blueprint for achieving their own optimal health. This health is achieved by finding your unique harmony of mind and body.
Something about this way of eating just makes sense to me. My father's side of the family hailed from India—before migrating to Pakistan when it became an independent country—so it has been exciting to learn more about a way of life that some of my ancestors may have practiced. If you want to join me in learning more about the Ayurvedic way of eating, here are 5 Ayurvedic cookbooks to get you started.
Ayurveda | Ayurvedic Cookbooks" srcset="https://s2982.pcdn.co/wp-content/uploads/2018/07/ayurvedic-cookbooks-683x1024.png 683w, https://s2982.pcdn.co/wp-content/uploads/2018/07/ayurvedic-cookbooks-200x300.png 200w, https://s2982.pcdn.co/wp-content/uploads/2018/07/ayurvedic-cookbooks-100x150.png 100w, https://s2982.pcdn.co/wp-content/uploads/2018/07/ayurvedic-cookbooks-33x50.png 33w, https://s2982.pcdn.co/wp-content/uploads/2018/07/ayurvedic-cookbooks.png 735w" sizes="(max-width: 597px) 100vw, 597px">
Ayurvedic Cookbooks To Get You Started
Ayurveda Cooking for Beginners takes a nature-based approach to wellness by turning to the oldest known medical system—food. Join expert Ayurveda practitioner Laura Plumb as she shows you how to practice the principles of Ayurveda in the kitchen with Ayurvedic cooking techniques for health and wellbeing.

Drawing on her many years of vegetarian cooking, catering, and teaching, in this book Divya Alter explains how to create flavorful meals with seasonal ingredients by applying Ayurvedic principles. With food combinations, methods of preparation, and healing spices customized for individual needs, this is an inspirational guide to achieving optimal health through a personalized way of living and eating.
Ditching processed food and learning to eat well at home are the first steps you can take to relieving imbalance. The Everyday Ayurveda Cookbook removes many of the obstacles by showing you how straightforward and accessible preparing your own delicious, seasonal meals can be. Season by season, learn how the changing weather and qualities in your environment both mirror and influence your body and appetite. Lifestyle advice on meal planning, self-care regimens, and how to ensure health during the change of seasons is included throughout. And the no-fuss recipes will get you eager to cook.
Unlike many diets with rigid, one-size-fits-all guidelines, Ayurveda is a lifestyle that recognizes the ever-changing needs of each individual. Join author Sahara Rose on a journey to wellness and discover how to eat according to your body's specific needs. Identify your Dosha, or mind-body type, and find out what foods are best for your body. Learn how changes in season and climate affect your digestion and how to adjust what you eat accordingly. Rather than focusing on calories, you'll focus on food qualities. Rather than focusing on macronutrients, you'll focus on tastes—and you'll feel better than ever.
OJAS: Modern Recipes and Ancient Wisdom for Everyday Ayurveda by Nira Kehar
In 99 healthful recipes, chef Nira Kehar translates ancient Ayurvedic principles into everyday dishes that heal and energize from within. Learn how eating seasonally while satisfying your body's taste cravings will nourish ojas—your life essence—and bring about a physical and mental balance that is key to staying healthy and feeling your best.