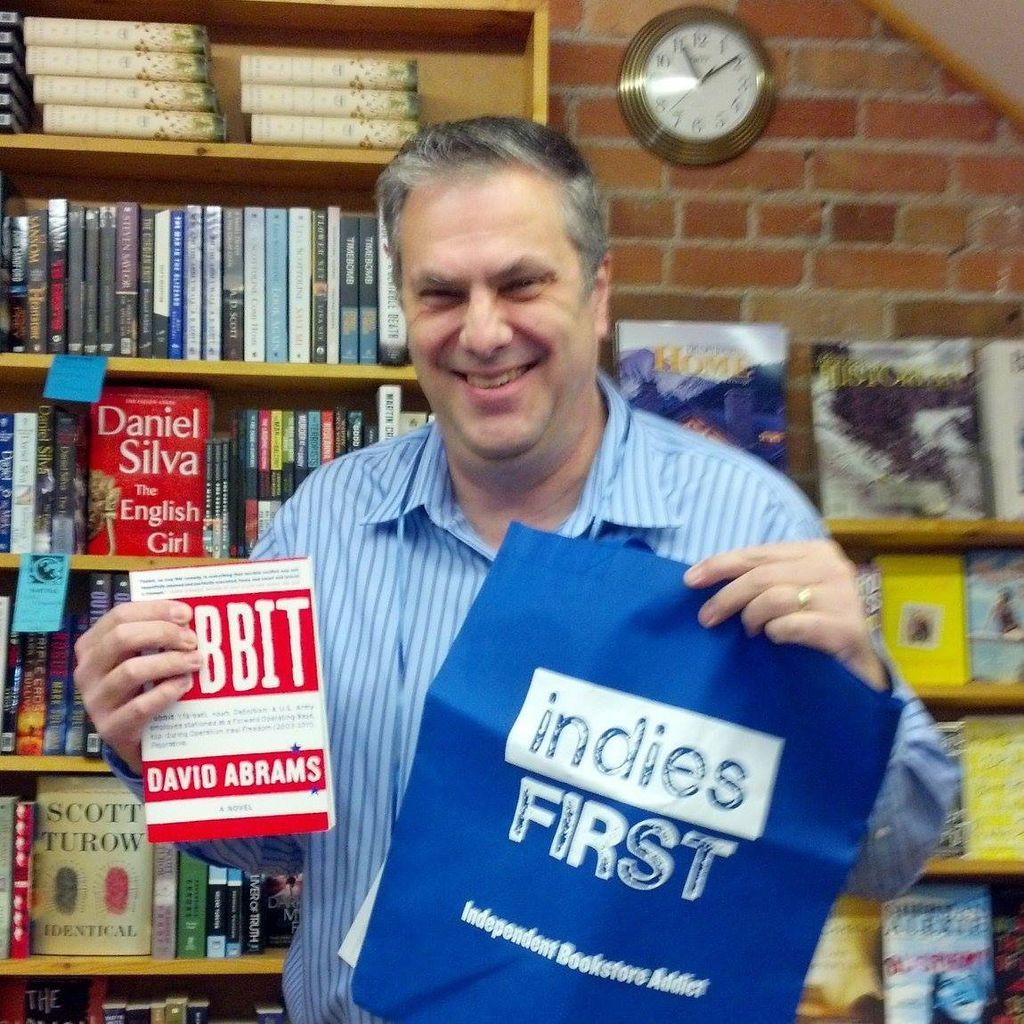 News
Authors Put Indies First on Small Business Saturday
Indies First on Small Business Saturday was the brain child of author Sherman Alexie. His plan was to get authors to volunteer as booksellers-for-a-day, supporting their local independent book stores. One of our own, David Abrams, took part in the event, selling at two of his local bookstores in Montana:
Some kids dream of being an astronaut or a rock star or a greedy investment banker on Wall Street when they grow up. Not me. My dream job is to be a bookseller. I mean, what could be better than being surrounded by My Favorite Things all day long? Maybe having the joy of selling My Favorite Things to suddenly-delighted customers.
This weekend, I had the privilege of pinning on an "I'm a Bookseller!" button for a few hours thanks to the Indies First movement at two of my favorite Montana bookstores: Fact and Fiction in Missoula and Country Bookshelf in Bozeman. While they didn't allow me to work the cash register (a wise move given my poor grades in high school math), I was excited to be the catalyst for more than one bill of sale on Saturday and Sunday. At Fact and Fiction, we poured champagne, munched on chocolate-covered pretzels and patiently listened to customers try to describe what they were looking for: "I know it has 'Mountains' in the title and it was written by this guy who lived in the 1880s and owned a mule. The cover has some blue flowers on it–that I'm sure of. And I think the mule's name was Norma. You know the book I'm talking about?" At Country Bookshelf the next day, store owner Ariana Paliobagis said I could make a display of "Recommended Books." Twenty books later, I had a nice book pyramid built at the front of the store. I sure hope some customers buy that book about a mule named Norma.
Judging by the flurry of activity on Twitter, Facebook, and Instagram, the day was a rousing success. Alexie sure had a good time.
https://storify.com/CassandraNeace/authors-put-indiesfirst-on-small-business-saturday
________________________
Sign up for our newsletter to have the best of Book Riot delivered straight to your inbox every week. No spam. We promise.

To keep up with Book Riot on a daily basis, follow us on Twitter, like us on Facebook, and subscribe to the Book Riot podcast in iTunes or via RSS. So much bookish goodness–all day, every day.